Nature as therapy:
meet the couple Camilla and David Underland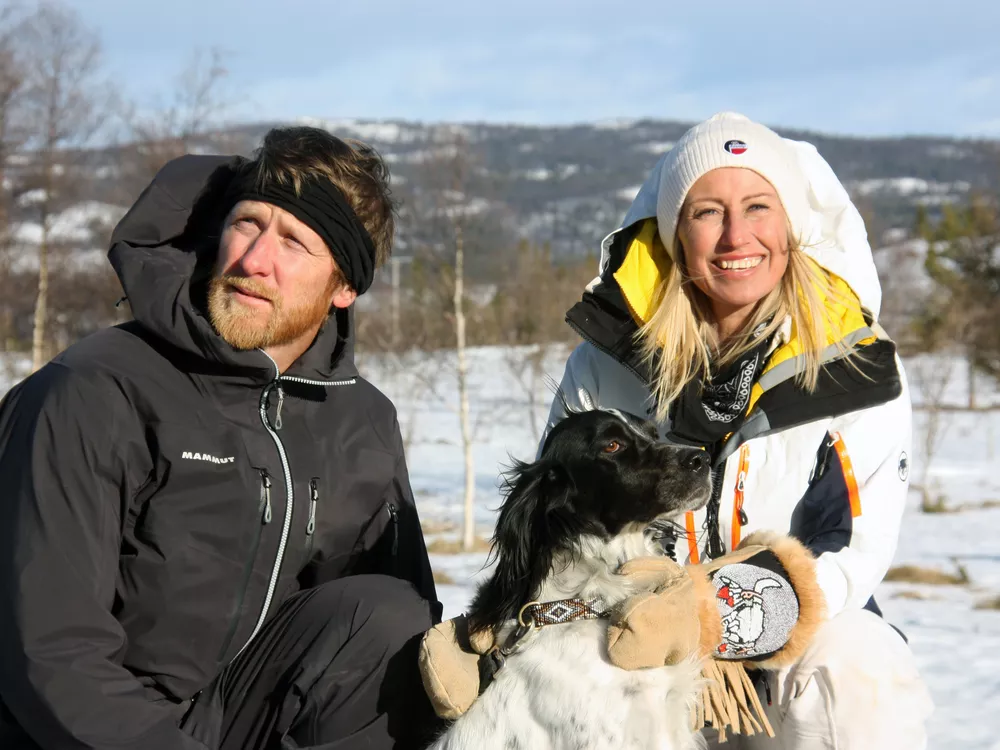 They fell in love with Hemsedal and have since remained a central part of the village's community and health services. If you ask the area's chief doctor Camilla Underland, or social worker and founder of Tur Ute, David Underland, for tips on living in the present, the message is clear: nature is the world's best medicine.
By Isabel Müller Eidhamar og Frazer Peter Norwell
4 min
Updated 05 April 2022
Falling in love in Hemsedal
Like many others who end up in Hemsedal, it was the love of mountains, skiing and snowboarding that brought Norwegian doctor Camilla, originally from Bærum, and her Swedish husband, David, to the village. But, it was falling in with each other just as much as the village that would make them stay. Almost 20 years later, they have established themselves as a couple everybody in the village knows. Camilla works as chief municipal physician while David runs his own business Tur Ute, which focuses on rehabilitation in nature.
"We had our first coffee date at a café in Hemsedal called Amanda Gressløk, who specialised in waffles. When David offered me one of his heart-shaped waffles, I knew we would probably be more than friends," Camilla smiles.
And following a mountain hike from Harahorn to Kyrkjebønøse, David came home to Camilla's. After that, he never left.
"It's like I say: If you kiss a girl the morning after, you're going to stay with them," David jokes.
"It was one of my friends who worked with David, who first told me about him: The cool guy who was into skateboarding and snowboarding who knew how to breakdance. It was very exciting hearing about him," Camilla says.
"But I always say that it was at the top of Kyrkjebønøse in the moonlight that I knew I had fallen in love, she says and looks warmly at her husband," She says, looking warmly at her husband.
"I only planned to stay in Hemsedal for a winter season, but then I got a job and met David. I enjoyed the work, loved the mountain lifestyle and the people in the valley, and 20 years later, I still pinch myself to make sure it's real," Camilla says about the lifestyle in Hemsedal.
Today they have two daughters, who are also eager for mountain sports and outdoor life, and it is out in nature that Camilla and David remember why they came here.
"We always fall in love again when we do things together in nature. So we go, and life feels good, and then it's a bit like, "wow, now I remember why I fell in love with you!," they say in agreement.
"If you are lucky enough to live in the mountains, then you are lucky enough," says David with a smile.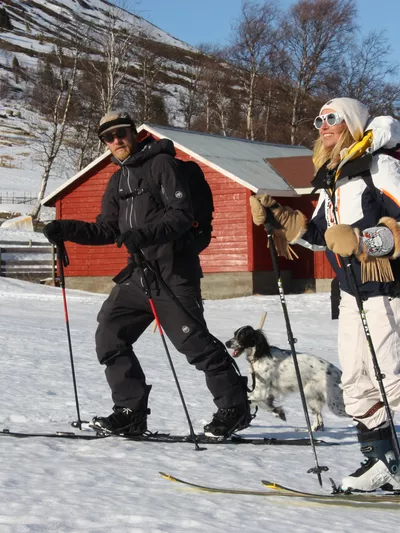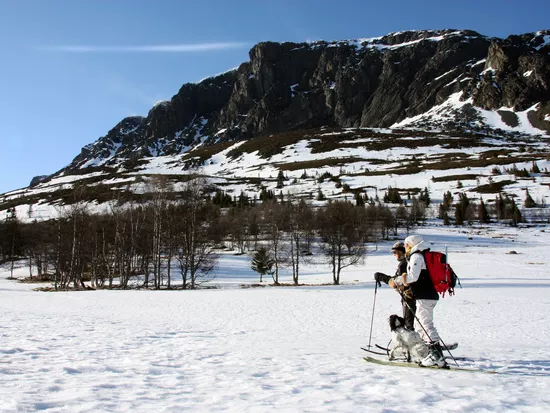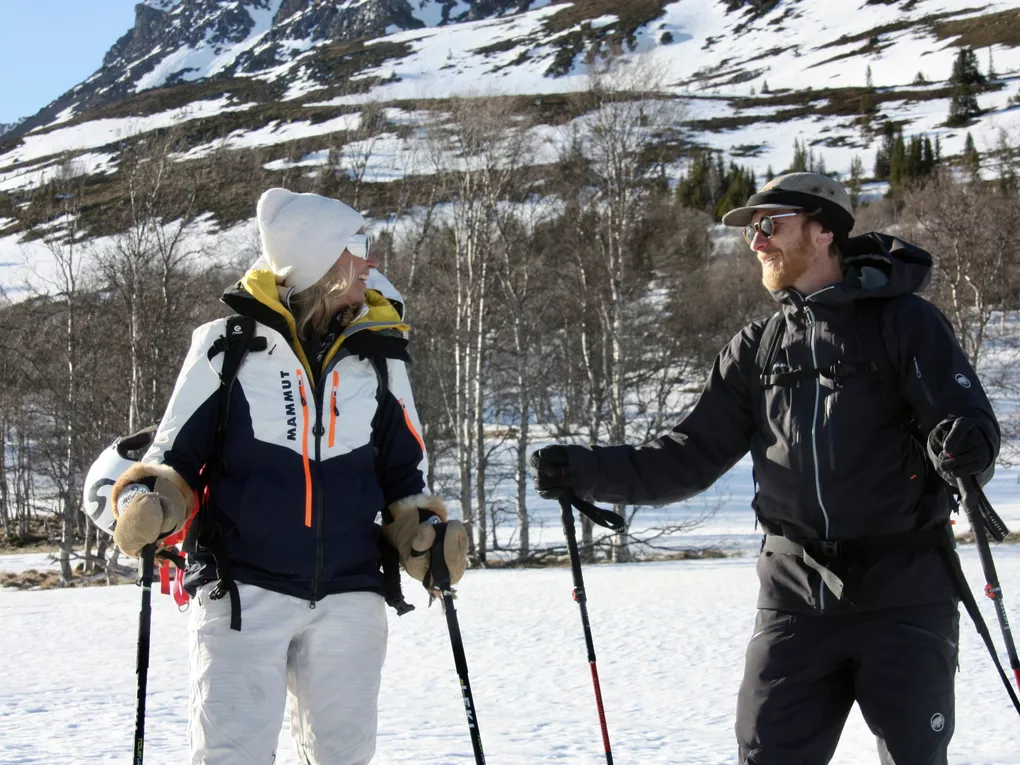 Rehabilitation in nature
Even though they work in different fields, they both work in health, which gives them the opportunity to help one another with input in each other's work.
Camilla studied medicine in Scotland and worked as a doctor in the emergency department in hospitals in Glasgow and Oslo before coming to Hemsedal, where she worked as a GP. Here in Hemsedal, she still gets to work in the area of medicine that she is most passionate about, emergency medicine.
David worked for a while in ski rental after completing his education as a social worker before he started Tur Ute: Facilitated Development and Rehabilitation Ute, something he was inspired to do after working with children and young people in child welfare institutions around Norway.
"If you have someone who is struggling a lot, then adrenaline is the simplest shortcut to feeling better. Then you quickly forget what happened at home five days ago or what will happen in the future. Too often, it is the case that people struggle with thoughts and live in the present. If you can manage that, you get an important break from everyday life, and you become open to a process of change," David says about his company's vision.
Throughout the year, he helps people from all over Norway who are struggling with mental health, substance abuse problems, trauma, and other things by embracing the great outdoors.
Everyone is treated equally, and people can have honest and open conversations while out on the trips.
"Being in nature is a kind of therapy, and it's an environment that helps people to open up and get to know each other. This is important because many people find it difficult to open up about their problems if they are in a formal therapy setting," Camilla says about her husband's work.
"What is so nice about David is that he meets people at their level instead of trying to be superior. He does not have to be an expert and know better than everyone. Nobody is made to feel like the weakest link. If David sees someone struggling, David won't go to the back and say to somebody, 'you are starting to get tired? Shall we take a break," he says, 'oh, I think I'm starting to get tired, shall we take a break?' He takes that role so that people are able to shine and come forward; it is incredibly nice to see," Camilla says.
"There is something about meeting people on an equal footing," David says.
"If you have never been in nature, then it might be a bit hectic to sleep in a tent and be out for a week," he adds.
"Unfortunately, there is very little money in society for preventative measures regarding mental health. But once the problem has arisen, then there's plenty of money. In those cases it is not rare that people initially do not want to come here, but some of the more challenging cases we have had, have asked us to organise activities for them at home or to come back to us in the mountains. It is fantastic that you achieve such a great connection out in the fresh air. It does something to people," he says.
"The most important thing is a sense of achievement. To value being outdoors in an arena where you are not disturbed by everyday things, stress, the hustle and bustle."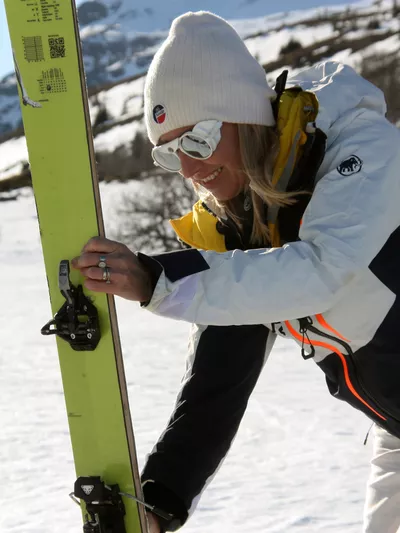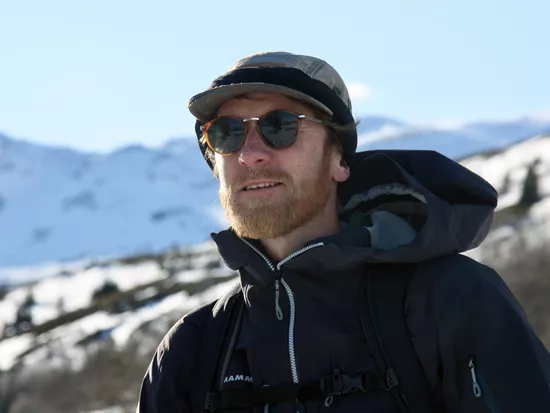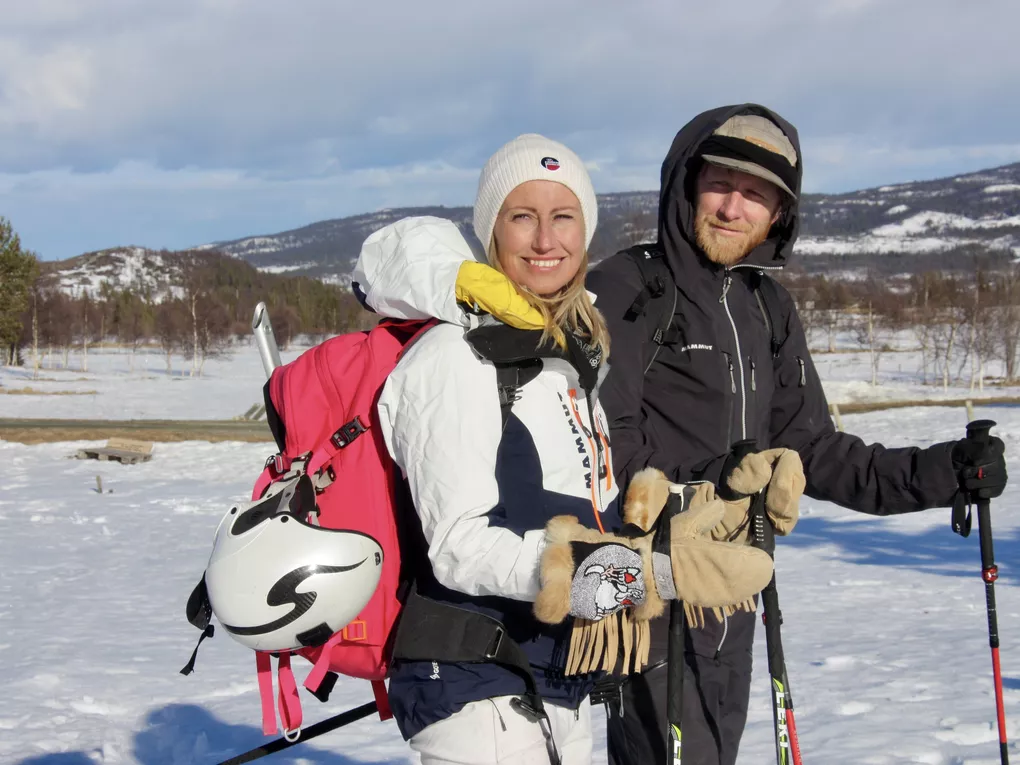 The value of outdoor activities
Tur Ute began with the idea that nature would create an environment for dialogue where everyone feels equal and seen.
"The most important thing is a sense of achievement. To value being outdoors in an arena where you are not disturbed by everyday things, stress, the hustle and bustle. To spend time outdoors is a journey of discovery: What is hiding behind the next tree, the next turn? It is a sense of presence that you don't get in an institution or anywhere else," says David.
"Here with us, you do not go into an office with somebody wearing a uniform. When we are outside, everyone is equal and on the same level, making it much easier to start constructive conversations and start working on what we are trying to achieve. It is important to have ownership of your situation," David says.
Nature has enormous healing potential for everyone, including the Underland family.
"For me, since I work so much, people always ask how I have time to go hiking in the mountains and do all these activities. The reason why I have time to work so much is that I take the time out in nature to recharge," Camilla explains.
"Nature is a form of meditation for me, and I find a lot of peace in it. Walking the same routes in the mountains gives me a kind of security. You see the same sunset, the same trees, and in a way, you can only be in your own head," she adds.
And for David, nature is his playground whether it is a mountain hike in the Hemsedal mountains or ski jumping, or just being in the garden.
"David is like a swiss army knife, he has his backpack full of lots of weird things, and there is always a good atmosphere. Whether it's food, balancing on a line or building ski jumps, he is always such fun, says Camilla, before the conversation is rounded off because nature is waiting.
Our chat with Camilla and David ends there as the Underlands get ready to go on another family trip in Hemsedal.
So another Hemsedal summit will be climbed for the Underland family - the family with endless adventure.
More passionate souls in Hemsedal
---