Totten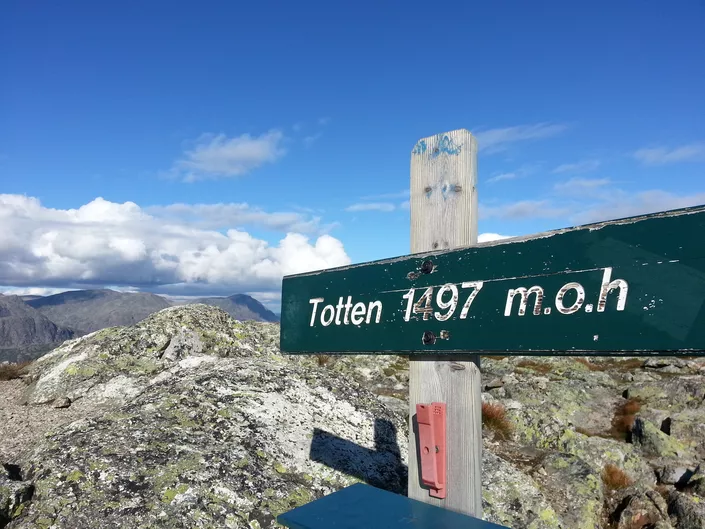 A great tour that suit everyone with nice view on top.
Totten 1126 - 1497 m
This hike start from the top of the chair lift in Hemsedal ski resort. Follow the signs and the trail towards the top. We can guarantee you that the trip is worth the view.

Difficulty:
Distance: 3.7km
Duration: 3h
Height in meters: 294m
Overview
An easy hike that gets you high up in the mountains. You can take the chairlift up, or walk, and you will be rewarded with great views of Hemsedal, mountains and lakes. 
Start coordinates
60.848535, 8.511771
Best season
jan
feb
mar
apr
may
jun
jul
aug
sep
oct
nov
dec
How to get there
Follow the main road, Rv52, west out of the center and turn left to Hemsedal Ski Resort. Follow the road straight ahead to the car parks. Enter the ski resort and go to the Holvin Express chairlift.
Alternatively, you can start the trip from the center and go up the Sollaust hiking trail before continuing to Totten.
Parking
Parking at Hemsedal Ski Resort. Some parking lots are subject to a fee.
Safety
A topographic hiking map is recommended.
Always choose hikes based on your ability and current conditions. The weather changes quickly in the mountains. 
Tip
Some other options if you don't take the lift:
Our favorite is to start in the center of Hemsedal and go up the hiking trail Sollaust and then continue to Totten.
Go from the lift of the ski center and follow the tourist, number 11, to the Fjellkafeen.
Drive Holdeskarsveien from SkiStar towards Skigaarden and follow the tourist from there to Fjellkafeen.
Description
This is the easiest hike to get high up in the mountains as you can "cheat start" by taking the chairlift up. On the top, 1497 masl, you can see the entire Hemsedal valley, surrounding mountains and lakes. See the summer chair lift's opening hours. Buy a ticket to the lift at skistar.com.
The mountain cafe Fjellkafeen at the top of the chairlift is open when the chairlift is running and offers both delicious food and drinks.