Sognefjord
Norways longest and deepest fjord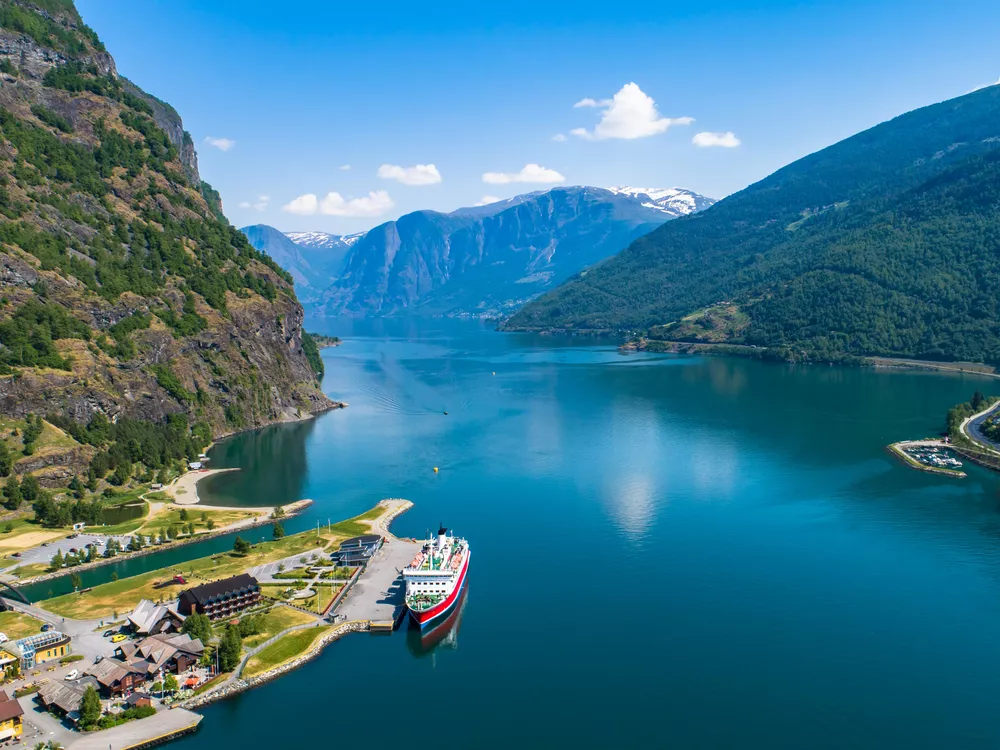 The Sognefjord is perfect for a day trip from Hemsedal. Driving to Lærdal, which is located in the innermost part of the Sognefjord, takes an hour by car. You drive over the beautiful Hemsedalsfjellet and down dizzying roads towards the valley that leads you to Borgund, which with its stave church from the 1180s welcomes visitors to the Sognefjord. Continue towards Flåm, on the way you travel through Europe's longest car tunnel, and try Flåmsbana or Sognefjordcruise in the UNESCO listed Nærøyfjord.
Katarina
10 min
Updated 11 July 2023
Lærdal & Borgund
Situated at the end of the UNESCO World Heritage Site of Sognefjorden, Lærdal features dramatic mountain tops, unique wooden houses in Lærdalsøyri, and Norway's best preserved stave church. From Lærdal you can hike to an altitude of 1,000 metres and get magnificent views in just a couple of hours. The salmon river Lærdalselva flows down the mountain to the fjord and gives the valley a distinct character. Lush and green surroundings reveal a lively agriculture industry. Restaurants and other places to eat take pride in serving you local food based on fresh ingredients, and the dry climate is great for cultivating fruit, berries, and vegetables.
Borgund stave church is the best preserved stave church in Norway, dating back to 1180. The church is built of 2,000 pieces of logs and planks, and although it is no longer used regularly for church functions, it is open to the public as a museum and well worth a visit. In the Visitor Centre they offer an exhibition on the history of stave churches in Norway, a restaurant and souvenir shop. More info about the Stavechurch on stavechurch.com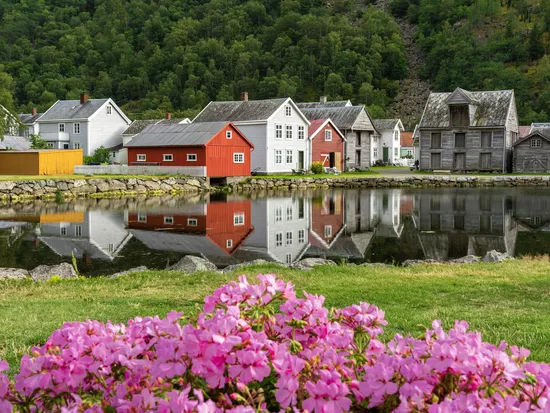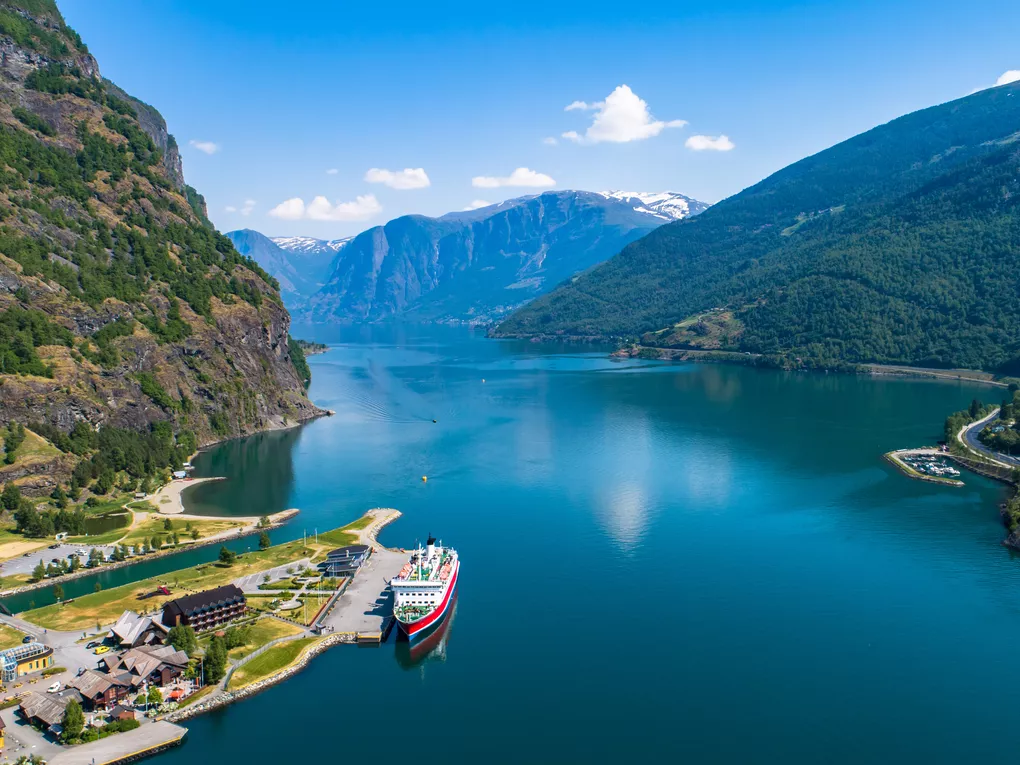 Flåm
At the innermost bank of the Aurlandsfjord, surrounded by steep mountains, thundering waterfalls and narrow valleys, you'll find the small village of Flåm.
Fjord Cruise Nærøyfjord
Come close to nature with "Future and Vision of The Fjords". The hybrid vessel "Vision" and full-electrical "Future of The Fjords" defines a brand-new standard for design and technology. The vessels have been designed to maximise the tourist experience in any weather. They features high levels of comfort, large windows, and are inspired by the winding trails of steep mountain terrain. Passengers are encouraged to go out on the roof and enjoy a very different experience of nature than that offered by traditional passenger vessels. Experience the spectacular Nærøyfjorden, on the way you will pass small settlements, waterfalls and steep mountains sides.

Daily boat trips from Flåm and return by bus back to Flåm // Bus to Gudvangen and boat back // Roundtrip with boat
Several departures. For entire time table, see here>>
Read more about Sognefjord Cruise, here>>
Viking Valley
Njardarheimr is located in the heart of the unique scenery of Gudvangen in the UNESCO listed fjord, Nærøyfjord. Here you can experience real vikings and be a part of their history and culture. The buildings in Njardarheimr are build after traditional viking methods and with the style of that age, but with Njardarheimrs own design. Join the vikings on storytelling, jewelry making, baking, ax throwing, archery and much more. You'll find more information on their website: www.vikingvalley.no

Fjordsafari
Experience the spectacular Nærøyfjord which is on the UNESCO world heritage list. Fjord Cruise from Flåm to Gudvangen. Wildlife - like seals, porpoises and eagles are frequently encountered. On our FjordSafaris we also stop to enjoy the view of the old mountainfarms, perching on shelves high up in the steep mountainsides above the fjord

More info on fjordsafari.com
Flåmsbana (the Flåm Railway) was named the world's most incredible train journey by Lonely Planet in 2014.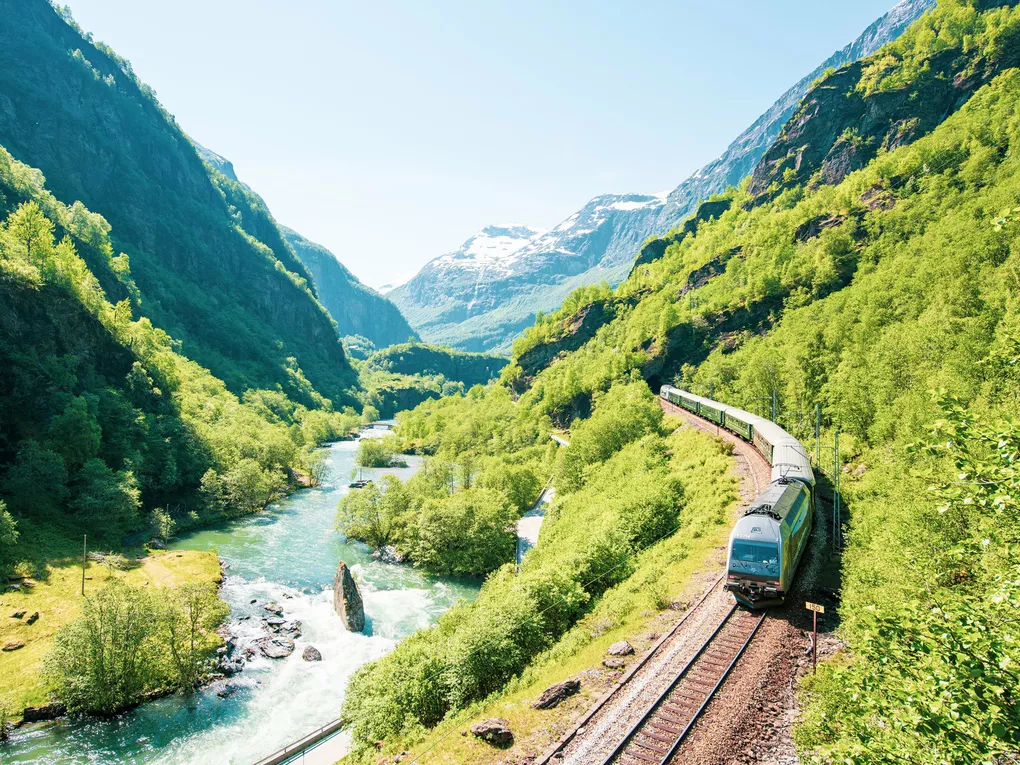 Flåmsbana - The Flåm Railway
Book your train tickets at Hemsedal Tourist Office and explore Flåm Railway, one of Norway's most famous attractions with approximately half a million visitors every year. It is not without reason that so many people from all over the world comes to visit this little village. Flåm is very scenic, located by the fjord and surrounded by mountains. The Flåm Railway starts in Flåm and goes up to Myrdal station along Bergensbanen. You will se beautiful nature and impressing waterfalls. Combine the Flåm Railway with a magnificent cruise on the Sognefjord/Nærøyfjord, stave churches and fantastic viewpoints. It is a perfect day trip and you will enjoy some of the most beautiful scenery Norway has to offer.
The drive from Hemsedal to Flåm is approx. 1,5-2 hours. Link to Flåm Railway