Meet super chef and
culinary innovator Jørgen Kolderup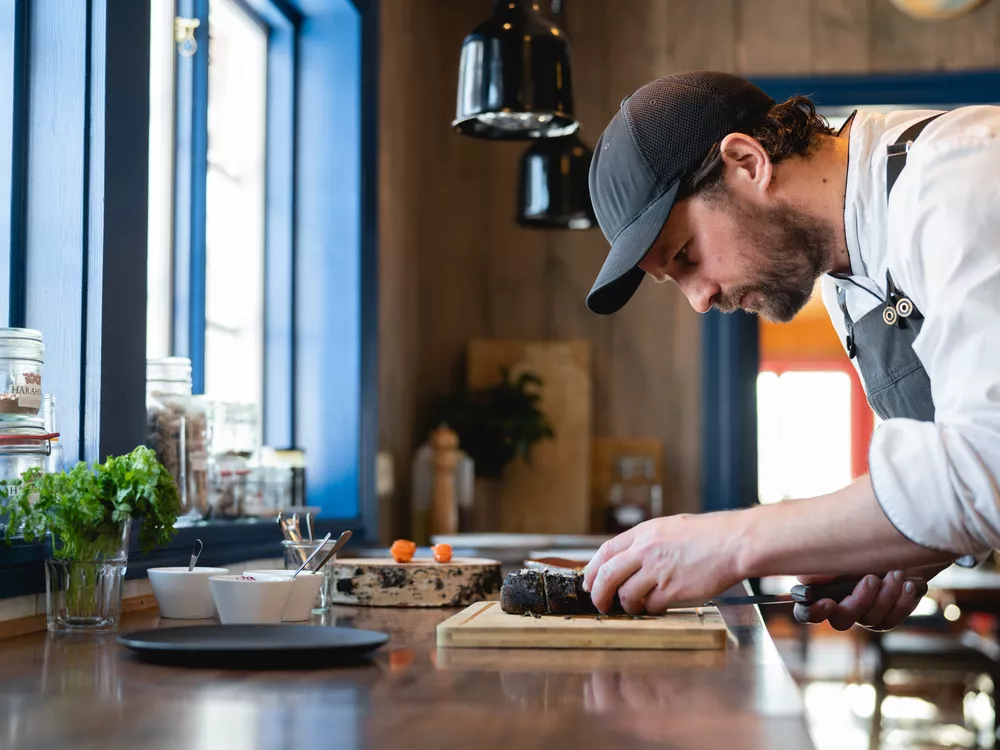 He won the prestigious Linie cooking competition in his twenties, travelled the world as a food writer and has published critically acclaimed cookbooks, now he leads Hemsedal's top ala carte restaurant Harahorn, making culinary delights from everything from spruce shoots to birch sap- there are few things Hemsedal all-star Jørgen Kolderup has not tried.
Av: Isabel Müller Eidhamar & Frazer Peter Norwell
5 min
Updated 01 November 2021
Inspiration and first foray into the kitchen
Not many predicted that Jørgen Kolderup, from Son, would one-day don chef whites. He didn't dream of becoming a chef as a child, nor did he have a great passion for cooking during his teenage years. He sort of fell into it, yep, just fell into becoming a master chef. Once he did become a chef, however, he felt right at home.
"It was actually very coincidental that I became a chef," he explains.
Despite not being a prodigy, he soon showed he had a raw talent for cooking which he combined with his innovative thinking.
As a teenager, Jørgen didn't have any idea what he wanted to do, but after hearing from a good friend what life as an apprentice chef was like at a mountain hotel at Beitostølen he decided he would embark on a career in the kitchen.
"I started my cooking career as an apprentice at Hotel Continental in Oslo about 20 years ago. It was the best place in Norway to be an apprentice at the time, first and foremost, because it was a big and dynamic place where you got to try many different things. That was the first time I thought, 'oh shit! Becoming a chef sounds cool," he reminisces.
A career in the kitchen would later open other doors for Jørgen: Culinary journalism, travelling the world, food photography, advertising, becoming an author, starting his own catering company and other entrepreneurial ventures, to name a few.
After his apprenticeship at the prestigious and luxurious Hotel Continental, his path took him to Brasserie Hansken.
"Brasserie Hansken is a gourmet brasserie and a very cool and innovative place where a lot of exciting, fashionable food is made," Jørgen says.
This is where his eyes were properly opened to the endless possibilities and creativity of cooking. His stint at the brasserie inspired him help start up Kreativ Catering, a catering company focused on high-quality ingredients served with a creative twist.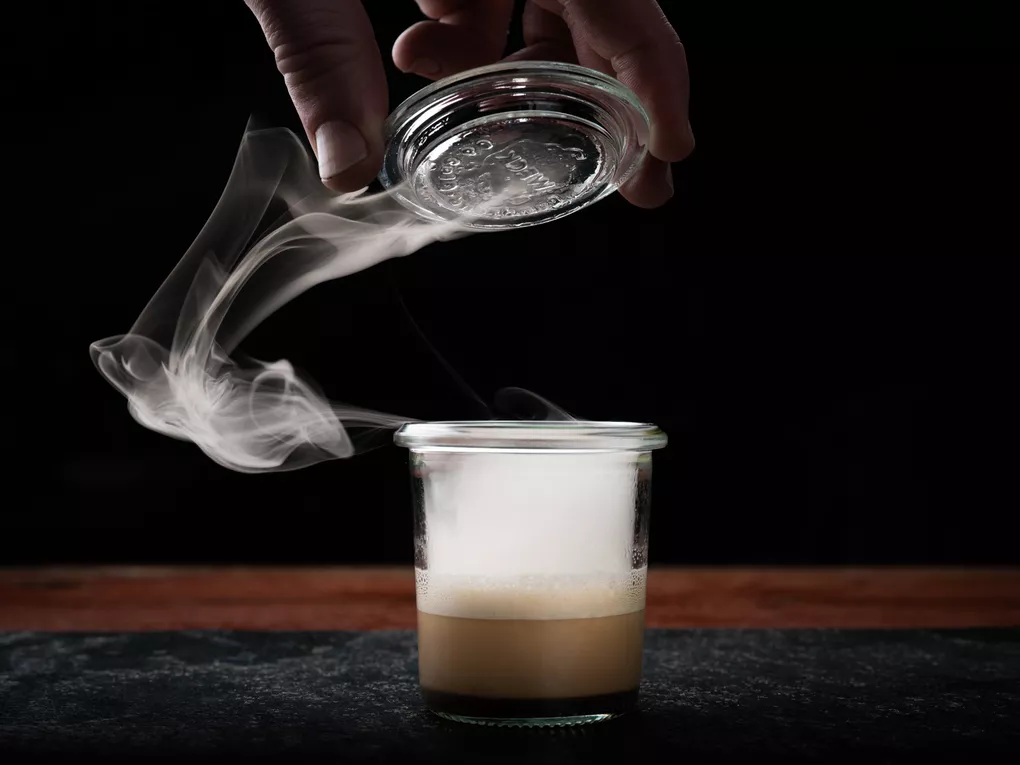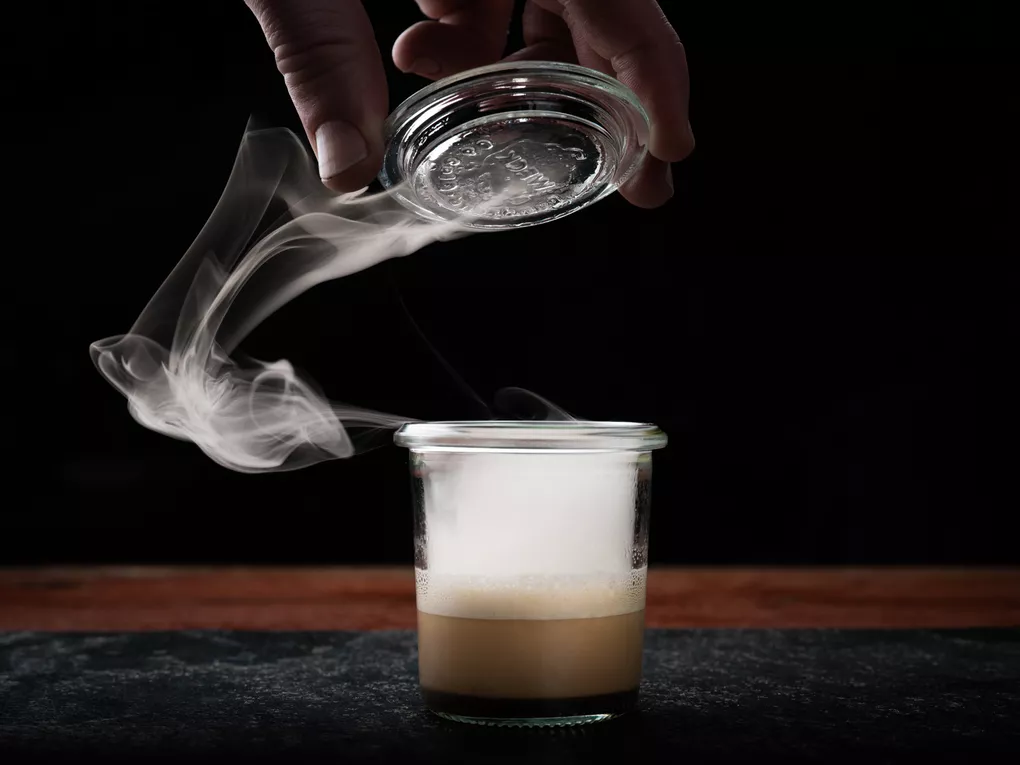 "Things should taste good, really good. That is the most important thing."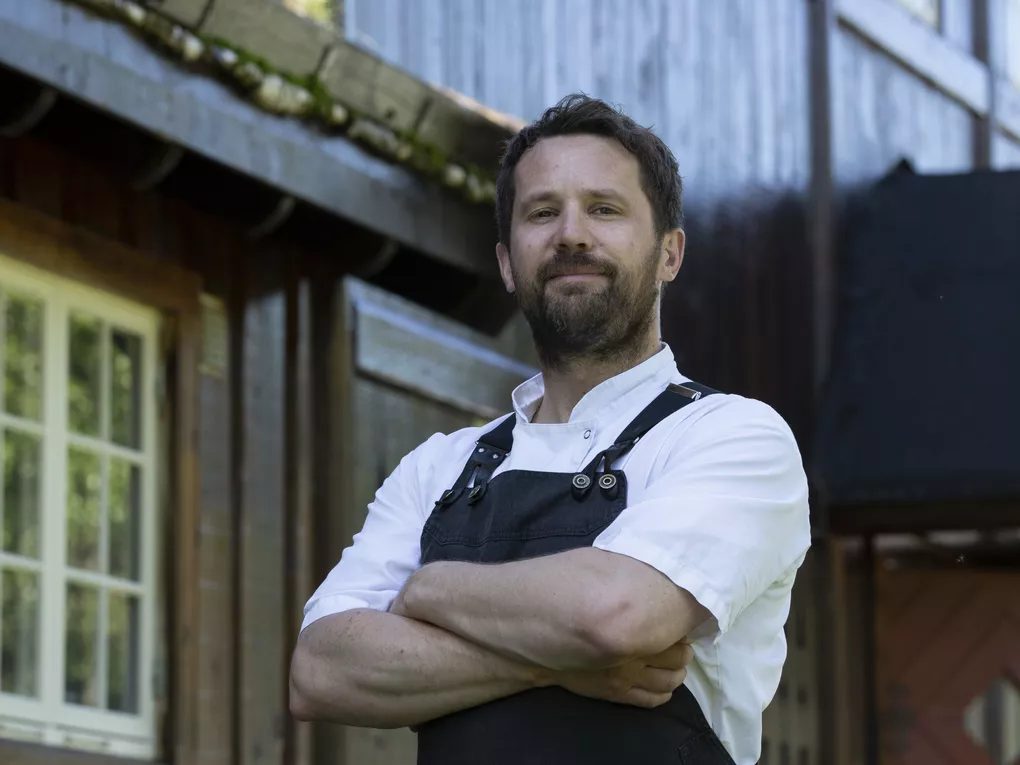 Globetrotting and cooking competitions
After just three years in the kitchen, Jørgen, 23 years old at the time, announced his arrival on the culinary scene after sweeping to victory during Norway's first Linie awards. The competition's goal was to create the perfect dish to accompany Lysholm Linie, an aquavit that needs almost no introduction in Norway.
Jørgen took home the gold medal for his composition of lightly smoked halibut with a caraway crust, ravioli with aniseed carrot, citrus glazed fennel, spicy poached onion, mustard juice and a potato roll stuffed with herring. The prize for bagging first place was a two-week placement at legendary three-star Michelin restaurant Troisgors in Roanne, France, run by celebrity chef Living Hellstrøm.
"I became Norway's new superstar chef, for better or worse. I was very, very young, and in retrospect, maybe I wasn't ready for that title," he says.
However, the award did open up many possibilities for the young rising star: His first cookbook, "Salads!" got a perfect dice roll of six (Norwegians rank things on a scale of one to six).
"There are quite a lot of incredible opportunities you get as a chef, travelling a lot, experiencing lots of new things, going on new adventures and being able to work wherever you want in the world," he explains.
His travels, Jørgen says, have been an essential part of his culinary development.
"I get inspired quite a bit. I think that happens a lot when you travel, it makes an impression," Jørgen says.
After a bit of time with Kreativ catering, Jørgen began working with the advertising agency Incognito, where he was responsible for food styling. At Incognito, he would also try his hand as a food writer and travel journalist, something he would do on a world trip while taking a break from the city life of Oslo.
"It was a desire to calm down that inspired the decision to take that trip," he admits.
He would stop in Japan on his grand tour, which left a big mark on his cooking.
"At the time, my cooking was heavily inspired by Asian cuisine, these days though the inspiration is 100 percent Norwegian.
There was one thing he missed on his trip that he couldn't get anywhere else in the world: Norway's natural beauty. So, after a long period of travelling, Jørgen made his way to Hemsedal in 2006, the village that in time would become his great love.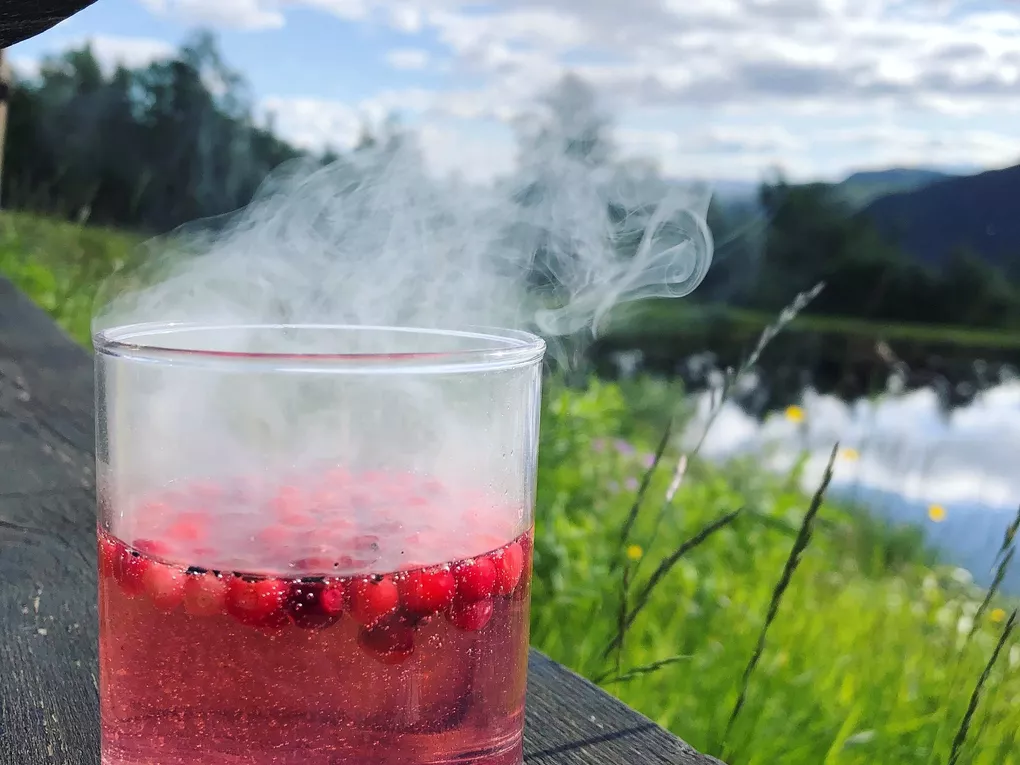 Short travelled food from Hemsedal
The plan was to stay for just one season, but now 15 years later, Jørgen is still in Hemsedal working as the general manager and chef at Hemsedal's mountain farm and hotel, Harahorn, in the secluded mountains near Hydalen.
"I felt at home here and everything fell into place. There is a combination of nature and work, and things aren't as stressful or super career-focused as they can often be in Oslo. We live life at a mountain pace, a little more laid back, surrounded by snow and nature," he says of Hemsedal.
Harahorn, roughly 2,000 meters above sea level on the mountains that extend south from the Norwegian national park of Jotunheimen, is a 20-minute drive from the town centre. The hotel isn't just surrounded by mountains and forests, but also great ingredients.
"We use nature to its full extent. A big part of what we do involves going out and foraging for food. We also have access to local meat and fish from fishers, farmers and hunters. When it comes to our menu, a common theme is that you must feel as if you are at Harahorn in Hemsedal and that you must feel as if you are up in the mountains," he explains.
The menu at Harahorn does precisely that: bring out the best in nature, and many come from far and wide to stay at the mountain farm, walk in the mountains and sample Jørgens delectable nine-course menu in the evening.
The menu offers a lot of variety: rowanberry sorbet (which, according to the super chef, tastes a little like marzipan), mountain trout, reindeer, birds and more. The menu changes with the seasons to make the most of local products and ingredients.
"When there is a menu with nine courses, it is about finding a combination and sequence where things are both exciting and tasty. It should be an experience," Jørgen says.
Jørgen, if you hadn't guessed it by now, is undoubtedly an all-rounder. In addition to working as chef and general manager at Harahorn, he is also one of the bosses at local produce company Tamt og Vilt, which focuses on local ingredients, age-old recipes and traditional preservation methods.
"We can determine where our products have been and what they have done, and thus we have control of the entire value chain. That's really cool!" Jørgen says. "The basic idea is that we buy meat, and fish, from local farmers and fishermen, and then we make our own products which we serve to guests at Harahorn to offer them the very best ingredients that the village has to offer," he explains.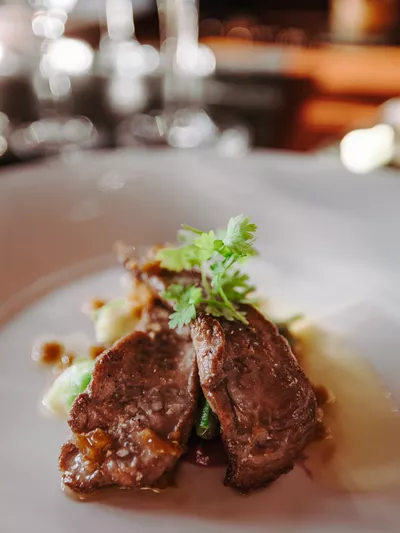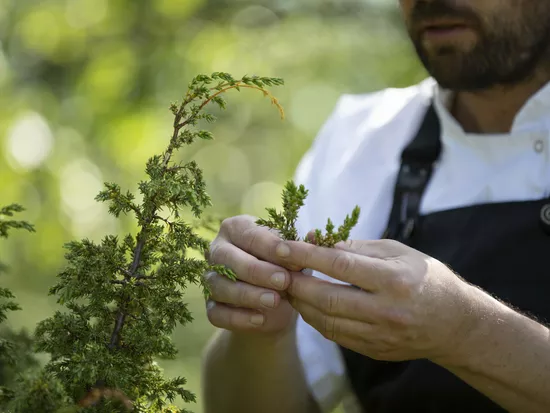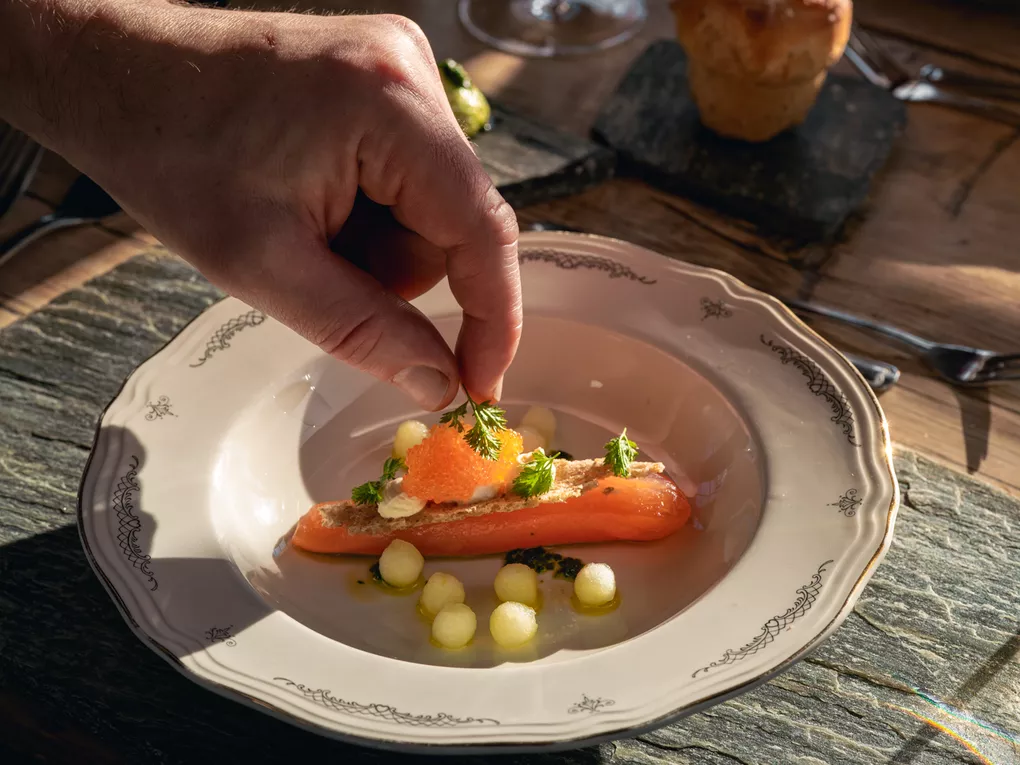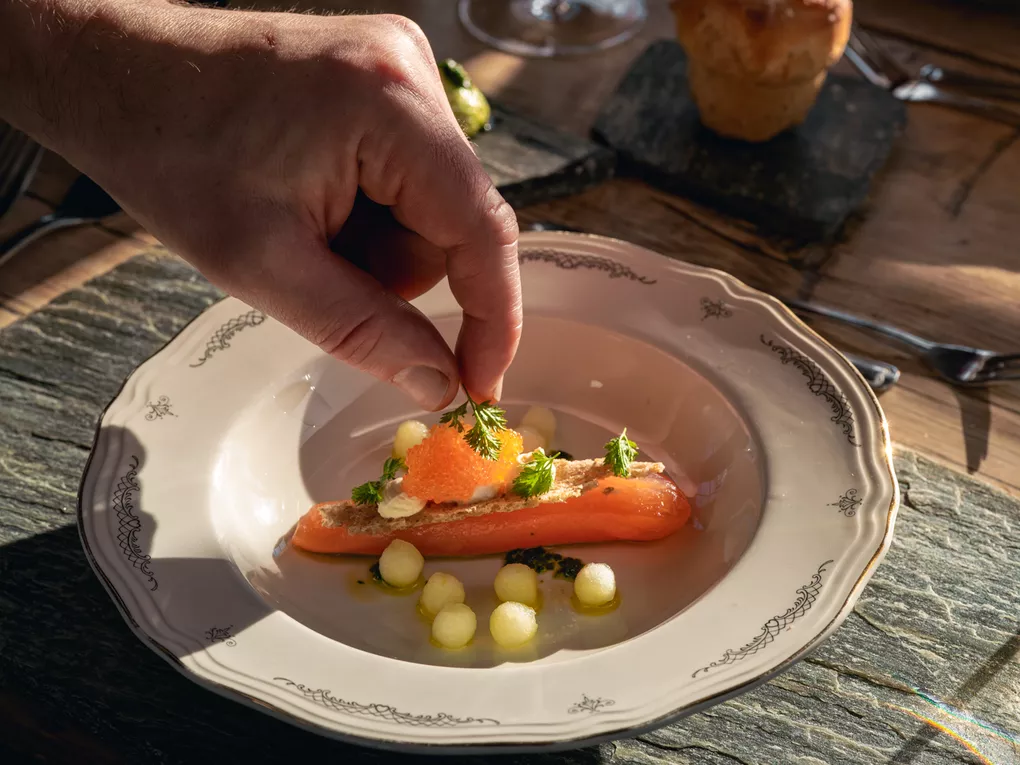 Inspired by Norway
Norwegian is the word best used to describe the scenery at Harahorn Mountain Farm. Log stores with grass on the rooftops, overlooking green rolling hills and white-tipped mountain peaks, dark blue water down in the valleys and forests filled with hares, grouses, foxes and reindeer. It isn't a coincidence that so many people are drawn here, and it's no surprise that so many also thrive in Hemsedal. It all feels very much like a Norwegian fairy tale.
Jørgen says that the area around Harahorn and Grøndalen is perhaps a bit of a hidden gem, not just for locals but guests too.
Harahorn has changed in recent years. Previously they were known for their large parties and wedding, but the new Harahorn has a new focus. Smaller groups, a more intimate personal feeling, and a larger tasting menu add to a fantastic experience for foodies.
The farm comprises several cabins of different sizes, there are 72 beds in total, and the restaurant has a cosy feel with room for 35 guests.
"The typical guest at Harahorn comes to stay here for a weekend or three days, eat a nine-course tasting menu that takes them on a taste tour of Hemsedal and of course go hiking or biking and be surrounded by the beautiful nature here," Jørgen says.
"I love walking in the area surrounding Harahorn. You feel like you are properly in the wilderness, where you can go for a walk without meeting a single person. It is fantastic to exploring far and wide towards Valdres and Filfjell. Many undiscovered gems are waiting to be found."