Short hiking trails
in Hemsedal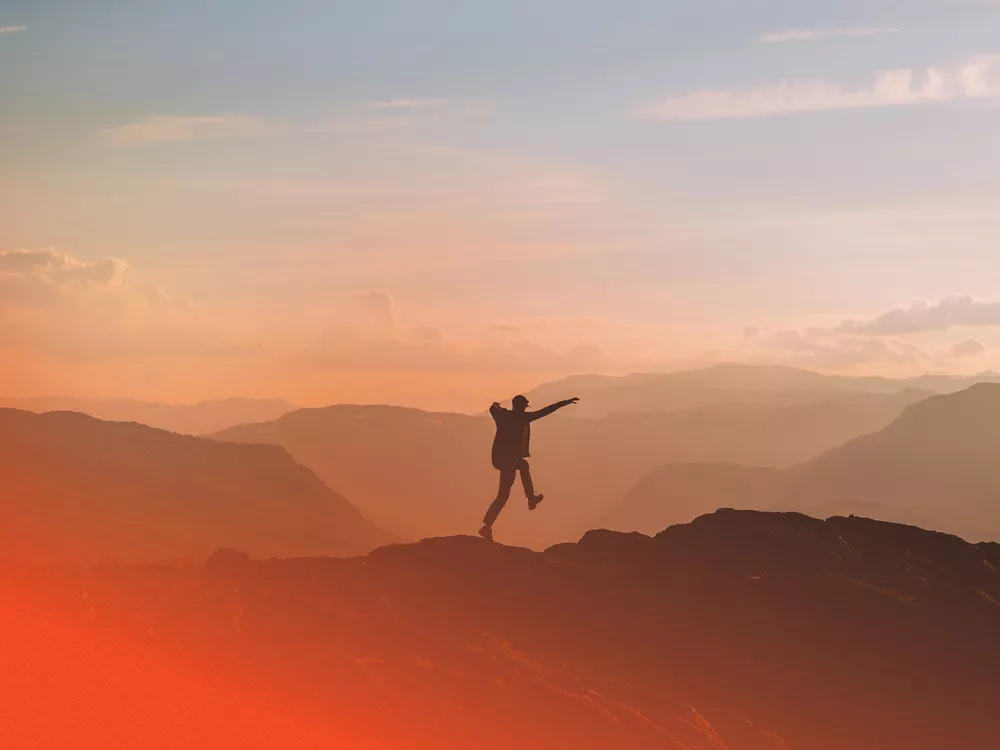 Nature trail with beautiful views!
5 min
Updated 11 May 2022
The Old Royal Route (Kongevegen)
This road is recommended for hiking and cycling. The road is from Venåsen at Tuv and all the way to Bjøberg Fjellstue, with a few short sections along Road 52. Along the road there are four information boards with history of nature and culture in the area.
The Valley Route
Route between Hemsedal village, Hemsedal skisenter and Tuv, also marked from Kyrkjebøvegen/ Seljevegen (in the town centre behind Skogstad Hotell) and to Tuv.
Synarsvaet Nature and Culture trail, 750- 1000m
Synarsvaet, Nature and Culture trail, 750- 1000 meters historic trails and a panoramic view from the rocks at Synarsvaet. Start from Hulbak or Rusto, upward along ancient trade routes to mountain pastures and remote hay fields. Separate map and marked route.
Høgeloft, 1920 m.o.h

This is a day trip to the highest mountain in Hemsedal (not marked).
You get an impressive view of Hurrungane, Jotunheimen and Jostedalsbreen Glacier.
Start from Eldrevatn on the Hemsedal Mountains, or from Kljåen (more demanding).
Map: "Turkart Hemsedal 1:30 0000"
"Øye 1517 II"
Ranastongji 1900 m.o.h
A wonderful trail from Vabuleino (Vavatn), upward to a plateau with a fantastic view of Valdres and Jotunheimen (not marked).
At the summit you are standing on the edge of a gorge with sheer cliffs dropping 700 meters straight down to Hestebøttn and Gjeitebøttn.
The most spectacular view in Hemsedal?
Map: "Hemsedal Nord"
"Hemsedal Turkart 1:30 000"
DNT hiking tours
DNT- Norwegian trekking association has a large route network in the mountains with trademark red T's. We can recommand scenic day trips from Hemsedal to the DNT- cabins, Kljåen, Bjordalsbu, Sulebu, Bjøberg, Breistølen and Iungsdalshytta. Information and key to the cabins at the Hemsedal Tourist Office.
Experience lovely footpaths in the Scandinavian alps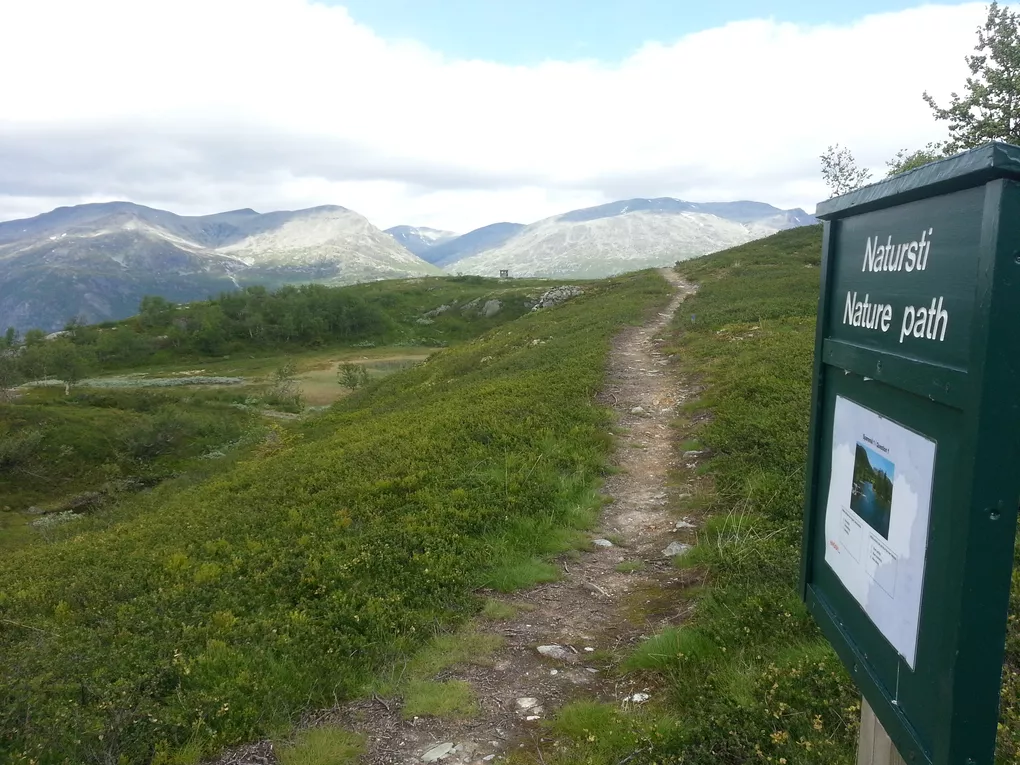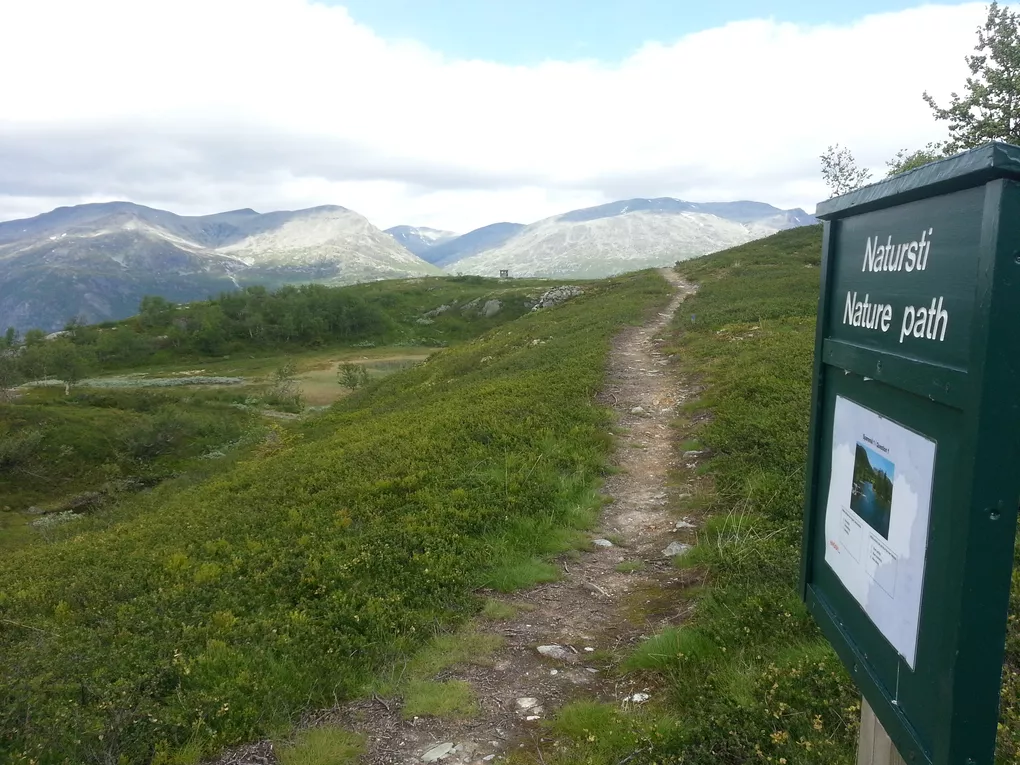 Hemsedal center - Trøim
The three paths Hemsilstien, Grønåsstien and Fiskumstien can be combined for a longer walk in the center of Hemsedal. It's a hike along the river of Hemsila, through forest terrain and up the small hill, Grønåsen (Torsetåsen).
These are green marked paths. Hemsilstien begins at the fire station and goes along Hemsila down to "Krikken", at the bridge over Hemsila Grønåstien takes over and goes up Grønåsen and down again to Hemsila on the other side. From Grønåsen you have a great view of the valley.
The Fiskumstien trail starts when you come down to Hemsila and goes through the forest up towards the cabin field Fiskum and ends at the center trail in the center.
The suspension bridge over Hemsila is not in use this summer.
Nature trail
At the top of the 8-seater lift in Hemsedal Ski Center you will find a nice nature trail. This is an easy round trip of about 1 km.
Combine the nature trail with a delicious waffle and a drink at Fjellkafeen!
NOTE: Remember to check opening hours for the lift
Rjukandefossen
One of the two most beautiful waterfalls in Hemsedal.
See also Hydnefossen.
Rjukandefossen is located 1 km west of Tuv and approx. 6 km from Hemsedal downtown.
Fantastic waterfall and exciting suspension bridge. You can also go for a swim, downstream the river of Grøndøla. NB No swimming in the waterfall, only below the suspension bridge,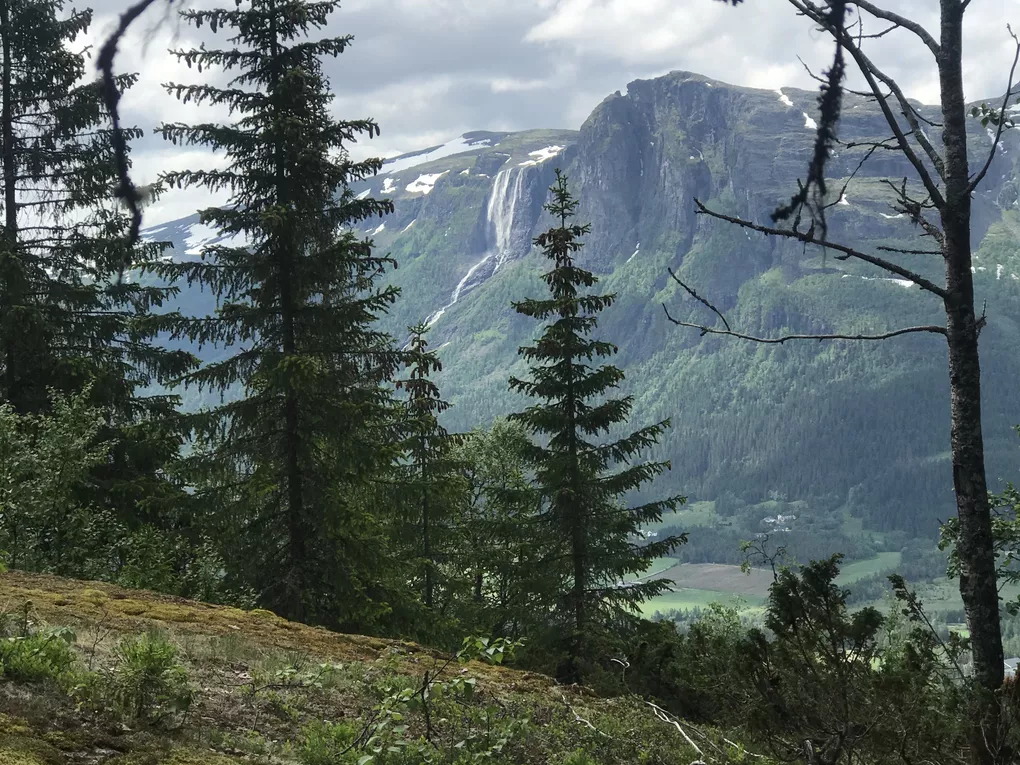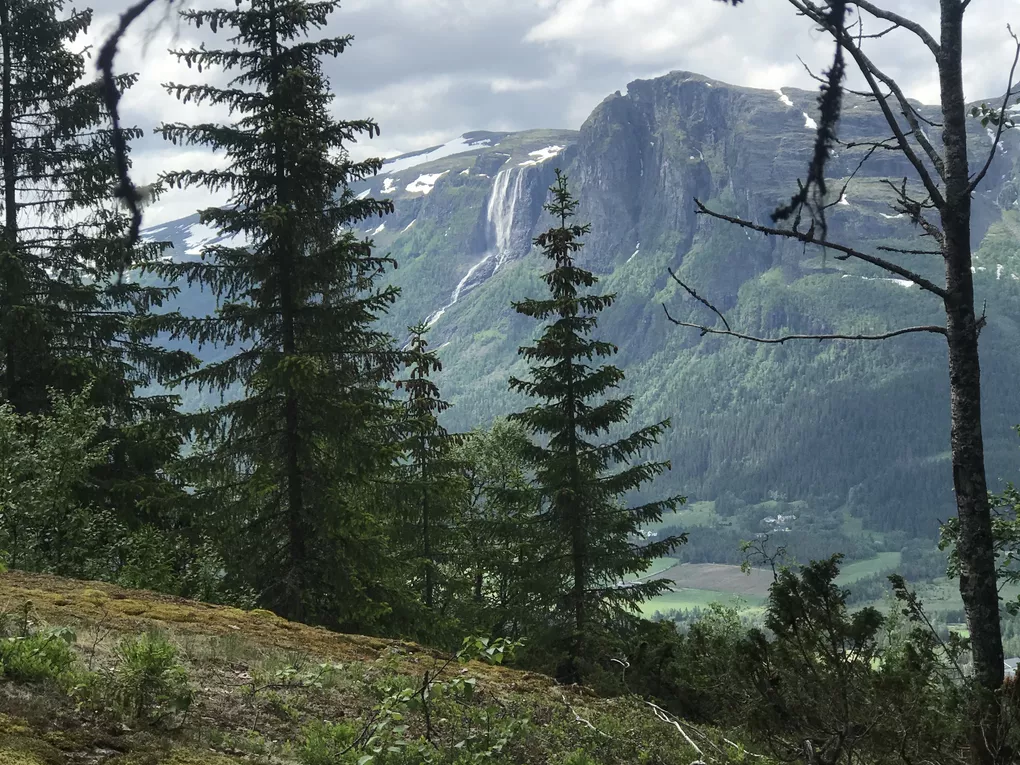 Finnstigen - scenic forest trail starting from Hemsedal Bygdatun at Ulsåk. Continue along the trail to "Gravsetåsen", or take a detour via "Geiteberget" which is included in the "Topp 20".
Footpath Hemsedal center - ski resort - Ulsåk
Flood-lit footpath along the river from Hemsedal village to Hemsedal Skisenter and from the Hemsedal village to Ulsåk.