Enjoy ski touring
in Hemsedal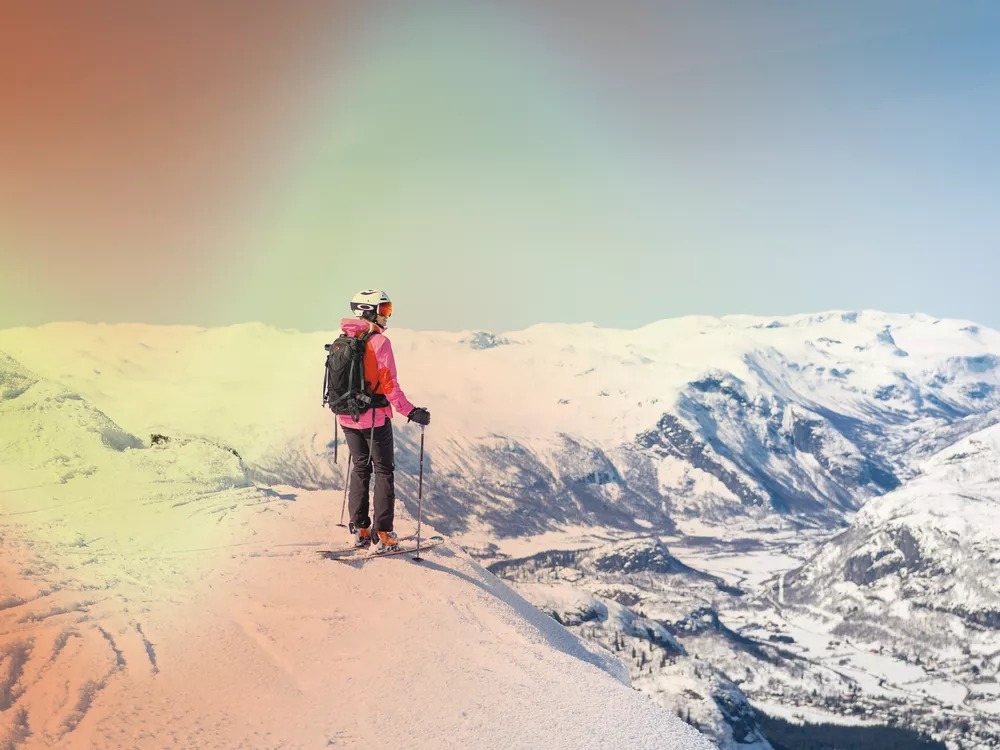 We are seeing more and more people discovering the world of ski touring and the opportunity to ascend a mountain and then make fresh tracks down a powder-covered mountainside in beautiful Hemsedal. The spring season is perfect for such adventures, and Hemsedal has become a preferred destination for both experienced ski touring enthusiasts, and beginners looking to explore the region's beauty for the first time. In this article, we will introduce you to five classic top tours ranging from easy to more challenging, ensuring there is something for everyone.
By: Katarina
5 min
Updated 14 November 2023
The Magic of the Mountains Awaits You!

If there's a word that can describe ski touring in Hemsedal, it's "magical." There's something truly special about strapping on your skis or splitboard and embarking on a journey towards the summit. Hemsedal, with its beautiful winter landscapes and majestic mountains, provides the perfect backdrop for a ski touring experience that will leave you breathless.
Hemsedal is an outdoor enthusiast's paradise and holds a hidden treasure just waiting to be explored – ski touring. Whether you're a beginner looking to try ski touring for the first time or an experienced ski touring enthusiast seeking new adventures, Hemsedal has something for everyone.
For beginners, even if you've never tried ski touring before, Hemsedal is the ideal place to start. Head to one of the easier peaks, and these tours will give you a taste of the magic of ski touring without being too demanding. You'll be rewarded with breathtaking views and a sense of accomplishment when you reach the summit.
For those who already have some ski touring experience under their belt, Hemsedal offers a range of challenging options. Many of the peaks provide an opportunity to test your skills in more demanding terrain. These peaks reward you with a sense of freedom as you stand at the summit, taking in the magnificent views and then having the chance to descend in slightly more challenging terrain.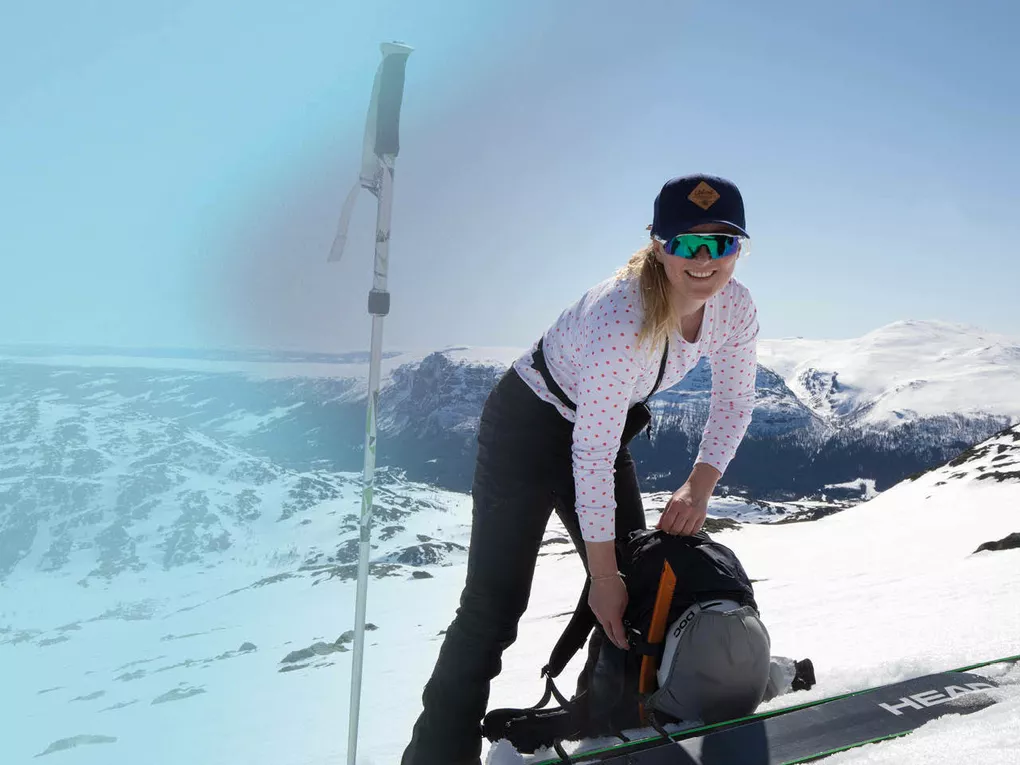 In the Hemsedal app, you can find some of the peaks marked on the map, but not the actual descriptions of how to get there. Regardless of your level and experience with ski touring, we recommend that you read the article on "Safety on ski touring and off-piste" before heading out.
We recommend everyone to book a guide when going on a ski touring trip in Hemsedal. The guides are familiar with the mountains and know where to find the best snow for the day. Below, you will find links to our local guides.
Easiest:

Slettind (1592 meters above sea level): For beginners or those seeking a relaxing two-hour tour, Slettind in Hemsedal's mountains is an excellent choice. This route is not too steep and provides a great start to your ski touring adventure. Parking is available just before Eldrevatn.
Harahorn (1581 meters above sea level) in Grøndalen: Harahorn offers a fantastic cruise, ideal for those who aren't yet comfortable with steeper routes. You can park your car at Vavatn, remember the toll fee.


Intermediate:
Råskardfjellet (Locally known as "1609"): Approximately 15 kilometers after Tuv on Hemsedalsfjellet, you'll find Råskardfjellet on the left side, offering an excellent intermediate-level ski touring experience. Cross the bridge over the Mørkedøla river on your way up and enjoy a delightful descent and a nice downhill run.
Nibbi: Nibbi is a popular choice, especially for families with mountain-savvy children. The moderate ascent also makes the descent easy. Remember Vipps for the toll fee at Ulsåkstølen. Parking is available at Lykkjastølen.


More Challenging:
Stardalsfjellet (1589 meters above sea level) near Breistølen: For those seeking a challenging experience, Hemsedalsfjellet offers the ideal terrain. This area has abundant snow well into May due to its high elevation, making it a top choice for ski tours. If you continue past the county border to Breistølen, you'll find the lesser-known Stardalsfjellet at 1589 meters above sea level. Follow the road up from the parking area at Breistølen.


REMEMBER
: You always have the responsibility to have knowledge of the area and the necessary avalanche knowledge. Check the weather forecast and varsom.no before heading out on your tour and always carry avalanche equipment with you.
For more inspiration for ski touring in Hemsedal, check out the book "Toppturer i Hemsedal" by local expert Jørgen Aamot. The book can be ordered through Fri Flyt or purchased at locations such as MOH Sport and the Tourist Office. You can also buy accompanying maps for the book.

- Spring means sun, slush skiing and beautiful days in the mountains
Read our article about safty on the mountains
---
- Ski touring is like hitting the refresh button for your soul, where every climb is an ascent to a higher state of being, and every descent is a thrilling journey into the heart of winter's embrace.