Skogshorn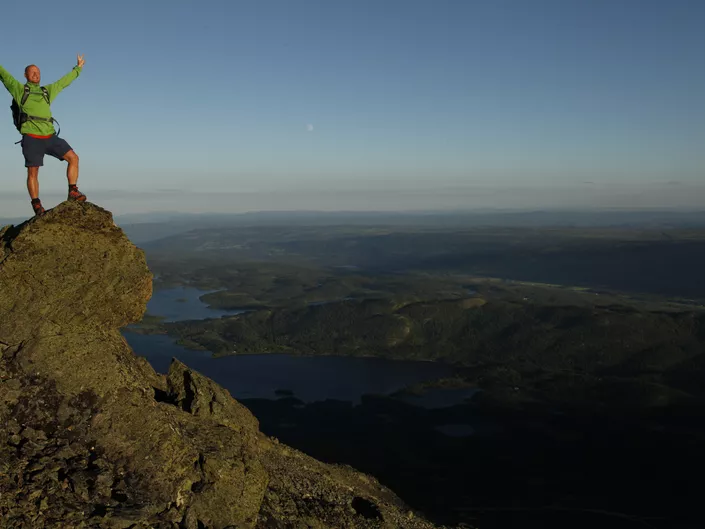 1728 meters high Skogshorn (Skogshorn) is located on the border between Hemsedal and Valdres, and is easily visible from long distance with its prominent and steep mountain slope facing south.
Skogshorn 903 - 1728 m
Hikers can now take a trip to the mountain Skogshorn (1728 meter above sea level) along a restored trail. The repairing work included building stonesteps, revegetate broken trail and controlling the water by creating water drains. Four Sherpa from Nepal have during 2017, 2018 and 2019 done the work repairing the trail.
The top is climbed from the east and the hike can be a bit challenging, but may well be hiked by children - about 833 m vertical and approximately 9 km walk / return. Half way up to the summit you'll walk on a path, and then you'll meet the rocks that takes you to the top. Calculate about 4.5 hours on the trip.

There are built benches to sit down and take a rest 3 places along the trail.
Skogshornstienhas been newly restored
The trip up to Skogshorn (1728 m.a.s.l.) is on a newly restored path where wet bog areas and erosion-prone vegetation have been taken into account. This has been done by draining water out of the path, paving wet areas, building stone steps and revegetating areas. In line with an ever-increasing number of visitors to the mountain Skogshorn, more extreme rainfall will also pose a challenge that must be taken seriously.
Read more about the project
here

We urge all hikers to bring their garbage out of the area. Remember also to follow the marked trail. This will prevent additional wear and tear

Difficulty:
Distance: 9km
Duration: 5h
Height in meters: 833m
Overview
Skogshorn is the most visited and most photographed mountain in Hemsedal. From the top, 1728 masl, you get the view over Lykkja and the lake area and also towards the waterfall Hydnefossen. 
Start coordinates
60.882168, 8.753071
Best season
jan
feb
mar
apr
may
jun
jul
aug
sep
oct
nov
dec
How to get there
From Hemsedal drive 4 km toward Gol until you enter a small place called Ulsåk. Take off E39 toward Lykkja, road number FV231. Follow the road for 13.5 km. Skogshorn is on your left-hand, parking on the right. 
Parking
Parking, payment via Vipps (only for Norwegians).
Safety
Bring a drink and snacks.
Tip
This is the perfect hike for those who like a good workout, bring your step counter and try to run it up in intervals. 
Description
Skogshorn is by far the most visited mountain in Hemsedal. In 2015-19 we had sherpas restoring the trail and now it is a fantastic hike in a beautiful landscape, accessible by most who has the lungs to make it up.  
The entry point of the trail is located in Lykkja, a mountain area with traditional Norwegian mountain pastures. You start the hike on a normal hiking trail before entering the new trail made by the sherpas. We hope you like walking on stairs because most of the trail from here on up are stone stairs. You will find 3 resting spots on your way up. 
There are some small detours that are possible to do, both to the stream of Hynda and the lake of Hundsemvatn. 
The mountain of Skogshorn separates Hallingdal from neighbour valley Valdres and beneath the mountain, there are several mountain lakes and streams that are perfect for a swim on a sunny day.