Day trip with kayak
to Nærøyfjorden in Sognefjorden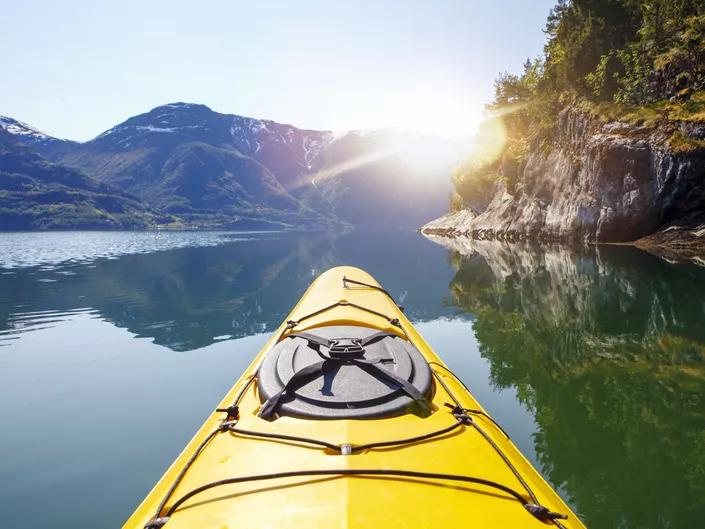 Now you have the opportunity to join our experienced guide on a wonderful day trip in a kayak in the amazing Nærøyfjord.
Nærøyfjord, a side arm of the Sognefjord, is surrounded by mountains up to 1700 meters high. The fjord is listed on the UNESCO World Heritage List and is indescribably beautiful. Now you have the opportunity to paddle in this unique environment with a guide.
The tour starts at 9 am in Hemsedal, where you are picked up by the guide in a minibus. We drive to Nærøyfjorden and embark on a 4 hour trip that is suitable for everyone regardless of previous experience. Halfway there is a stop with lunch which is included.
After the trip, we get on the minibus again and make the trip to Ægir Brewery in Flåm, where there will be beer testing and the opportunity for dinner. (Beer testing is incl, not the dinner) After testing, the bus drives back to Hemsedal, we expect to be in Hemsedal at about 8 pm.
The trip is arranged in small groups.
Included in the price is
transport
guide
kayak with necessary accessories
entrance
tasting at Ægir (NB 18 year age limit on testing).
Bring: a set of change of clothes, a windproof jacket, preferably a thin hat and gloves, comfortable shoes, drinks and preferably some snacks / an energy bar etc.
Dinner is optional to buy at Ægir Brewery
Price per person NOK 2300
If you need accommodation in Hemsedal or want to join without the transport, contact us and we will help. We also arrange wet card courses and shorter trips in Hemsedal.
Do you have questions or want a trip other dates than those that are available, or you need more places or. contact us at info@hemsedalaktiv.no
Contact
Tour dates
July 9th
July 13th
August 5th
August 6th