Biking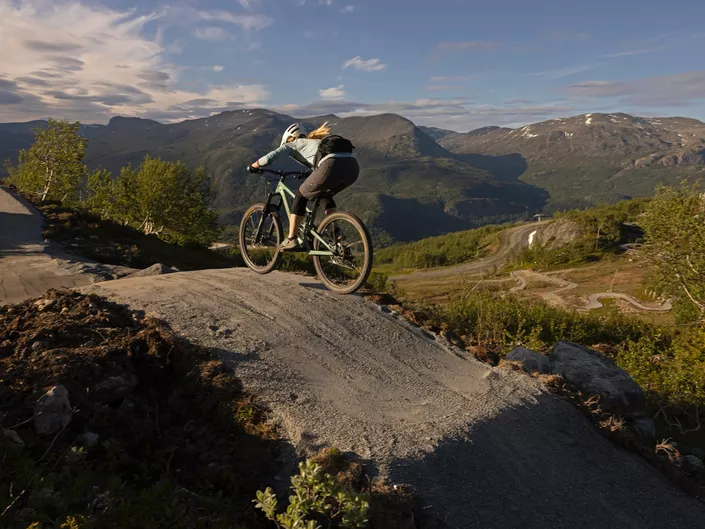 Enjoy trail biking on mountains and trails in Hemsedal and discover the world of Hemsedal Rides, which offers trails for everyone.
Welcome to Norway's new trail biking destination, Hemsedal.

Enjoy on of Norway's roughest flow trail, Silverstone, that runs from the top of the chair lift Hollvin Express and trough many dosed turns, jumps and bumps down to the start again or play around in the easier Broadway, High Line or Tottelia Bike Park. News for 2023 is a new red trail for the experiemced biker.

The chairlift runs every day during the summer holidays, some weekends after that and every day in week 40.

When biking in Hemsedal rides, we suggest that everybody starts in Tottelia, which is Hemsedal's playground for us on two wheels. Tottelia is located between Hemsedal and the ski resort, directly behind Fyri Hotell. Here you will find circular trails with green, blue and red grading, a total of 2 km with flow, dosages and jumps for all levels.
After Tottelia you can take the chair lift up and try the 10.5 km blue float path, Silverstone, of which 8 km is continuous from top to bottom or the easier alternatives Broadway and High Line. News for 2023 is a new red trail for the experiemced biker.

Other trails and routes
We also have other marked cycle routes in the valley, in the forest, on the high mountains, on dirt roads and paths. All the routes are connected so that you can cycle to all sights and attractions in Hemsedal. Check out our great Hemsedal app with lots of biking suggestions.

Bike in Hallingdal
If you want more challenges by bike and are flexible to take the car around Hallingdal, you will find many cool paths and pump tracks that you can challenge yourself on. Check out Nesbyen, Gol and Geilo, among others, look for Hallingdal rides here further down.
We are growing
Next summer a red trail for the pro bikers is being build, read more about that here and in the video here under.
Hemsedal rides - Silverstone
Difficulty:
Distance: 6.6km
Duration: 1h
Height in meters: 486m
Overview
Hemsedal's flagship trail that is like a roller coaster on a bike. This is one of Norway's roughest and most beautiful floating trails, offers many berms, rollers and small jumps.
Start coordinates
60.848403, 8.511479
Best season
jan
feb
mar
apr
may
jun
jul
aug
sep
oct
nov
dec
How to get there
Take off road 52 by Hemsedal Ski resort and park at one of the parkinglots
Parking
Many parkinglots. Parking is payed online or via app. 
Electric charging is avaliable, please see skistar.com for more info about parking.
Safety
We advise to take it easy on the first run so you know how the trail bends and where the big and small jumps are. When you have biked the first part at the top of the mountain, you can turn off to the right to follow the trail back to Fjellkafeen and the start of the trail again.
Tip
Få med deg Broadway og Highline som starter på samme sted som Silverstone. De er grønn og blå i markeringen og passer de aller fleste. 
Description
In Hemsedal Rides, you can test out one of Norway's roughest flow trails with a fantastic view of the mountains.
Silverstone is a berms and rollers paradise swirling throught the birch forrest of the resort. 
You start by taking the lift up with your bike and the trail begins when you get off the lift and starts with a small loop up the terrain before you bike down towards Skigaarden and continue down towards the bottom of the ski centre. Here you can enjoy 8 km of clean flow trail to the bottom of the resort and for those who want to bike several laps at altitude, a return trail has been built to the Fjellkafeen, which gives a lap of approx. 2.3 km.
 There are many marked stops along the trail and we recommend everyone to take a break in between to catch their breath, shake off lactic acid and look at the fantastic view. See the lift's opening hours.
Be sure to check out the green and blue trail, with starting point at the same place as Silverstone. They are called Broadway & High Line.
Discover Hallingdal rides
---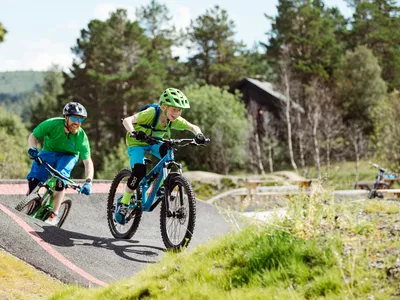 Geilo rides
Mountain biking on pump tracks or mountain paths