Whether you are a trail enthusiast, love E-bikes or prefer kicking dirt on gravel roads, you will find a trip that suits you in Hemsedal. Many of the suggested trips you will find in our brochure (get yours free from the tourist office) but you can also find some of the local favourites from webpages like trailguide.net and trailforks.com. Get inspired with the suggestions we have made for you here.
Henriette
5 min
Updated 05 May 2021
Rolling on dirt roads: Hemsedal offers many great gravel roads surrounding both mountain lakes, mountain peaks and forests.
Hemsila rundt (35 km) is a beautiful and family friendly trip along the river from Ulsåk towards Gol, where you can cross the dam Eikredammen if you are looking for a nice lunch spot.
Kongevegen (ca. 20 km) is another great trip on a more rough tractor road, the trip starts at Bjøberg and ends in Tuv (pro tip: when you end the trip, lock your bikes in Tuv and take the bus back to the car, check vy.no for bus schedule). If you have more energy to burn you can continue from Tuv towards Fagersetvannet and the golf course in Grøndalen.
E-bike booster: With an E-bike you will get farther on shorter time and with less (human) energy consumption and a trip up to the hidden valley of Hydalen (11 km from the parking at Fjellstølane by Harahorn) will be a piece of cake. Then you can enjoy the view from Vavatn lake and all the way down to the beautiful valley.
Fanitullvegen (30 km one way) is a classic, where many have used the chair lift as transportation up hill, but with an E-bike everyone can manage Holdeskarsvegen and get a nice trip across the mountain area.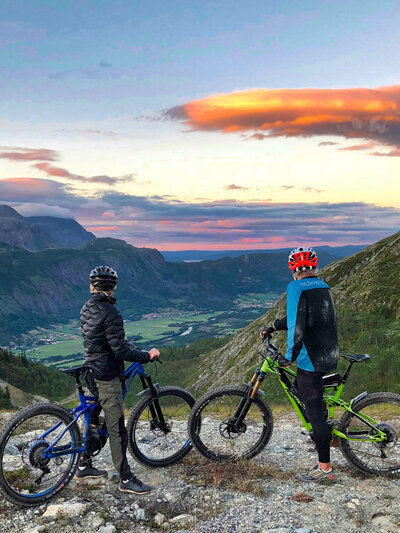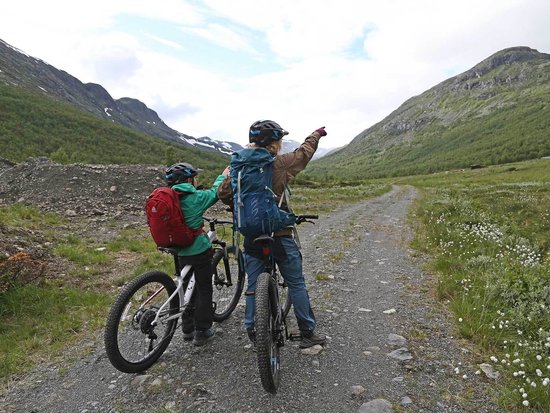 Discover the biking eldorado of Hallingdal rides this summer. Hallingdal rides includes Hemsedal, Gol, Nesbyen, Flå, Geilo and Ål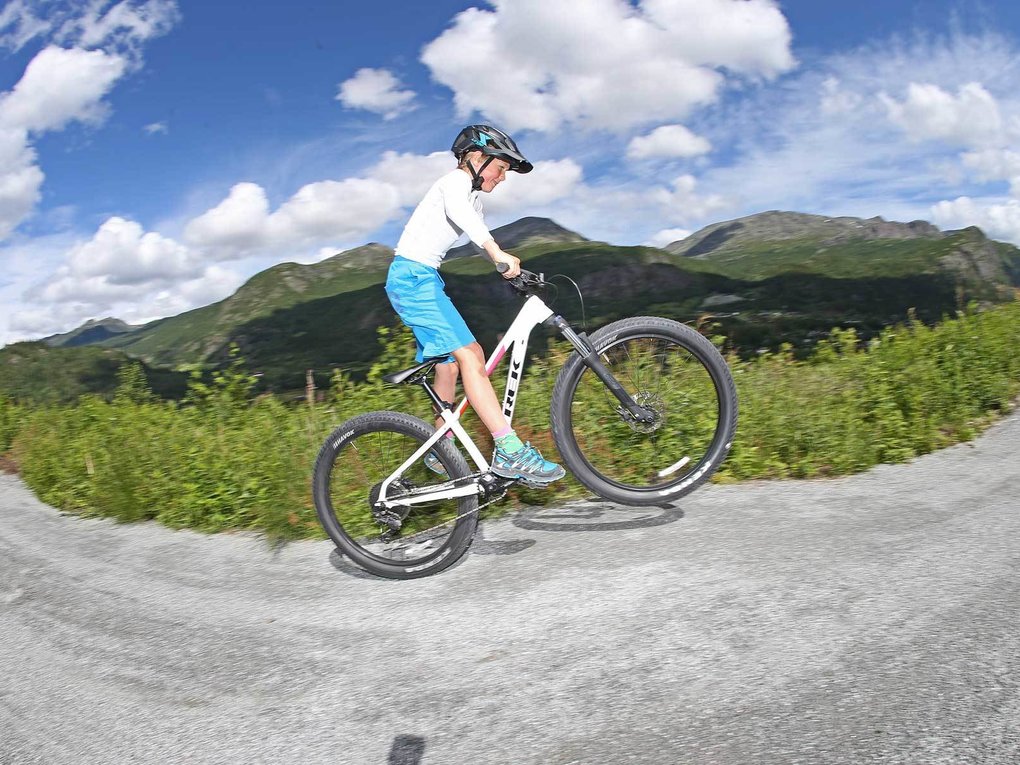 Trail lover: From the town centre towards Ulsåk you can find Hemsilstigen, which is mostly used by hikers, but if you are considerate of those, this is a really nice trail along the river. About halfway you will find "Krikken" water treatment plant. Here you can either follow the gravel road to the main road and use the walk- and bikeway back or you can continue across the bridge and test your advanced trail skills on the trail that eventually takes you to the gravel road to Moen Camping in Ulsåk (go left in the crossing after the bridge)
For hardcore mountain bikers the local favourites such as The Forgotten Trail (2,7 km) and Karisetbergrunden (10 km) are must do's. You can find these trips described on trailguide.net.
If you like to combine trail and gravel, the round trip around Storevatnet is a nice combination and if you choose to ride north from the parking at Hestanåni and around, a nice swim in Grytevatnet will complete the trip.
Family Flow: Fun for the entire family can be found in the bike park Tottelia Rides. Here you can either spend many hours modifying your skills or warm up for a longer ride.
If you have the opportunity to bring your bikes on the car, Helsingvatn (approx. 7 km) is a family friendly trip where a visit to Ulsåkstølen is a fun experience for the youngest. Fishing in the lake or swimming in the waterfalls at the end of the road are other nice things to do.
For families that have older children, who can manage longer trips, the trip Vannen rundt (20 km) is a great combination of tarmac and dirt road. If you ride from Hestanåni parking towards south west the trip can end with a refreshing swim in Grytevatnet.
For the road cyclist: Do you get pumped by the smell of tarmac and the feeling of your beating heart? Then Lykkjavegen or Øvre Hemsedalsvegen towards Gol are good options with great views. From the town centre you can ride on Torsetvegen which has less traffic (but no bike lane) and from Ulsåk you will get your leg muscles working hard up hill, but will be rewarded with a pretty view of mountains and lakes, plus many historical buildings and farms along the way.
Read more on summer activities in Hemsedal and check available accommodation. Check also the calendar and find out what's happening while you are in Hemsedal.
Welcome to the mountains!
Useful links
Find inspiration on bike trips from articles and online trip planners
In May 2020 a Norwegian bike magazine "Terrengsykkel" had a big article on bike trails in Hemsedal, read it here(in Norwegian)
Same magazine had an article on our new bike park Tottelia Rides in June 2019, read it here(in Norwegian)
There are several online trip planners that can be useful, check out: ut.no, trailguide.net, trailforks.com, komoot.com
Sikkerhet i sykkelløypene
---