10 must be seen
in Hemsedal this summer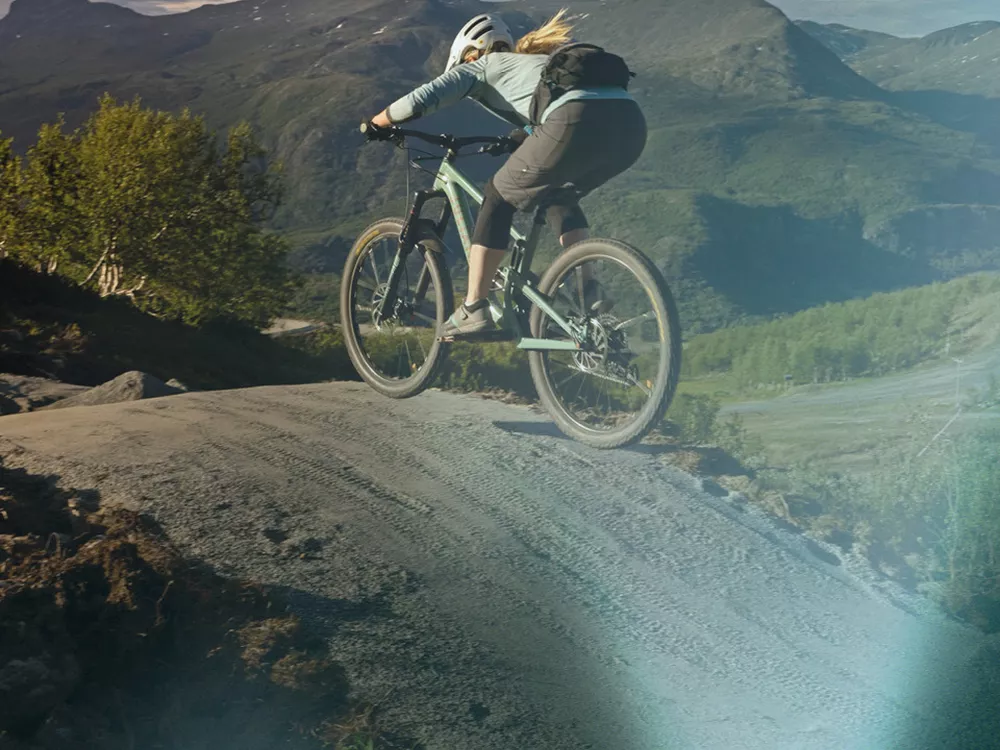 Hemsedal has plenty of incredible nature experiences to offer! From river snorkling and rock climbing to scenic hikes and dramatic views, our little mountain village is sure to take your breath away. Here is our list of Hemsedal's top 10 must-sees that are guaranteed to create unforgettable summer memories for the whole family!
By: Isabel Müller Eidhamar & Destination Hemsedal
10 min
Updated 18 May 2022
New 8 km long continuous blue flow trail

Play in the brand new blue flow trail, Silverstone, from the top of the chairlift in Hemsedal ski resort and all the way down to the bottom of the resort. The trail goes through the forest with berms and jumps and it will be enough for riders of all skill levels to hone in. Since it is a blue flow path, it will suit most people.
We recommend that you start biking in Tottelia and when you feel confident in your skills there, you can go over to take the lift up and try your hand at the new trail. This summer, a new green family trail is being built on top of the Hollvin Express as well as a red flow trail that goes down towards Fyri resort.

The view from the flow trail is amazing, the trail starts off on the high mountain going into the birch forest and winds down towards Skigaarden and further down the hill side til you reach the lift again.

- Rollercoaster. -Coolest flow trail in Norway. -Adrenaline and challenges. -You can make it as difficult as you want. -Amazing view. These are somethings that has been said about the new flow trail.
So make your reservation now and come and try it yourself. Remember also that Hemsedal is part of Hallingdal Rides which is trail biking throughout Hallingdal. Together we can offer some of the roughest in trail biking in Europe. If you are travelling by car, you can reach all destinations within the hour from Hemsedal.

Skigaarden and Fjellkafeen are open this summer and offer both good food and coffee with snacks for the break.

Ps. you can also go on and lovely mountain hike to Totten starting from the chairlift and try on the Mountain cart.
Marvel at the view of Skogshorn mountain from the top of Storhøvda
When you ask the locals in Hemsedal what their favourite hike is, most of them will mention Storhøvda as one of their all-time favourites. Not only does it offer one of the most spectacular views in all of Hemsedal, it is also one of the easiest hike in our Top 20 brochure. It is easy to get lost in your daydreams while enjoying the view from the top. The view of Skogshorn is the best in town and you can see lakes as far as the eye can wander. On a clear day Hydnefossen waterfall on the opposite side of the valley is also clearly visible in the distance. It is also a great hike if you want to take an evening stroll or take the dog for a walk. It is as they say, when you go to New York don't climb to the top of Empire State, climb the Rockefeller Center so that you can marvel at the Empire State, just as you here can marvel at Skogshorn mountain from the top of Storhøvda. Suitable for the whole family! Happy hiking!


Cool down with a refreshing swim in Grytevatn
On a hot summer's day there are few things better than a refreshing dip in one of Hemsedals mountain lakes, and our best kept secret is the spot near Grytevatn in Lykkja. The idyllic lake has plenty of rocks where you can sunbathe, and there is a simple beach, so is is also possible for the youngest in the family to go for a swim. Not to mention that Grytevatn is Hemsedal's warmest swimming spot. Why not make a nice summer salad to bring with you to enjoy after your swim? You can easily spend the entire day here, so enjoy!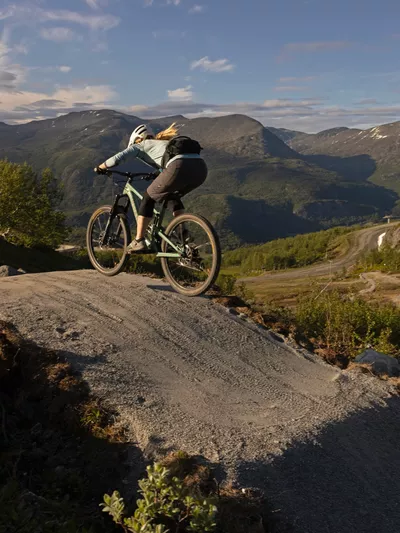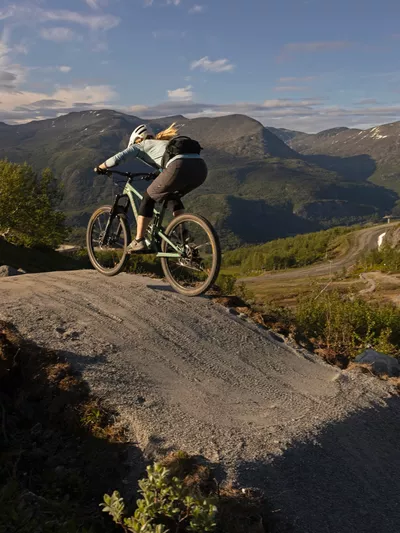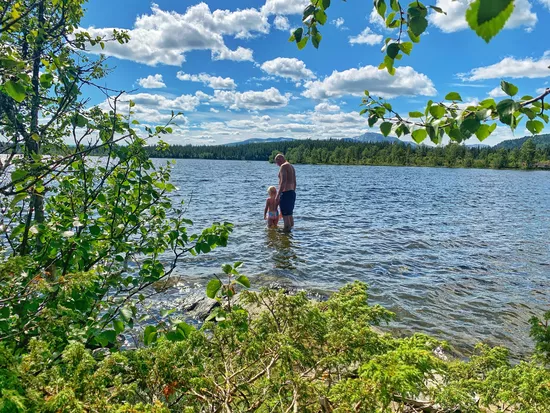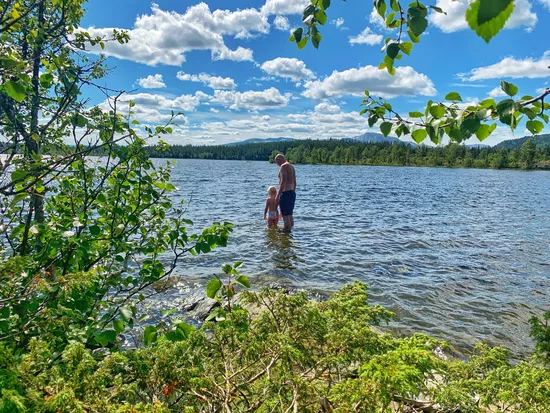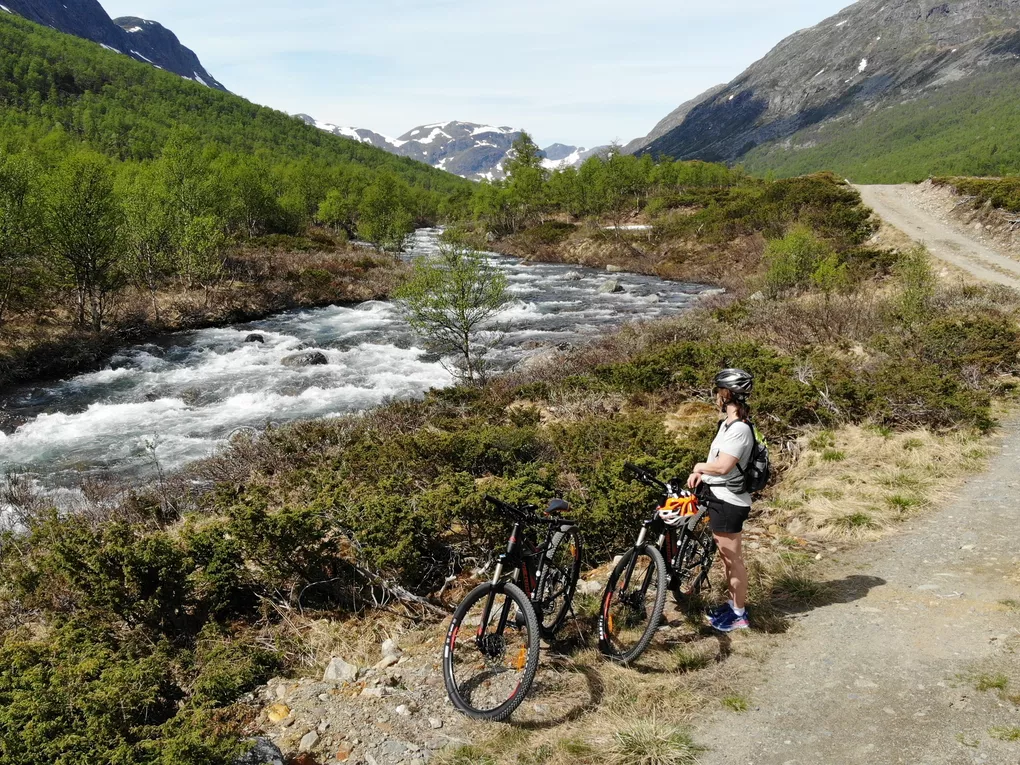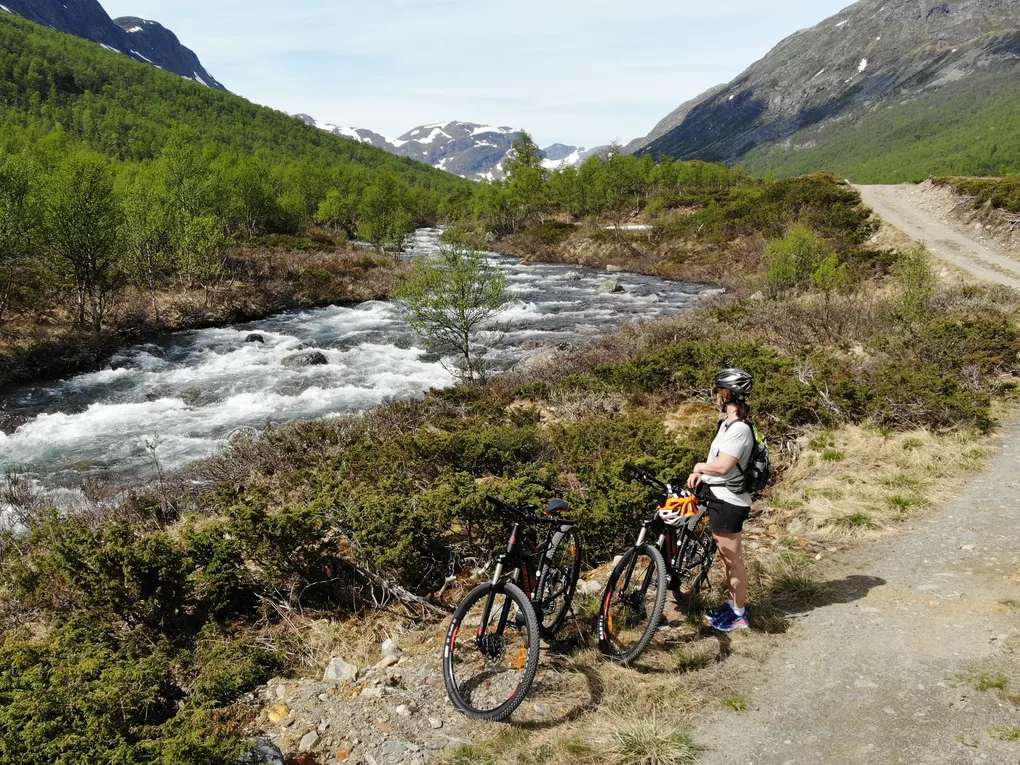 Cycle on an electric bike to Hydalen nature reserve

Have you tried e-biking before? If not this is your chance! The last couple of years electric bikes have boomed in popularity, and that is no exception in Hemsedal. If you get easily tired, but lov biking, and want some extra help in the steep inclines, this is a great option as it helps you with electric power when it gets tough. We guarantee you have never bikes this fast before! You can rent an e-bike at the sportshops MOH and Totten Sport in Hemsedal town centre. We recommend biking to Hydalen, a nature reserve north in the valley. Hydalen is known for its incredible views of mountains Harahødn and Ranastøngji, as well as the beautiful Vavatn lake. It is also a great way to get to the starting-point for the Hydalshjallen hike! This day trip is also great during the autumn months to view the amazing foliage in Hydalen. Enjoy!

Daydream while canoying at the Vannen lake or try SUP at Fagersetvatn
Canoying in the summer is medicine for the soul and a great and active activity for the whole family. Rent a canoe from Hemsedal Fjellsport by the climbing park Høyt & Lavt in Hemsedal town centre and set out on your dream day on the lakes. You will enjoy a marvellous view of Skogshorn mountain and the surrounding islands. It is also a great place to go camping, and the first island on Vannen is especially equipped for exactly this with a campfire spot and places to sit. For canoe-rental prices check Hemsedal aktiv.
Do you also love to go SUP paddeling? Hemsedal Fjellsport has SUP for rent. There are many great places to discover with your SUP, both along rivers and mountain lakes. You pick up your SUP and life jacket at Hemsedal Climbing Center, it is easy to inflate and you are ready to paddle away in a few minutes.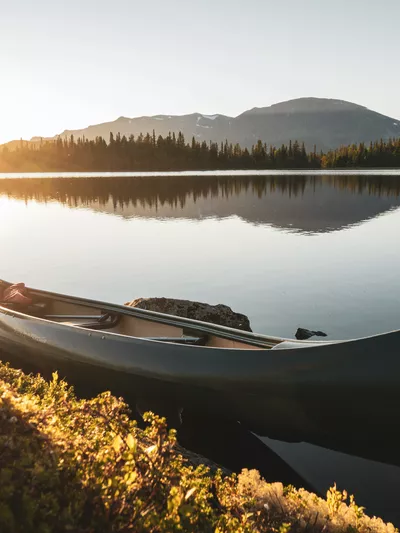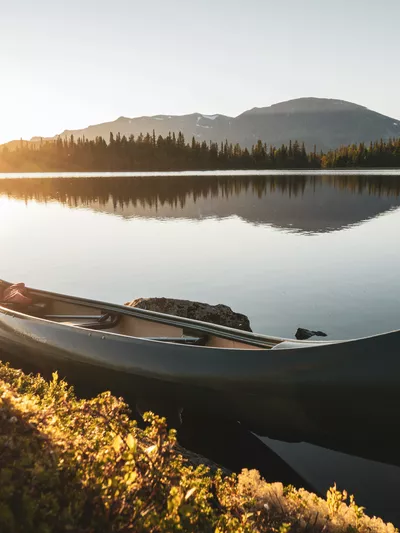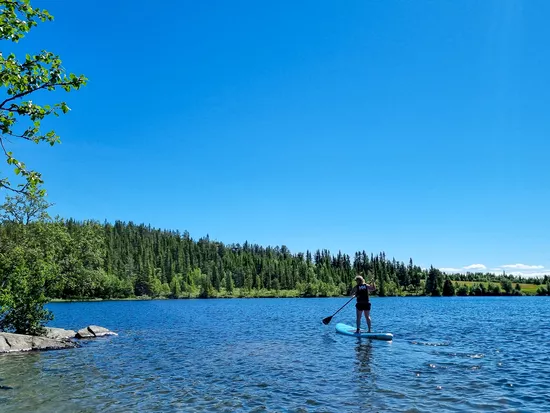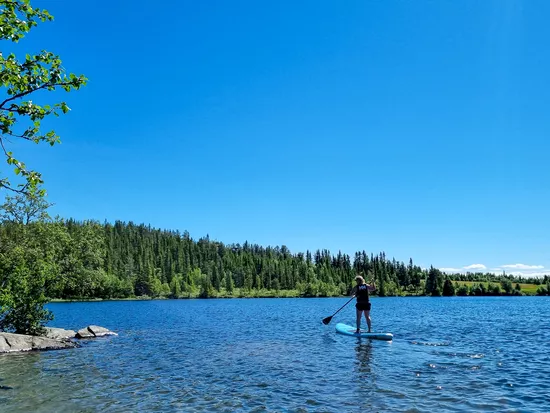 Experience the pulse of unforgettable experiences in Hemsedal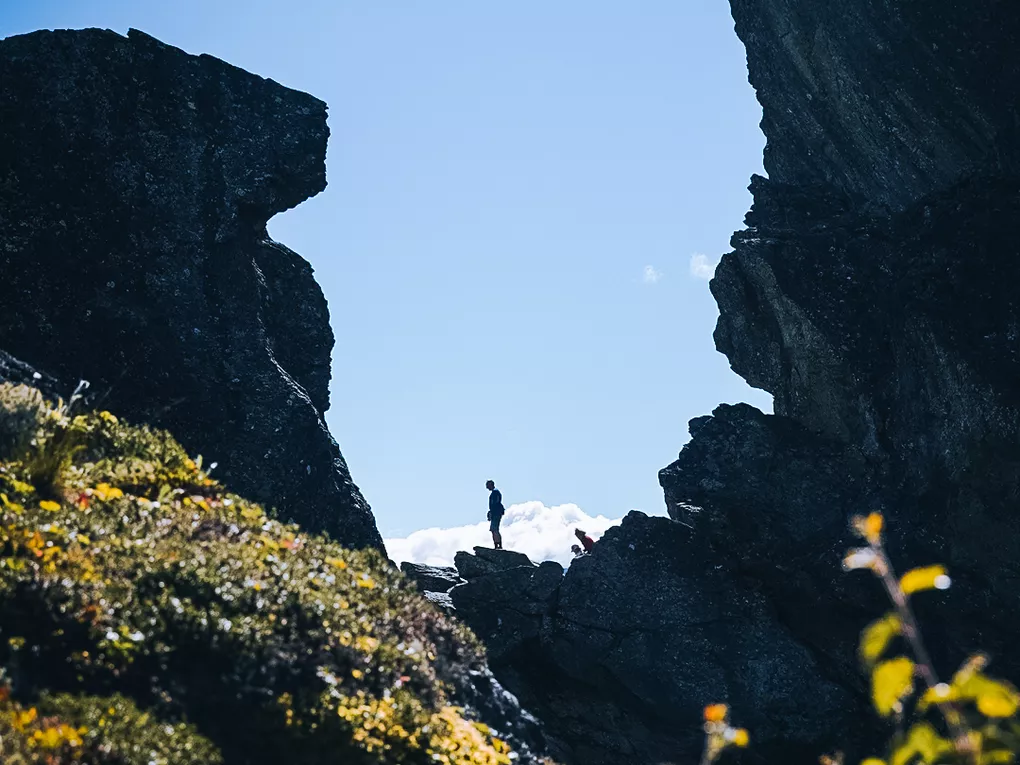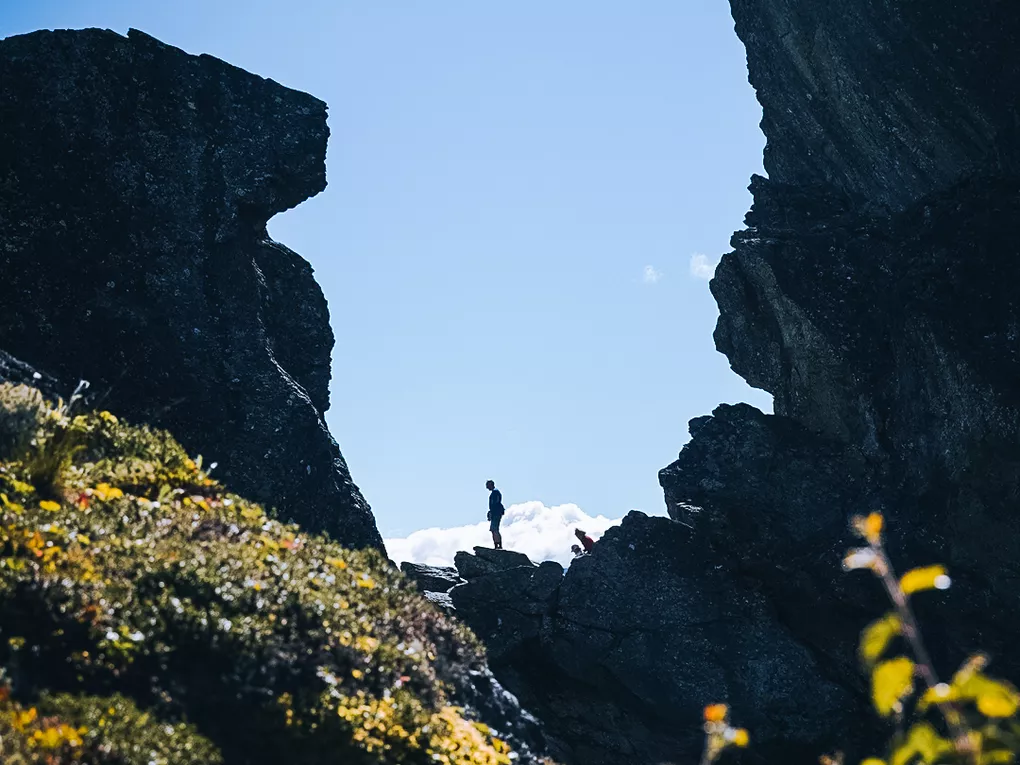 Put on your hiking boots and explore Veslehødn

This is Hemsedal's most popular hike among visitors, and righfully so. Not only do you get to experience our biggest waterfall, Hydnefossen, from above, you will also walk along spectacularly dramatic views over the entire Hemsedal valley and its surroundings. The top has plenty of great photo-spots and is sure to make your mum worry. Don't be scared though, this is a great hike for the whole family, also the youngest children.
If you take cool pictures, please tag us with #hemsedalcom on Instagram!
Brave the challenge and zip-line across Rjukandefossen waterfall

Rjukandefossen waterfall is a beautiful place to visit for everyone stopping by our charming town, but if you are feeling especially brave why not try to zipline across the waterfall? A unique experience for all you daredevils out there! Check
Hemsedal aktiv
for availability. Rjukandefossen also has plenty to offer you who prefer to stay on the ground, with a hanging bridge, scenic views of the waterfall and great swimming spots!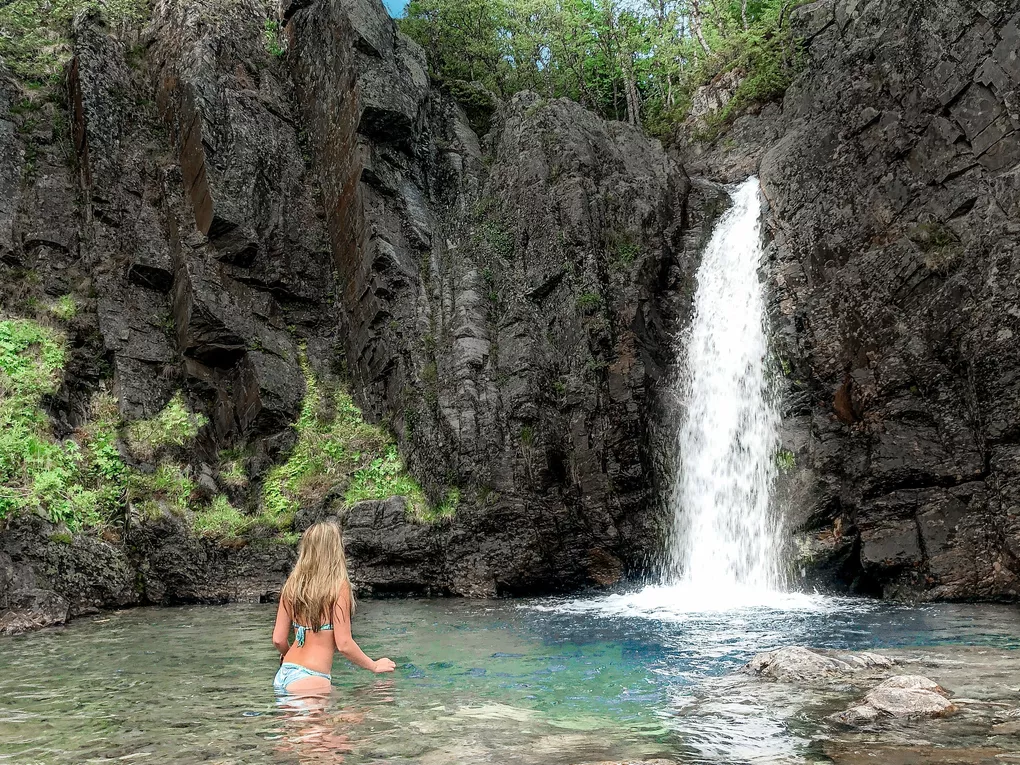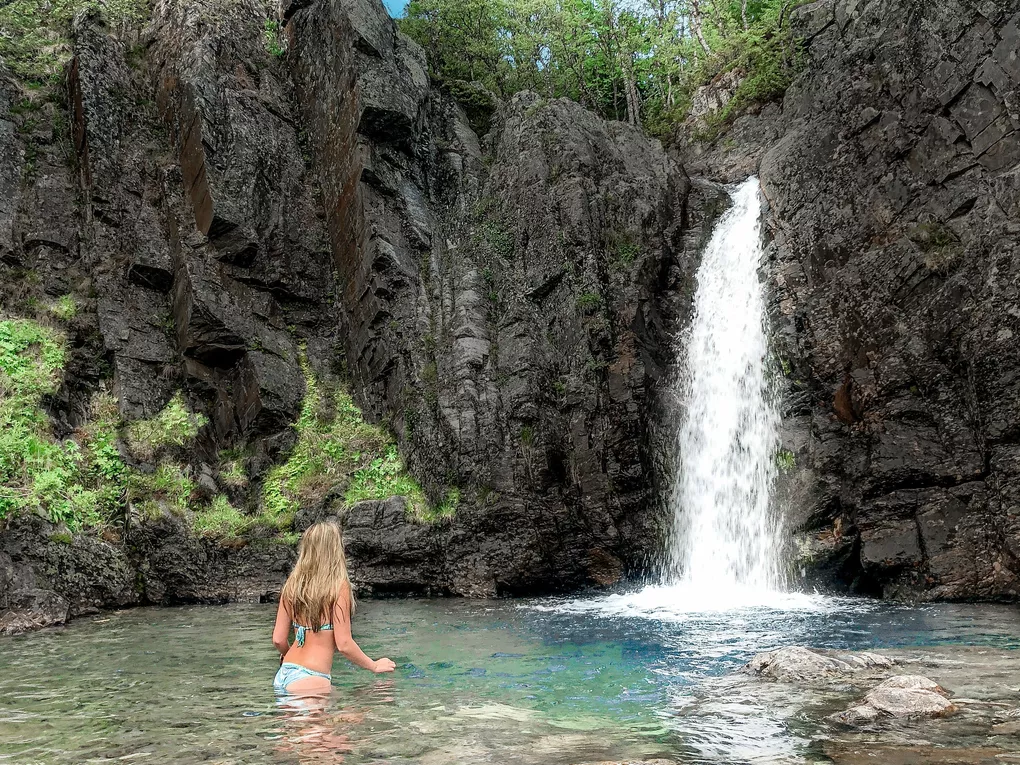 Follow the path from Fekjan and swim in the waterfalls

The walk from Fekjan to Hemsedal town centre is a beautiful alternative for anyone who fancies a less steep hike that still offers spectacular views and sights. The walk is not as famous as the other Top 20 hikes, but it is just as beautiful! The walk takes up most of the day and takes a couple of hors, so remember to bring some food and enough to drink. It might also be an idea to bring swimwear as one of Hemsedal's most beautiful waterfalls Fekjanfossen is nearby. It has quickly become one of the local's favourite swimming spots, and it is nice to cool down and wash of the sweat on a warm summer's day! This is also a great starting-point for camping.
Go snorkling for Trout in the Hemsila river


Do you enjoy snorkling during the summer holidays? You might find it surprising, but you can also snorkle here in Hemsedal! One of our most beloved summer activities is
river snorkling
in Hemsila! It is a fun, unqiue and action-packed activity in the water with great odds at seeing the Mountain Trout in its natural habitat. The visibility is surprisingly good too! A local guide will accompany you on the 3 hour experience, and you don't have to worry if you get easily cold, because you will be given a wetsuit to keep you warm. For booking please see
bookhemsedal.com
.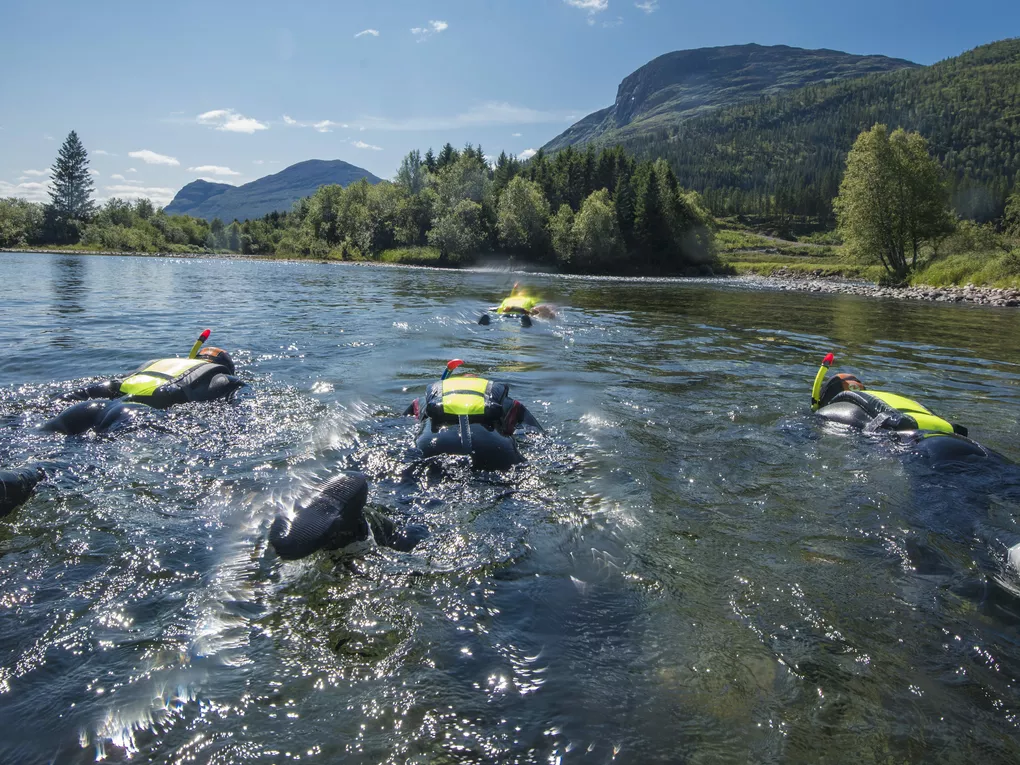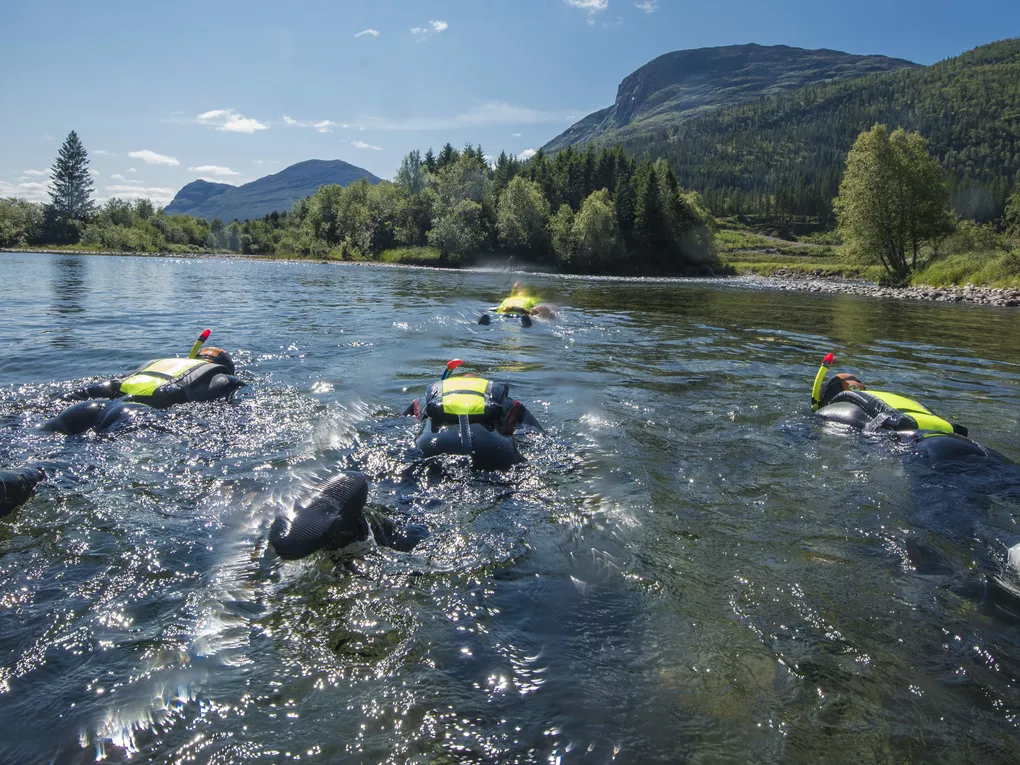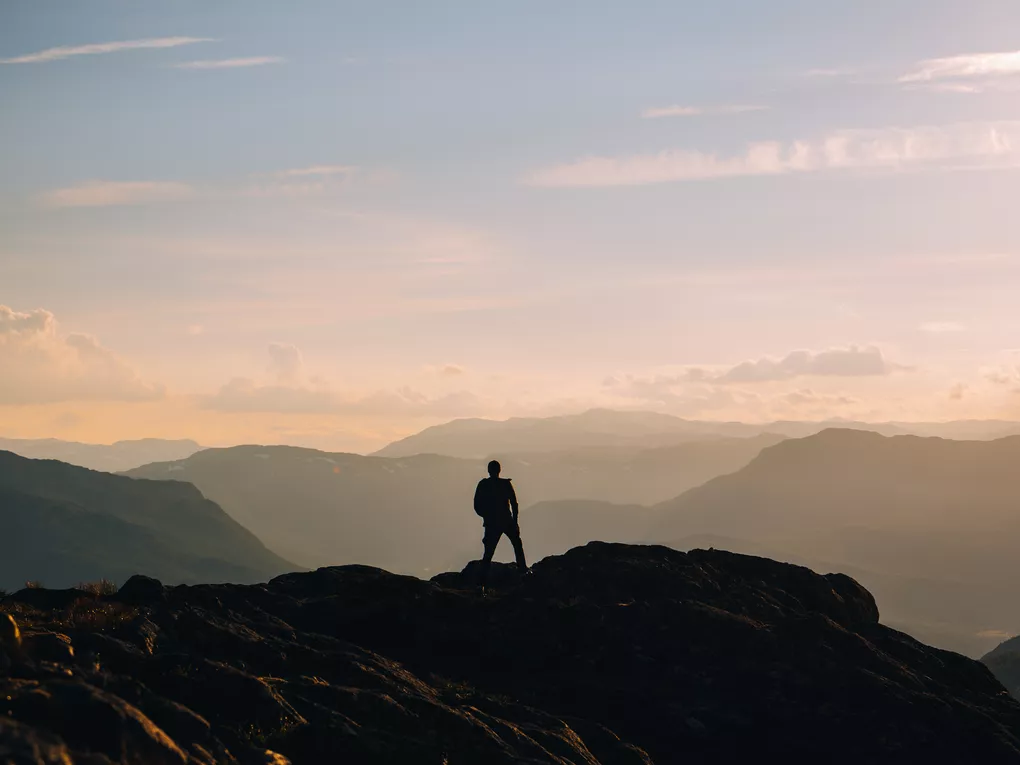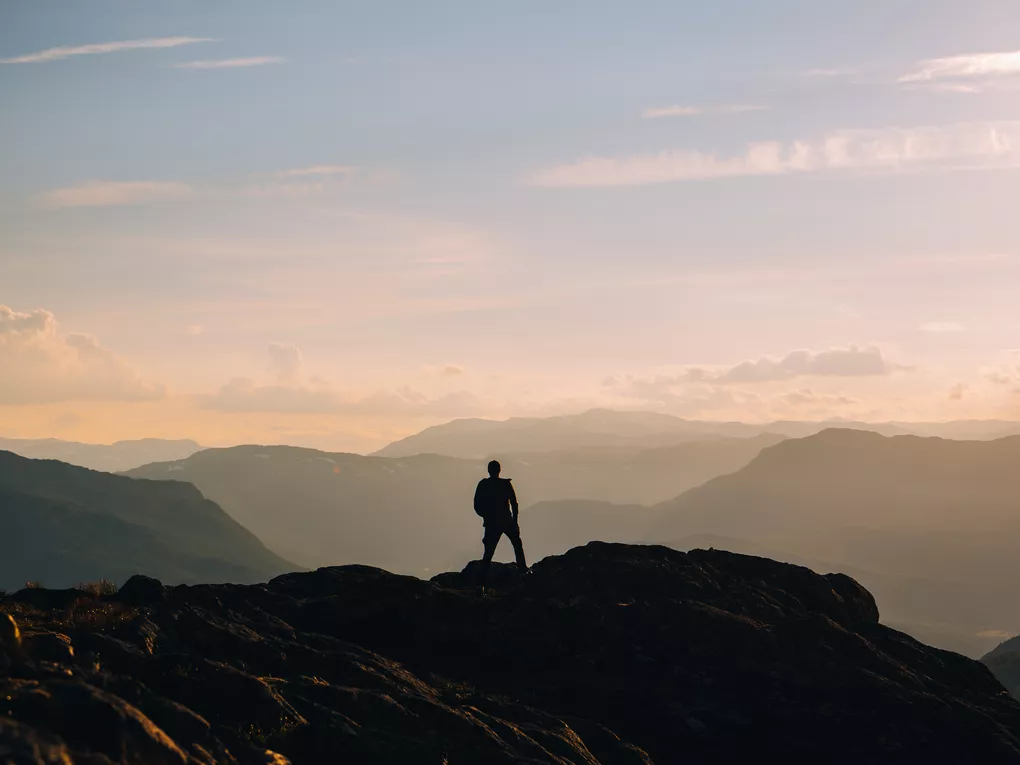 Test your fishing luck and go camping by Helsingvatn

If you love fishing Hemsedal is the perfect place for you! There are endless choices and plenty of lakes to choose from all across the valley, though the lakes in Lykkja remain a favourite among many. Who knows, perhaps you will catch tonight's dinner in one of the lakes? Up by Helsingvatn in Lykkja you can fish while enjoying the view of the incredible Skogshorn mountain and its surroundings. Why not bring camping gear and spend the night? It is sure to be one of the best places you have ever enjoyed your morning coffee! You can buy your fishing license with us here at the Tourist Office, in one of Hemsedal's sportshops or online at
inatur.no

Enjoy the sunset at Harahødn

The hike up to Harahødn is great in summer and during the autumn months, and as a part of our
Top 20
hikes many people visit every year. The top boasts of amazing views of the Vavatn lake, the nature reserve Hydalen and Grønndalen, and if you enjoy climbing you will love the climb up the ridge to the top. Harahødn is definitely one of the most beautiful places in Hemsedal to enjoy the sunset, and if you want a souvernir, why not buy the 'Harahorn' gin named after the mountain at the airport on the way back home? If you climb the mountain during the sunset hours, remember to bring a headlamp for the journey home.
Welcome to the mountains!