10 must be seen
in Hemsedal this summer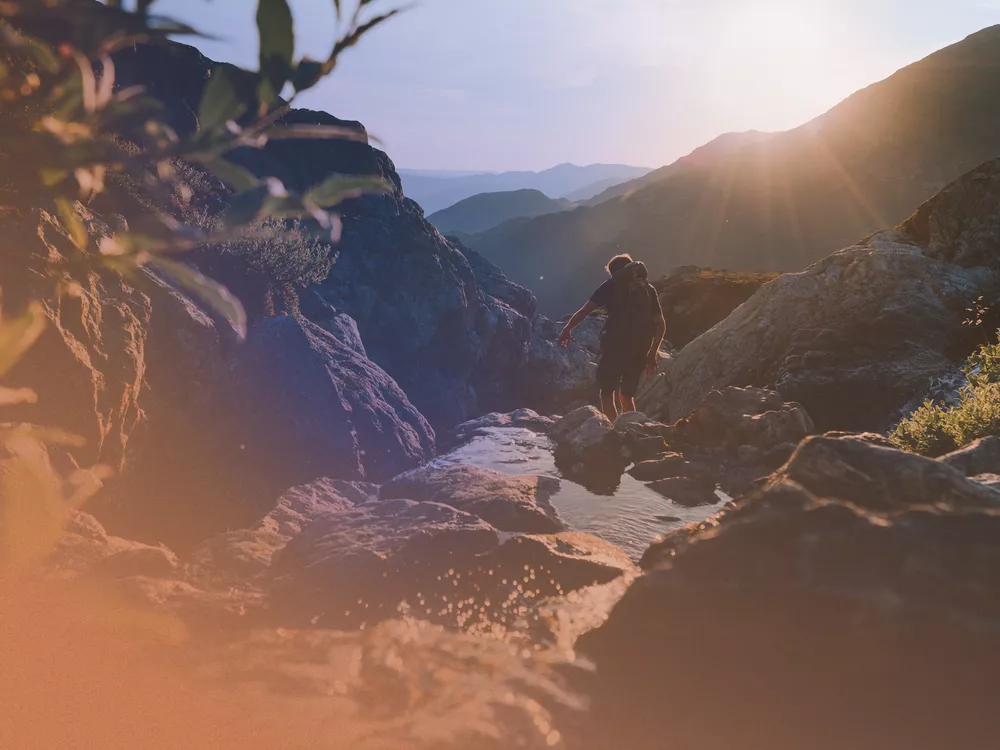 Hemsedal is perfect for a summer getaway. With stunning mountain scenary and crystal clear lakes you create unforgettable summer memories with the whole family!
By: Isabel Müller Eidhamar & Destination Hemsedal
10 min
Updated 07 August 2023
1. Mtb biking in Hemsedal rides

Hemsedal is starting to become a pretty big mountain bike destination, with Tottelia Bike park and four machine built trails to play around in. And when you add on the trails in Hallindal rides then we're talking about over 100 km of build mountain bike trails.
Our main trail is the blue flow trail Silverstone in Hemsedal rides. This is one of Nothern Europes rawest flow trails and "the star of Hemsedal". All our trails are lift-served so just hop on the chairlift Hollvin express to the top and from there the trail winds down the hill with trails features like berms, rollers and jumps. Silverstone is for bikers with a skill level of blue to sharpen their skills. It suit most people, but we recommend everyone to start biking in Tottelia and when you feel confident in your skills there, you can move on to take the lift up and try your hand at the trails on the mountain.

We also have the green multi-use trail Broadway, which runs from the top of the chairlift out to the Boardwalk by Sollaustbekken and the waterfall. Here you have an impressive view of the mountains of Hemsedal and the city centre. You will also find a shelter by the waterfall where you can take a break and enjoy the view.

From the Boardwalk by Sollaustbekken, you can choose whether you bike or walk back the same way or take one of the new trails. The High Line is a blue mtb trail that winds its way up towards Totten before returning towards the chair lift and Silverstone. This trail has rollers and berms that are fun for everyone in the family.

Our latest news for biking in Hemsedal for the summer of 2023, is the red mtb trail thats starts by Sollaustbekken. This is a trail with many natural elements that is for the experienced biker. It winds down the mountain towards Fyri Resort and Tottelia Rides. The trail is partly chunky and with drops, berms and jumps and you can occasionally choose whether to take the more difficult or the easier option, so both medium and advanced riders can bike together and have fun at their own level.

Said about blue flow trail Silverstone: - Roller coaster. - Funniest trail in Norway. - Really cool and challenging. - You can make it as difficult as you want. - Beautiful view!

Hemsedal is part of Hallingdal Rides, trail biking in the area of Hallingdal. Together, we can offer some of the largest areas of machine built mtb trails in Europe. If you have your car with you on holiday, you have all the trails within 30 min - 1.5 h distance from Hemsedal.

Fjellkafeen and Lodgen Spiseri open during the summer and offer both lunch and coffee for the breaks.

PS. You can also hike up to Totten starting from the chair lift and try Mountain Cart, Via Ferrata and Rappelling in the resort area.

Would you rather take an E-bike ride on a dirt road?

Have you ever tried an e-bike? If not, this is a great opportunity to try something new and to see Hemsedal on two wheels.

In recent years, E-bikes have exploded in popularity, and for those of us who get a little tired from long bike rides uphill, it's perfect, because you quickly get speed up your bum and wind in your hair.
Rent an E-bike at moh.sport in the center of Hemsedal or from SkiStar by the resort and set off towards, for example, the Hydalen nature reserve in the north of the valley. Here we can offer fantastic views over Harahødn, Vavatn and Ranastøngji, it is also a great way to get to the starting point for Hydalshjallen, Hemsedal's answer to Trolltunga. The trip is just as beautiful in summer as in autumn. Read more tips about biking here.
Happy biking!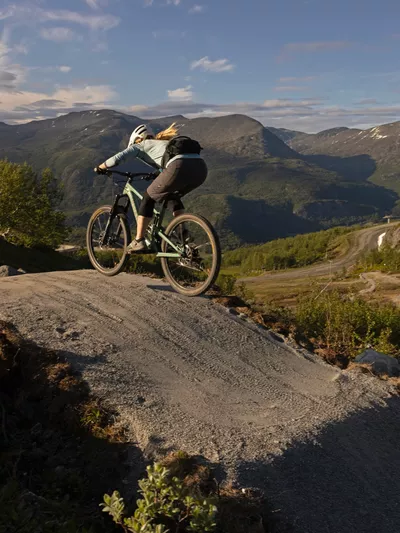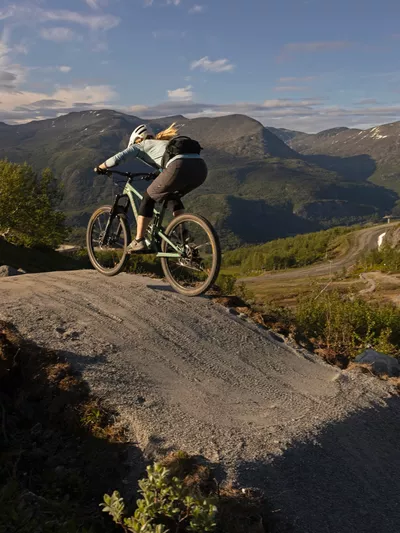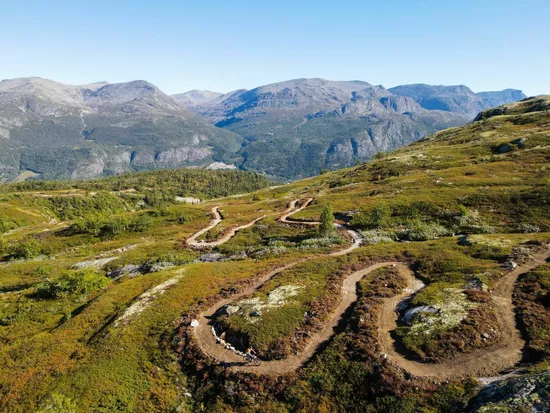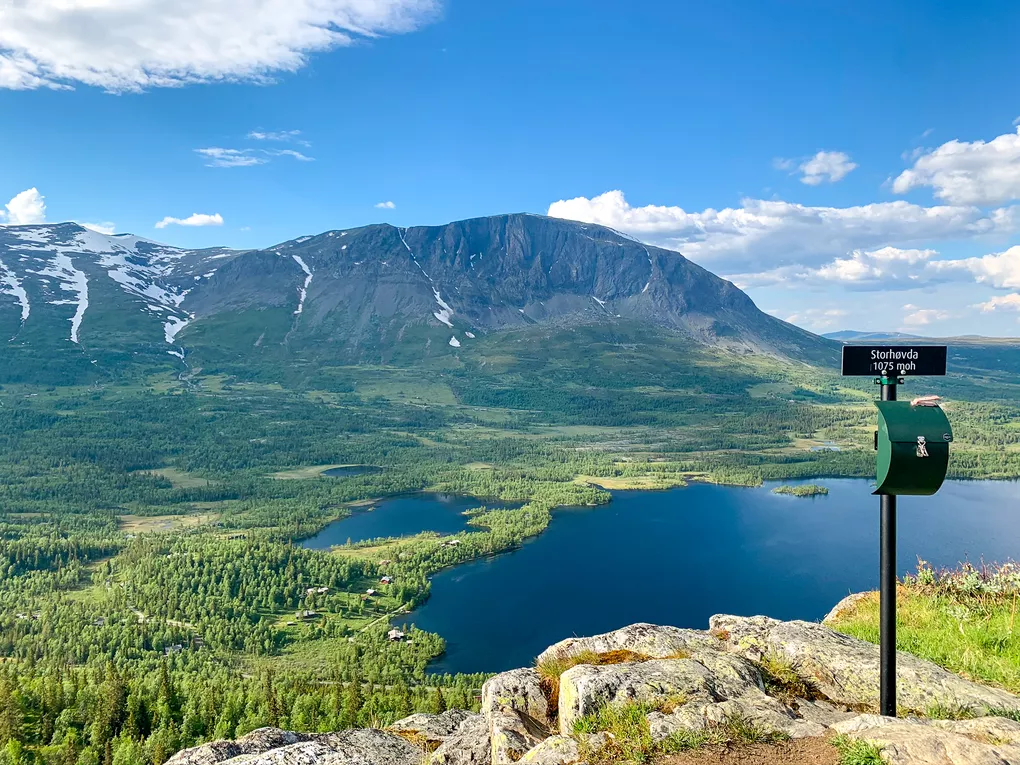 2. Marvel at the view of Skogshorn mountain from the top of Storhøvda
When you ask the locals in Hemsedal what their favourite hike is, most of them will mention Storhøvda as one of their all-time favourites. Not only does it offer one of the most spectacular views in all of Hemsedal, it is also one of the easiest hike in our Top 20 brochure. It is easy to get lost in your daydreams while enjoying the view from the top. The view of Skogshorn is the best in town and you can see lakes as far as the eye can wander. On a clear day Hydnefossen waterfall on the opposite side of the valley is also clearly visible in the distance. It is also a great hike if you want to take an evening stroll or take the dog for a walk. It is as they say, when you go to New York don't climb to the top of Empire State, climb the Rockefeller Center so that you can marvel at the Empire State, just as you here can marvel at Skogshorn mountain from the top of Storhøvda. Suitable for the whole family! Happy hiking!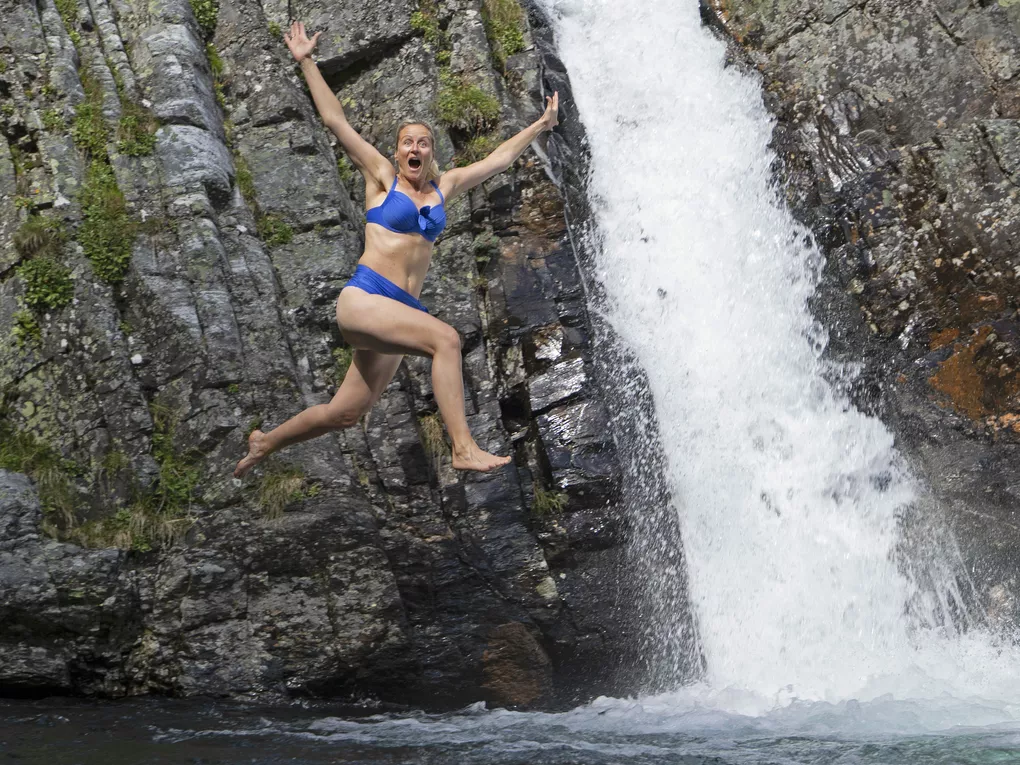 3. Waterfalls and mountain lakes

Have you always dreamed of swimming under a waterfall and think you need to go to the tropics to make it happen? Think again, here in Hemsedal the water may not be as warm as in Costa Rica, but the waterfalls can be just as beautiful and the feeling is fantastic.

In Hemsedal we have many rivers and streams that meander down from our mountains and you will find waterfalls almost everywhere. It's not for everyone to take a "shower" in a Norwegian waterfall, but some people love it. Just remember that it's not all waterfalls that are suitble to swim under, especially the big one are a - no go. At the foot of the mountain Nibbi you'll find Fekjanånefossen, which over the years has become very famous for its large and small waterfalls. Here you will find both puddles and waterfalls that are suitable for swimming in. Just remember that during heavy rainfalls it will be more water in the streams. Check the map and find a stream or river and then, pack your bag and discover new puddles with small waterfalls that you might have all to yourself for one day.

Cool down with a refreshing swim in Grytevatn
On a hot summer's day, there are few things more delicious than taking a dip in one of Hemsedal's many fine mountain lakes.Grytevatn, which you find on the way up to Lykkja, is one of our best kept secrets. The idyllic bathing area is slightly hidden along a dirt road and here you have to be careful to park on the side of the road so that you don't stop for tractors and cars. It has both nice cliffs to sunbathe on and a sandy bottom so the youngest can go into the water, and not least Grytevatn has Hemsedal's warmest bathing water! Pack a fresh summer salad and enjoy lunch overlooking the lake and nearby mountains. You can easily spend the whole day here!
The beach in the center of Hemsedal is our most popular bathing spot and the one that is most suitable for everyone. Here you have fine sand, a lawn and seating where you can have a picnic or eat a take away lunch. The beach is behind Hemsedal Cafe and next to Høyt & Lavt Klatrepark and you will find both climbing stones and play stands. Since it is Hemsila you are swimming in, there can sometimes be a strong current, especially further out and you have to be careful for your friends and family in the water.

Do you like a little more adventurous swimming with jumping from cliffs and such? Then the swimming area downstream of Rjukandefossen is right for you. Here you have to jump into the water and there is sometimes a strong current, so watch out for each other and remember that it is not allowed to swim around the actual waterfall in Rjukandefossen. There are strong underwater currents here. So remember to keep to the left on the path and you will get to the right swimming area :)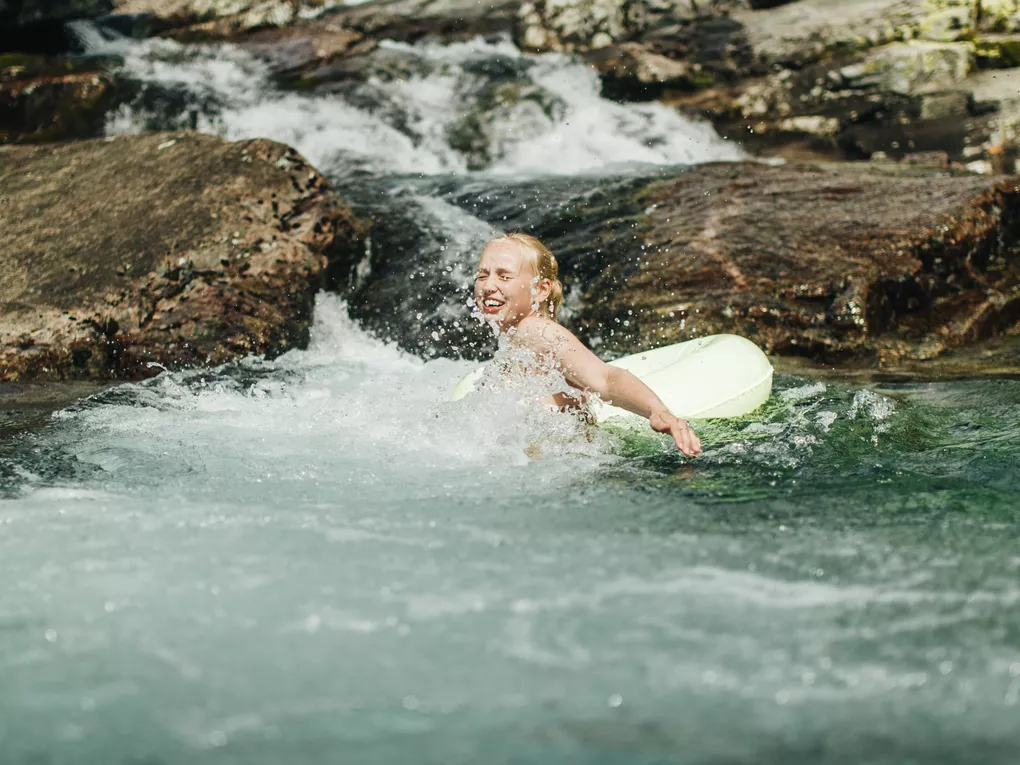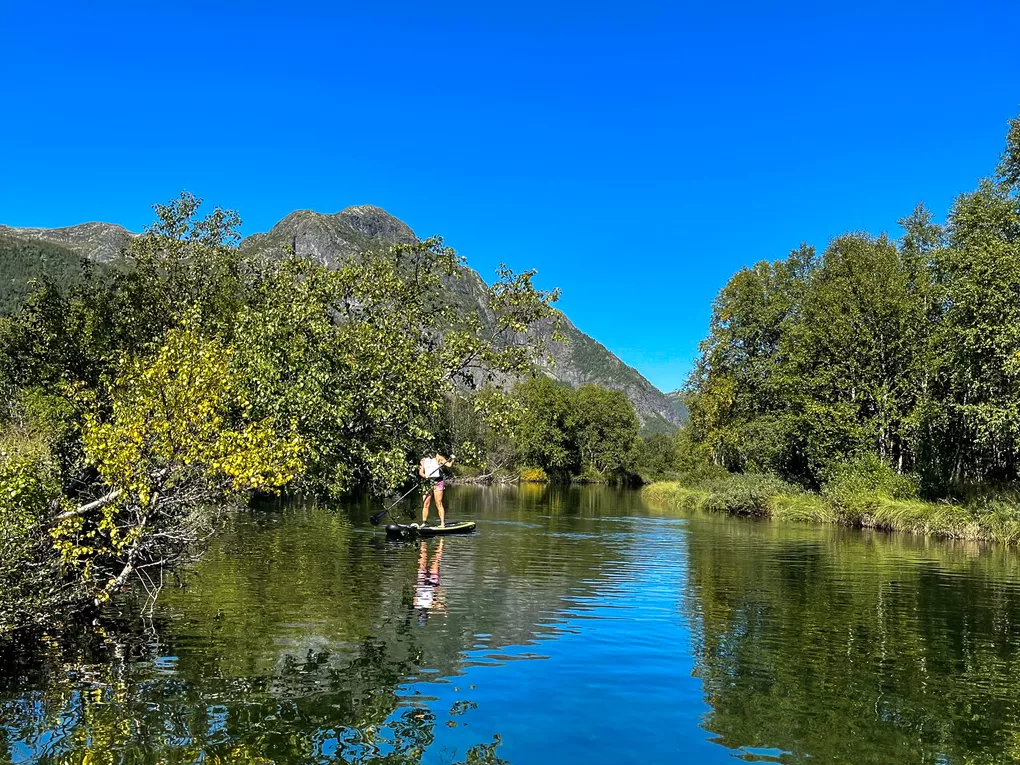 4. Daydream while canoying at the Vannen lake or try SUP at Fagersetvatn

Canoying in the summer is medicine for the soul and a great and active activity for the whole family. Rent a canoe from Hemsedal Fjellsport by the climbing park Høyt & Lavt in Hemsedal town centre and set out on your dream day on the lakes. You will enjoy a marvellous view of Skogshorn mountain and the surrounding islands. It is also a great place to go camping, and the first island on Vannen is especially equipped for exactly this with a campfire spot and places to sit. For canoe-rental prices check Hemsedal aktiv.
Are you hooked on SUP paddeling? If you don't have your own SUP or want one more, Hemsedal Fjellsport has SUP for rent. There are many great places to discover with your SUP, both along rivers and mountain lakes. You pick up your SUP and life jacket at Hemsedal Climbing Center, it is easy to inflate and you are ready to paddle away in a few minutes. A great place to paddle SUP is in Fagersetvatn and paddle up along Grøndøla. This is like a magical experience; emerald green calm water, hanging trees and everything is completely quiet. Enjoy the calm and gather energy, bring swimwear and a packed lunch and you're ready for an experience you won't forget.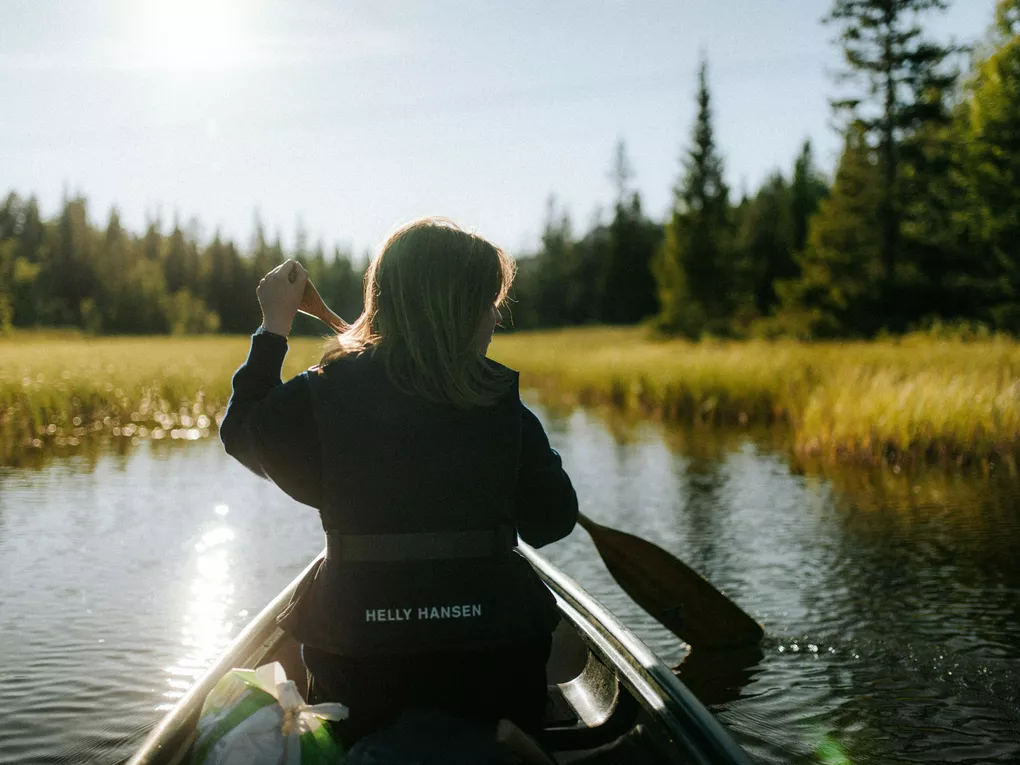 Experience the pulse of unforgettable experiences in Hemsedal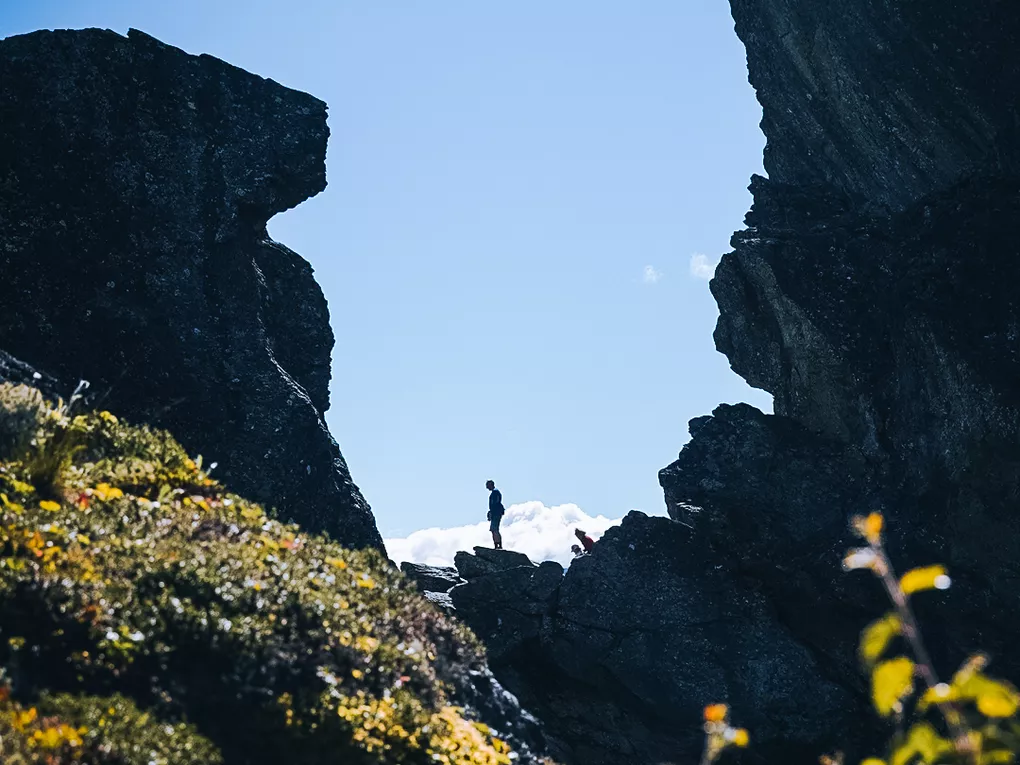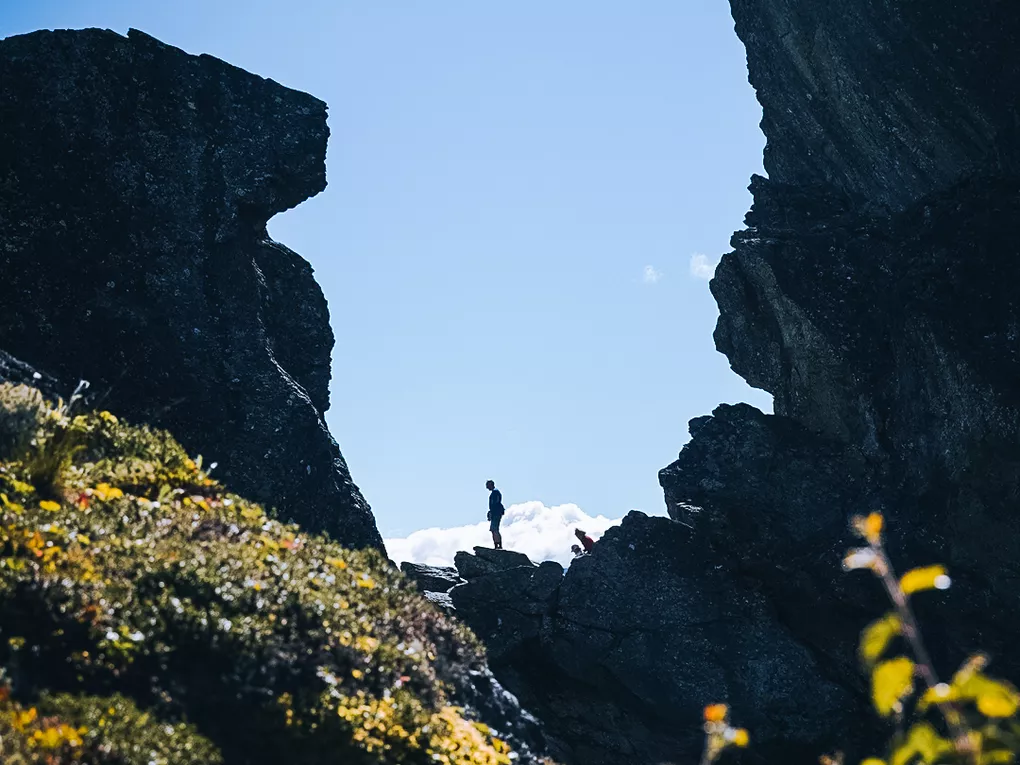 5. Put on your hiking boots and explore Veslehødn

This is Hemsedal's most popular hike among visitors, and righfully so. Not only do you get to experience our biggest waterfall, Hydnefossen, from above, you will also walk along spectacularly dramatic views over the entire Hemsedal valley and its surroundings. The top has plenty of great photo-spots and is sure to make your mum worry. Don't be scared though, this is a great hike for the whole family, also the youngest children. Check out the cliff, "Kjerringkjeften -the old womans mouth", and be careful since it is pretty steep all around this area.
If you take cool pictures, please tag or @ us with #hemsedalcom on Instagram!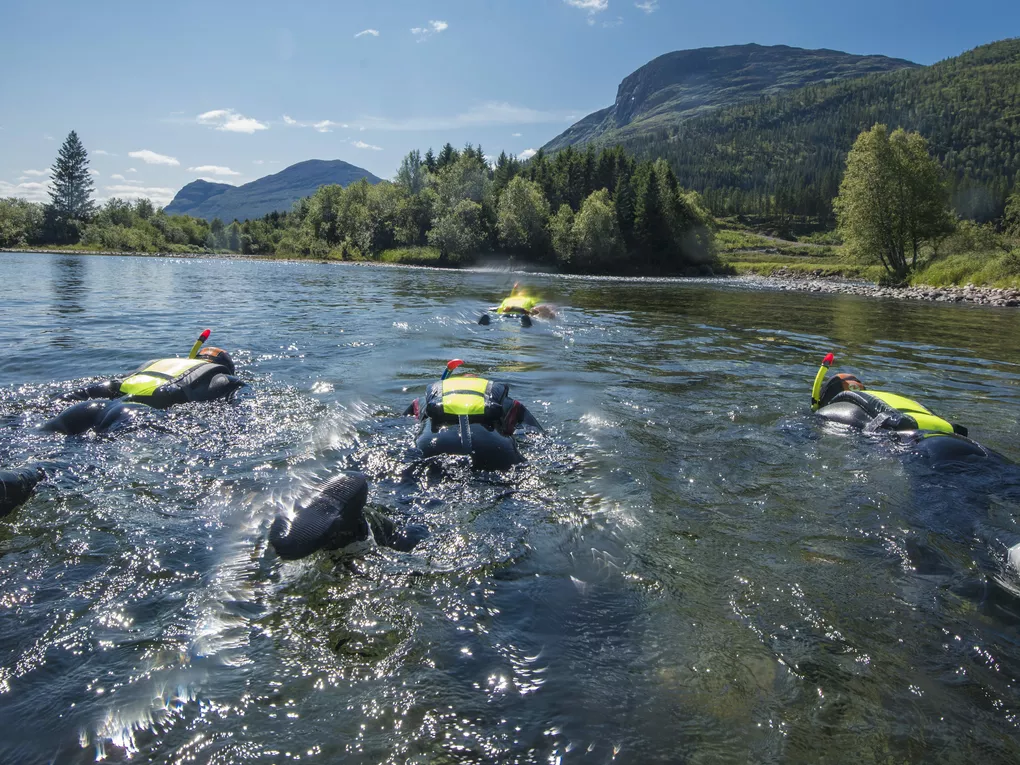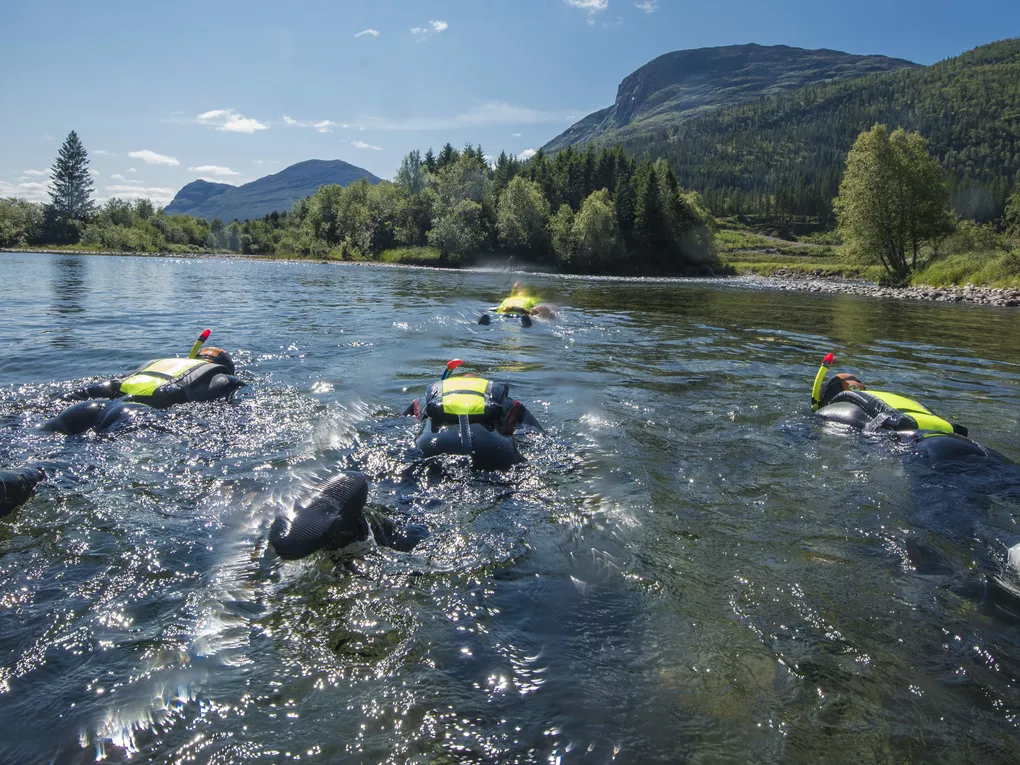 6. Go snorkling for Trout in the Hemsila river

Do you enjoy snorkling during the summer holidays? You might find it surprising, but you can also snorkle here in Hemsedal! One of our most beloved summer activities is river snorkling in Hemsila! It is a fun, unqiue and action-packed activity in the water with great odds at seeing the Mountain Trout in its natural habitat. The visibility is surprisingly good too! A local guide will accompany you on the 3 hour experience, and you don't have to worry if you get easily cold, because you will be given a wetsuit to keep you warm. For booking please see bookhemsedal.com.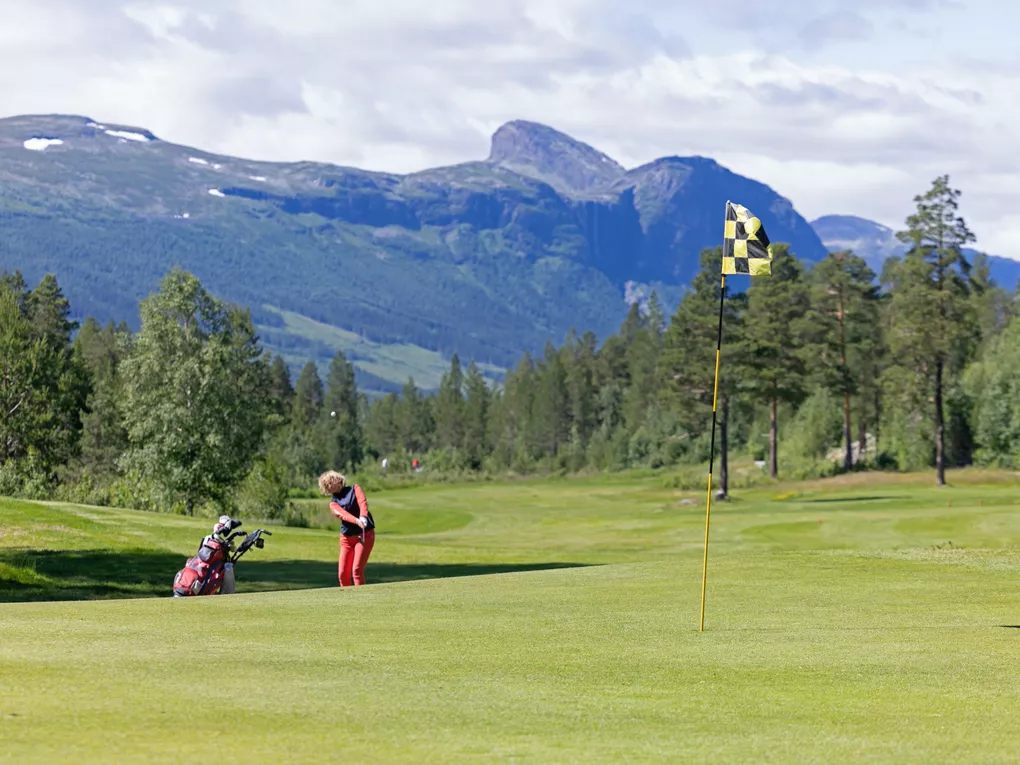 7. Golf in the mountains
Regardless of whether you are an active golfer, or have picked out your old golf clubs during the pandemic or are a newbie, you will be very satisfied with the offer in Hemsedal. Here we have two of Norway's most beautiful mountain golf courses, the recently renovated 9-hole courseGolf Hemsedal in Grøndalen and the 18-hole course on Hemsedal Golf Alpin on the border between Hemsedal and Gol.
Golf Hemsedal has new owners and the course has been upgraded, here they have renovated almost everything on the course. The special thing about Golf Hemsedal is the surroundings, here you hit over rivers and small bridges, while enjoying the view of magical mountains. End the round with something good to eat or drink at Golfstua.

Golf Alpin golf course at Granheim is our 18-hole course which is located right next to the rv. 52 and with fantastic views to Hydnefossen and Hemsila. Here you will find one of Norway's best pro shoppers and Bent Ellingsen, who works as a pro on the course, can help you improve your swing. On hole 19, pizza and drinks are served after you have finished for the day.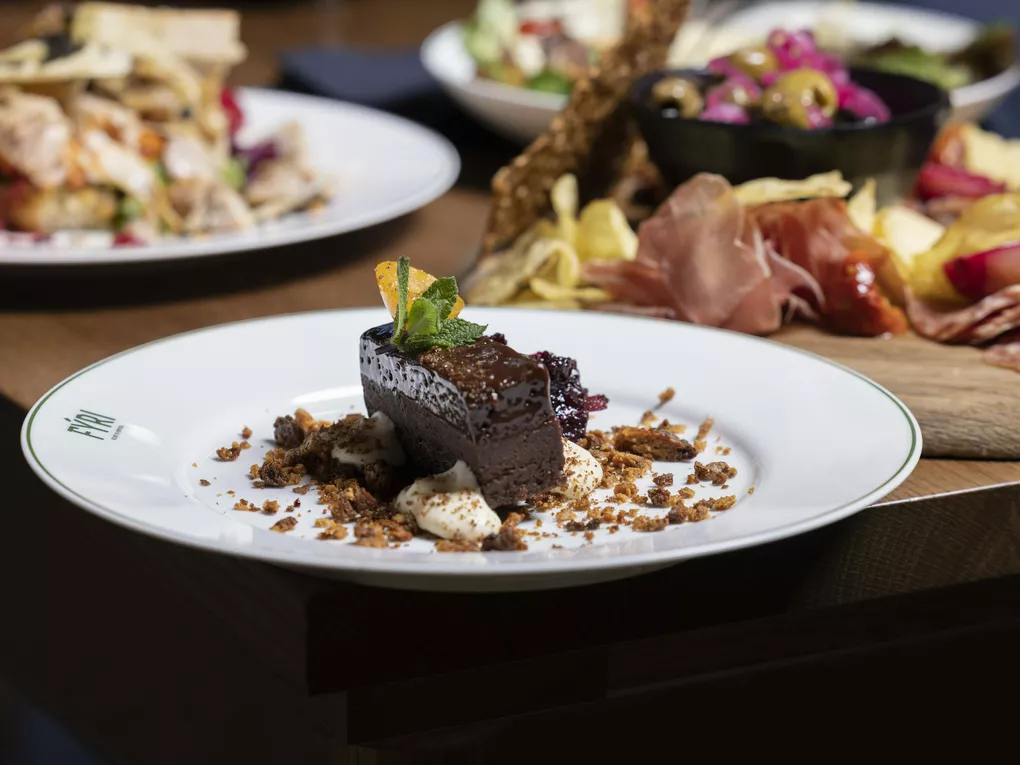 8. Local food, picknicks and coffee from Hemsedal

Our small villaged of Hemsedal has a lot to offer food wise, whether you want to try our local delicacies in a restaurant or as a snack to take on your hiking adventure.

When in Hemsedal, it is a "must" to try some of the local delicacies. At most restaurants, you will find dishes made of local meat or fish from Tamt & Vilt or Hemsedal Hjort. The world famous cheeses from Himmelspannet are also included in many menus. At for example Hemsedal Café, many of the dishes on the menu comes from the local farmer at Hulbak, Brandvoll Gård, and in addition, a lot of ingredients from Hallingdal are used in all the restaurants.

At Skogstad hotel you can enjoy the local delicacy "Rømmegrøt - sour cream porridge" and our own "national dish" - Småmat - in the new restaurant in the reception area.
In all grocery stores you'll find lots of local products that you can put in the backpack and bring to a picknick on a mountain top. For example, buy hot dogs from Tamt & Vilt and add Norweigan hot dog bread "lompe" from Hemsedal Flatbrødbakeri and then you have a shot travelled dinner by the campfire along Hemsila.

You will find more tips on where to buy local food in the article "A taste of local food" and read more about the restaurant offer in Hemsedal in the article on food experiences.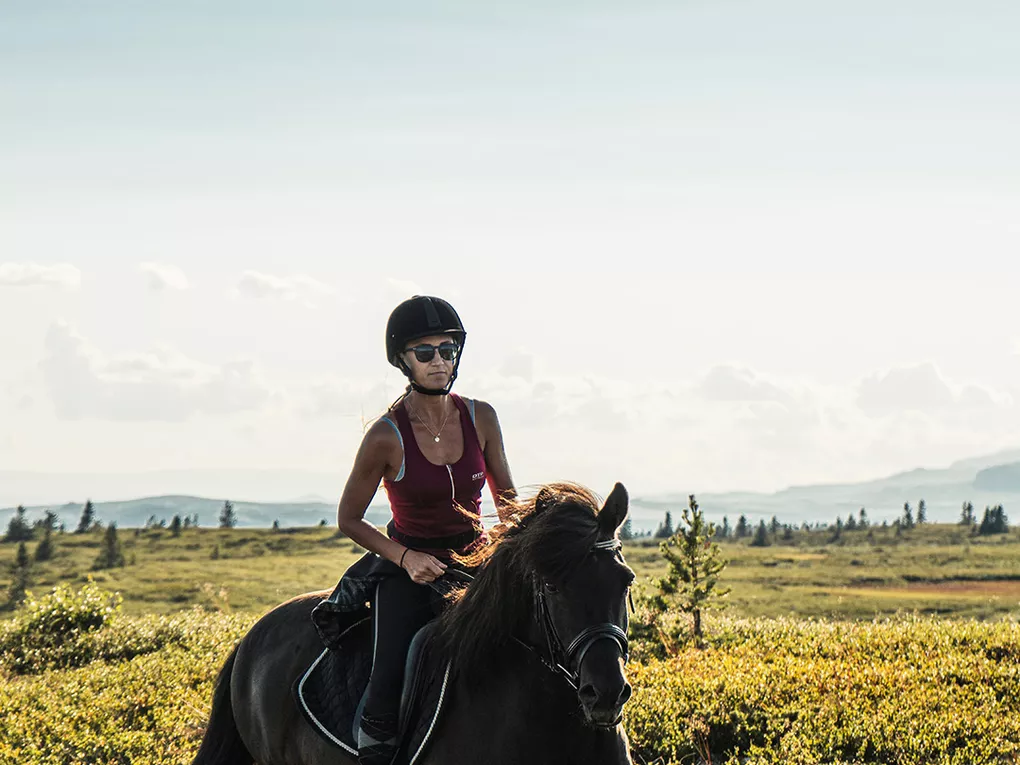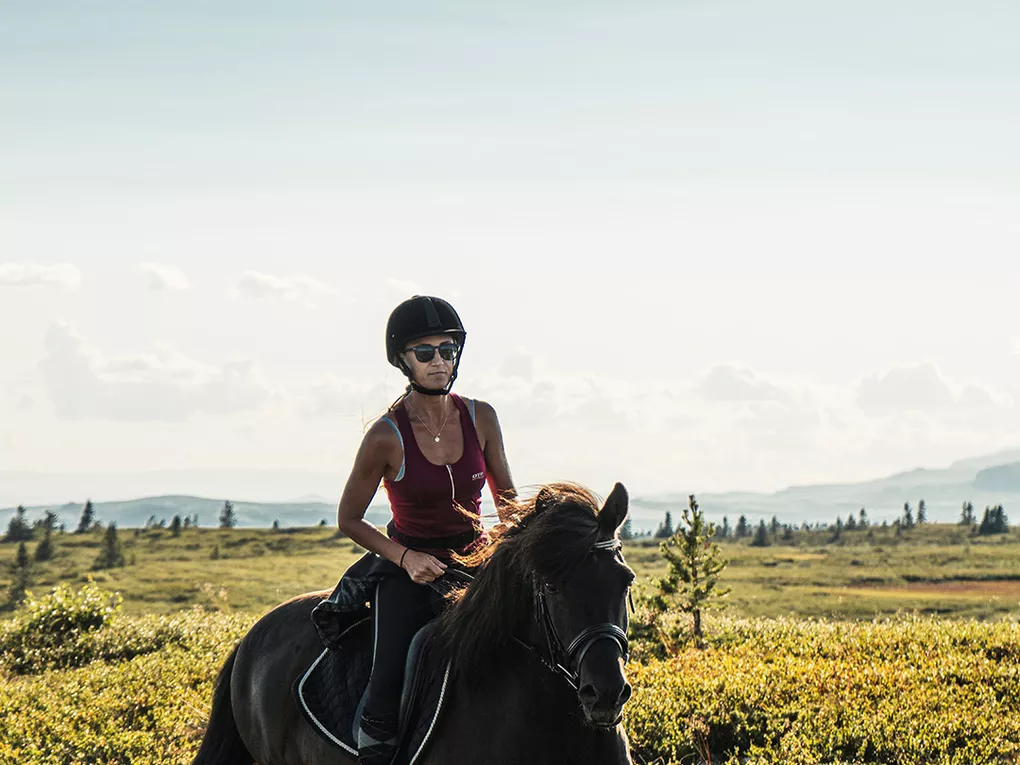 9. Horseback riding in Lykkja
A ride on horseback in Lykkja in Hemsedal is a beautiful and memorable experience. The tour starts at the farm where you meet an experienced riding instructor and receive instructions on safety and horse handling. After the horse is saddled, the journey up and into the mountain begins. During the trip you enjoy the view of the surrounding mountains and the beautiful lakes in Lykkja. On horseback you enjoy the tranquility of the mountains and the beautiful view towards Skogshorn.

In Hemsedal, we have two farms that offer horseback riding, Hemsedal Western Horses and Skogshorn Horse Centre. You can join everything from hourly trips, half-day trips to riding camps, choose what suits you and your skill best.

yiiiha!
10. Challenge yourself - try rock climbing in Hemsedal

Mountain climbing is an exciting and challenging activity that gives you the opportunity to reach new heights and explore nature in a completely new way. With the right equipment and instructions, you can climb steep mountain walls and reach peaks with fantastic views.
Perhaps you are already a seasoned rock climber or have you only tried your hand indoors, on the climbing wall? in Hemsedal there is something for everyone who likes to challenge themselves.
Hemsedal Fjellsport
has climbing for all levels:
-
Via Ferrata
- Climbing where you are safely connected to a belay all the way to the top. Anyone over the age of 12 can join here, some physics is required, but the vast majority can join up Lille Røggjin.
-
Family climbing
- Take the whole family climbing. This activity is aimed at families with children over the age of 4 who like to climb rocks and mountains.
-
Indoor climbing
- In Hemsedal Climbing Center you can climb indoors in a safe environment. Here they have both a climbing wall and bouldering.
-
Climbing and abseiling
- Here you get to try climbing high cliffs and abseiling down from 25 m, you don't need any prior knowledge so just join in the fun.
-
Mountain climbing
- If you are an experienced climber, you can join a local guide on a climb in beautiful Skurvefjell and learn more about safety techniques and various routines.
Fjellsentralen
also has several different courses and climbing guides for all levels and desires.
So if you are ready for a new challenge and want to experience nature in a completely new way, rock climbing is definitely for you! Book your climbing now and take the step towards an unforgettable experience.