Canoe rental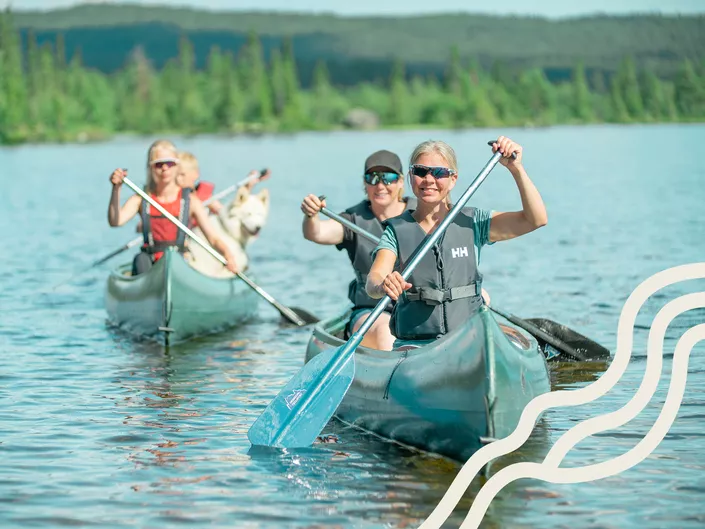 Paddling a canoe on the mountain lakes is a great nature experience. In Hemsedal you can rent canoes and paddle on the water with view of Skogshorn and Lykkja, or in Grøndalen.
Rent a canoe in 24 hours. You have the canoe from 10.30 and have to return in before 10.30 the day after. Prebook your canoe here. For booking the same day, contact Hemsedal Fjellsport, phone number +47 942 14 111.
We offer canoes at two different locations in Hemsedal. One in Vanneviken direction Lykkja and Skogshorn the other is located in Grøndalen in Lake Fagerset.
The location in Grøndalen is at the small cosy mountain lake Lake Fagerset. The lake itself is nice but you can also try to canoe up the river. A big advantage is that in this lake you are allowed to fish. A fishing license may be bought at the location where you find the canoes. To get to Lake Fagerset it is a toll road, but the toll is included in the rental.
The canoes in Vanneviken are located by the water Vannen on the way to Lykkja/Ulsåkstølen. Here you have a gorgeous mountain lake that has several small islands and other places one can go ashore. There is also often a nice temperatur to swim in at the water next to Vannen, Grytevatnet. Here it is a small canal that you can paddle to get from Vannen to Grytevatnet. The price includes paddles and life jackets.
The key to unlock the canoe, plus paddles and life jackets, is collected at Hemsedal Climbing center at the ski center (next to OĹearys and Skistar Lodge Alpin & Suites at the base of the ski center. Please book in advance and we will send you information about pick up.
Canoes with 3 seats have good place for 2 adults and 2 children if you don't have to much baggage.

Price for 24 hours
Canoes NOK 520,- include paddles and life jackets.

Canoeing with a guide
Hemsedal Fjellsport offers training in canoeing and guiding to the nices place for canoeing and kayaking. We offer everything from simple 3 hour tours to day program or several days. Price and time upon request.