Hemsedal Fjellcamp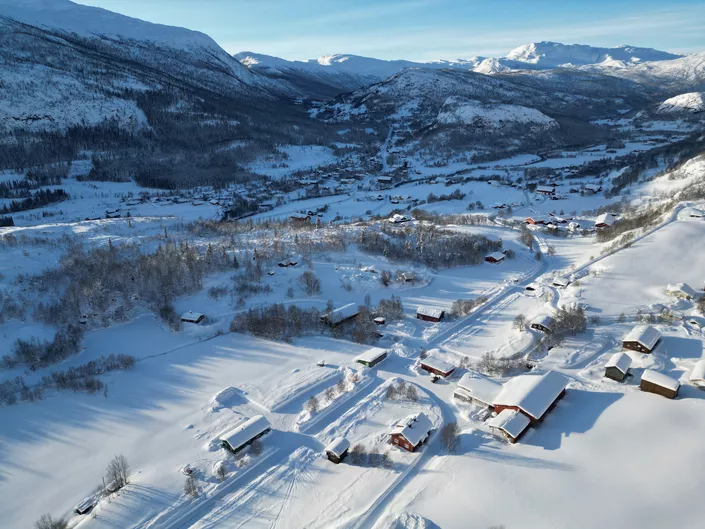 Velkommen til Hemsedal Fjellcamp, en campingplass på solsiden av Hemsedal. Hemsedal Fjellcamp ligger på gården Hulbak, som har lang tradisjon for å innlosjere turister tidligere under navnet Hulbak Camping.
The word Fjellcamp is translated to Mountain Camp in English and we are beautifully surrounded by cultural farmland, mountains, trails and the cultural trail Synarsvaet. From the campsite there is a magnificent view over Hemsedal Ski Resort and the beautiful mountains of Hemsedal. We offer a campsite for motorhomes, caravans and tents. We also have cabins for rent. You are welcome all year around for shorter or longer stays.
At Hemsedal Fjellcamp you find a quiet campsite with a view of Hemsedal majestic mountains. The campsite is sheltered by the terrain and you will find silence and peace of mind here. A small, personal and quiet place with character. You can walk directly into nature and the cultural trail Synarsvaet starts here. Hemsedal Fjellcamp is also a good starting point for biking.
Within five minutes by car you access a variety of Hemsedals attractions: Restaurants and cultural activities, fishing, waterfalls, a variety of trails for hiking. There is also a variety of biking attractions in Totteskogen and Hemsedal Ski Resort, as well as a climbing park Høyt & Lavt in Hemsedal Sentrum.
We offer a 4 bed Cabin in the old traditional Norwegian Stabbur. In addition we have a cabin that can accommodate 6 persons.
Hemsedal Fjellcamp is central but quietly located only 4 km (5 minutes by car) from Hemsedal Ski Resort and Hemsedal Sentrum.
The sanitary building is in good condition as we pride ourselves in keeping it nice and tidy for our guests. It contains toilets, showers, kitchen, dishwashing room and a laundry room. There is also possibility for charging of Electric Vehicles.
Welcome to us!
Kontakt