Meet horse whisperer, farmer and wondermum
Marianne Fjæren Kjernaas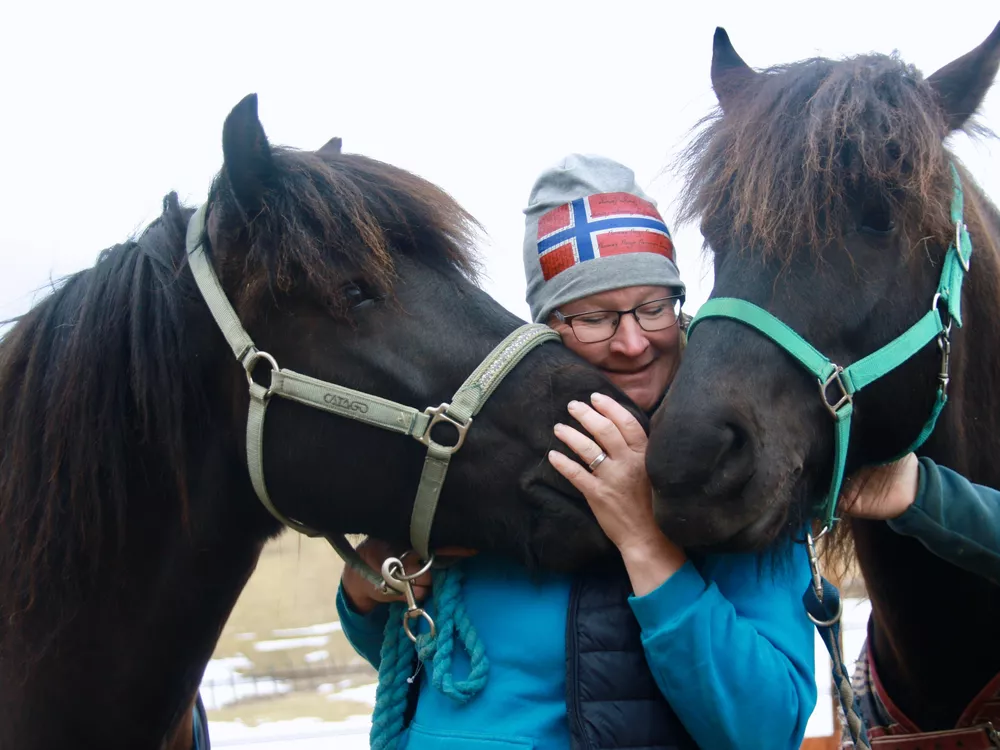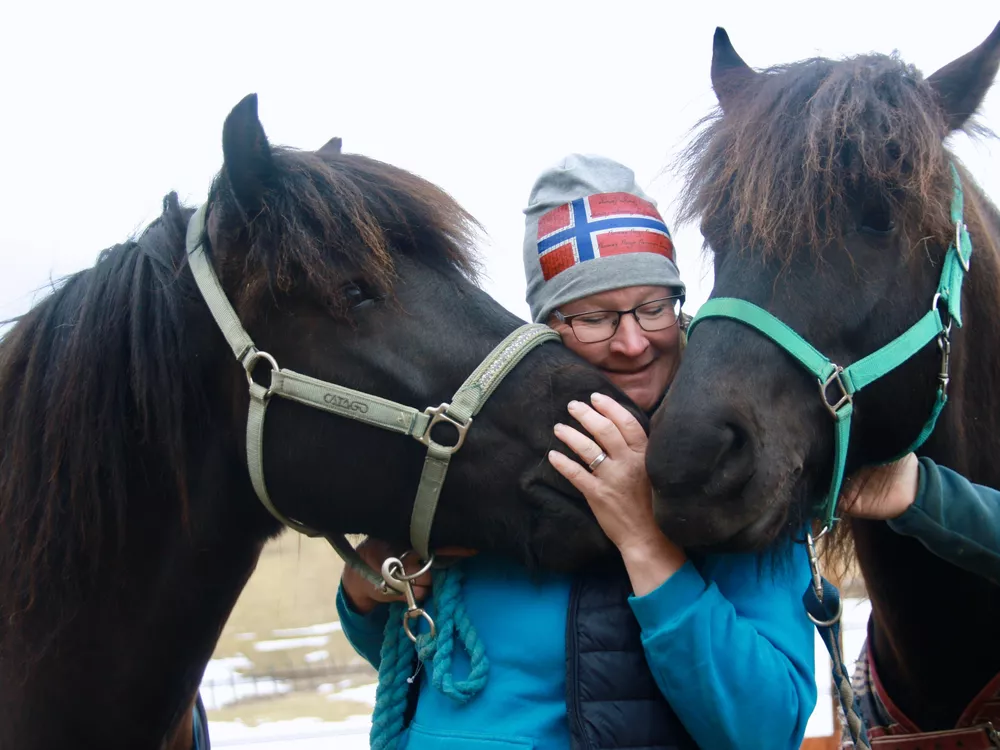 There's always a room in her home and always a spot in her heart. That's Marianne Kjernaas, from Haugen Farm in the mountain village of Lykja in Hemsedal, in a nutshell. She has been a fostermother for twelve years, and her farm gives horses, that otherwise have few prospects, a new chance at life. At Haugen farm it's love that wins.
By Isabel Müller Eidhamar and Frazer Peter Norwell
5 min
Updated 01 November 2022
The beginning of a horse whisperer's dream
Marianne grew up in the small mountain municipality of Sigdal, just south of Flå in Hallingdal. She never had horses, but every penny of the pocket money she received was set aside for riding.
"I have ridden horses all my life, and I started when I was six years old on the neighbour's ponies. That is where I spent my weekly allowance for many years," Marianne jokes.
The young Marianne was smitten with horses and all things equestrian.
"At school, I think I spent more time looking out the window and drawing horses than looking at the teacher's board; let's put it that way," Mariannne reminisces.
When she was ten years old, her dreams came true, and she got a horse of her very own: a one-year-old Fjord horse with an enormous personality.
"It was a lot to learn for a ten-year-old, but it went well. I learned a lot from that horse," she explains.
Her love for horses would be a lifelong passion. By the time Marianne started high school, she had one horse. When she went to study in the agricultural school at Torpo, she had three horses, and today she has a total of 30.
"It's never been an option for me to not have a horse," she says.
The horses at Haugen Farm in Lykkja are a part of the family, and if you ever see Marianne with her horses, the special bond they share is clear to see.
"They are my flock, I guess," Marianne says.
She is quiet for a while before she gets serious.
"I'm not sure how else to put it, but I wouldn't be the same without them."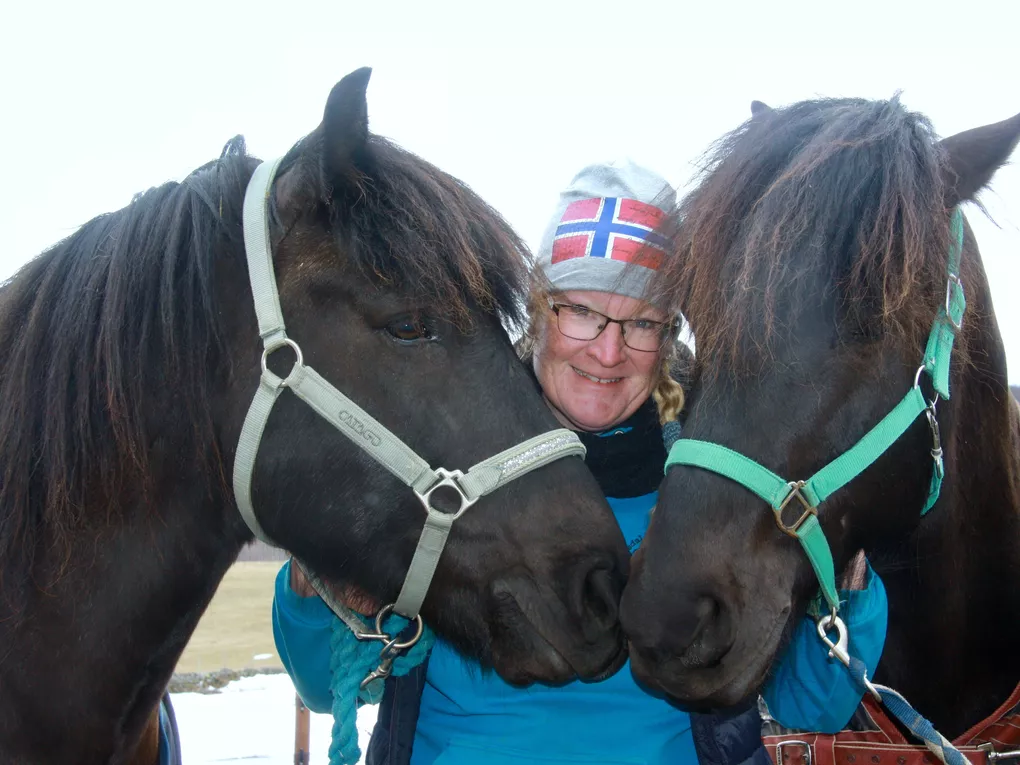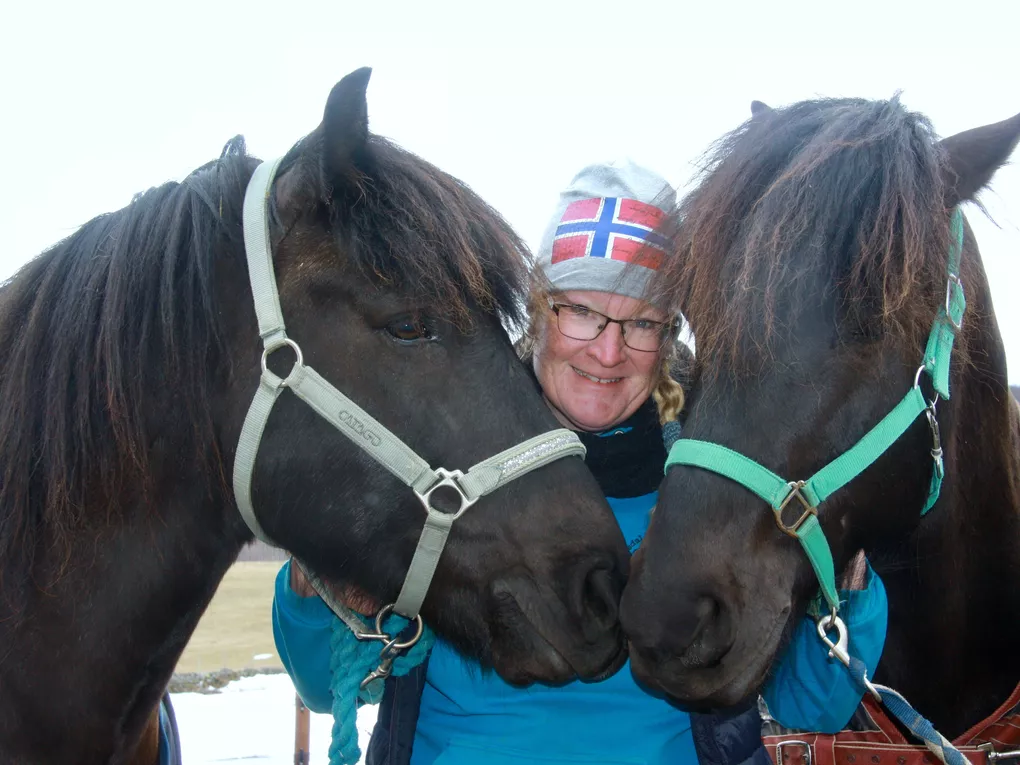 The horses at Haugen Gård in Lykkja have become a large part of the ever-growing Kjernaas family, and if you see Marianne with her horses, it is quite clear that they share a very special bond.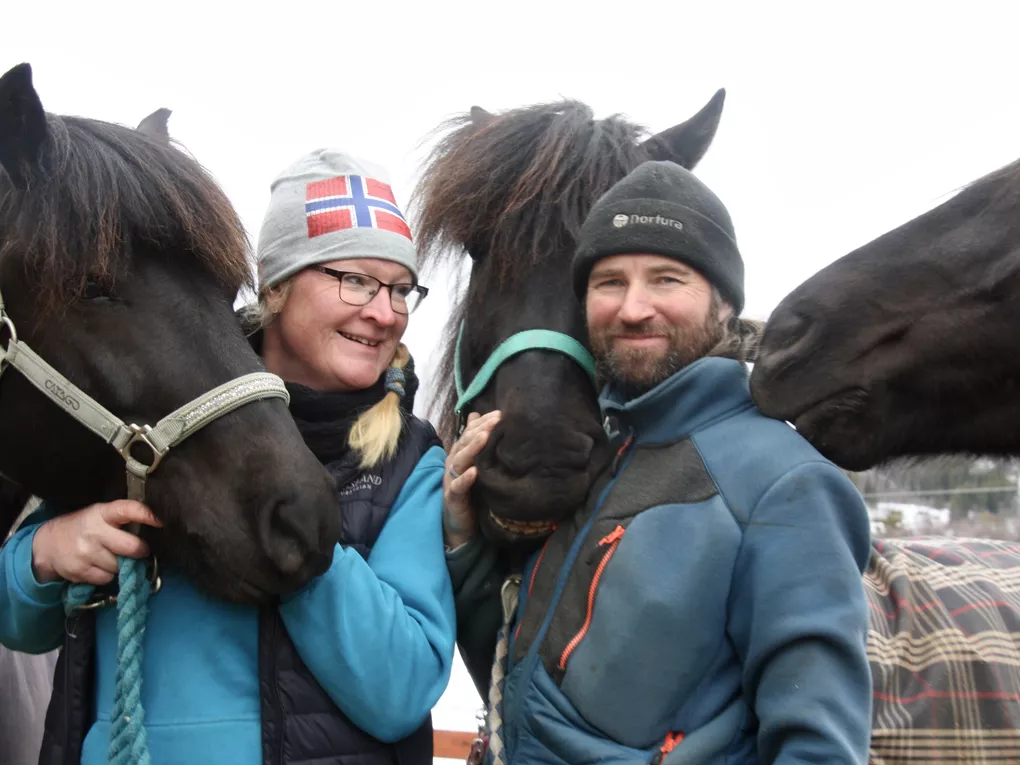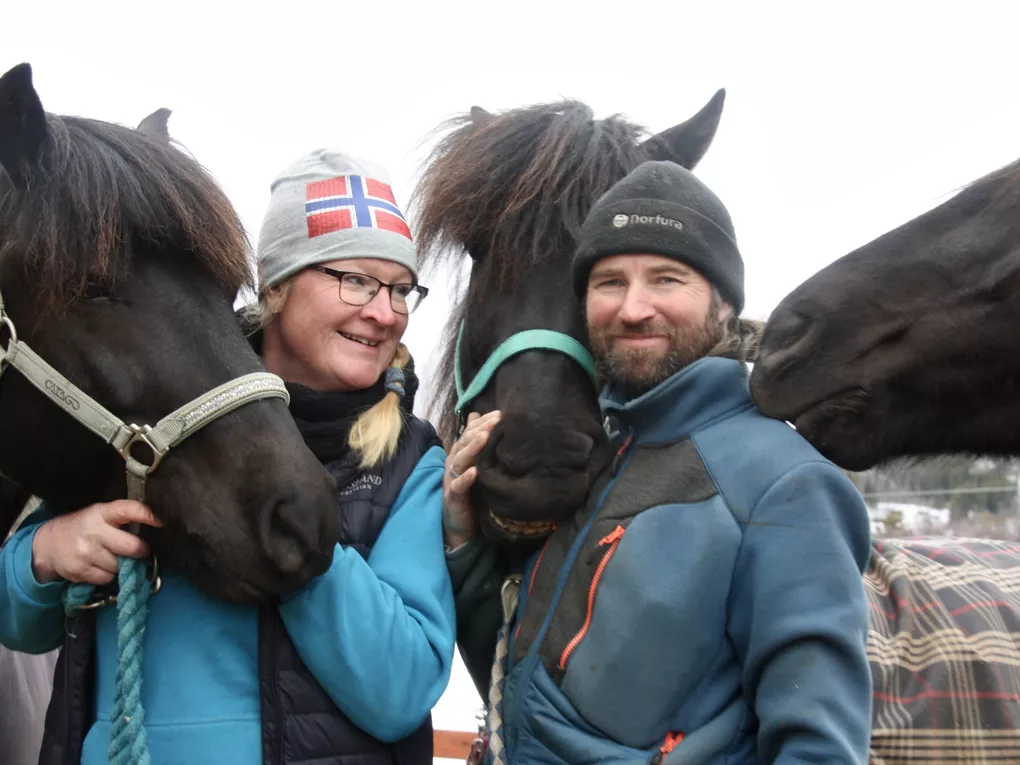 A new chance at life
Marianne lives and runs Haugen Farm, located deep in the idyllic mountain village of Lykkja in Hemsedal. Like many before her and just as many since it was love that would bring Marianne to Hemsedal in 1993.
Since then, Marianne has found a new partner in crime, Raymond Fjæren Sagsveen, or "Pepsi", as he's affectionately called, and together they run the farm up in the mountains. Marianne takes care of the horses, and Raymond is in charge of the carpentry and sheep.
Even though Lykja is a quiet place, there's still plenty of life on Haugen farm. Sheep, horses, dogs and rabbits all call the farm home, and in a few years Marianne and Raymond hope to have a few cows join the ever-expanding family.
However, it's not just animals the couple cares about because, in addition to their children, the pair have been foster parents for over twelve years.
"It was a calling. I like to be surrounded by life and activity, and in a small mountain village like Lykkja, you need lots of children around to fill the space. There must be some life and activity," Marianne says.
The children at the farm, who are often trying to put a challenging and complex time behind them, get a fresh start in life.
Not only do they get the support of a loving family, but they also get to take care of the horses, which often also are on their second chance at life. That brings comfort to many.
"Being a foster parent has been so rewarding, and I think it helps the kids to be on the farm. It's the same for the horses. We are a place where everybody gets a "second chance". Both the animals and the children," Marianne says.
Most of the horses who are retired racehorses who, due to a combination of either old age or injury, cannot make money on the track. Marianne says that most of the houses she has adopted were facing a rather dark fate before they were rescued and brought to their new home in Lykkja.
"They are all good and kind horses that we have received from people. But, unfortunately, their alternative would not have been so pleasant for very many of them, Marianne says.
"I am very fond of thinking outside the box, and I take an interest in the different or unusual," she elaborates.
Today there are around 30 horses on the farm, with the ages varying from all the way up to 25 down to small foals.
"All the horses have names, but the problem with getting adult horses from other places is that they end up with quite similar names. That's why we have two named Blesen, two Blesa, and two Stjerna, so there are many with the same name," Marianne laughs.
"It's important to get to know the horse's personality. Making sure the energy of the person and the horse they will ride fits is very important," she explains.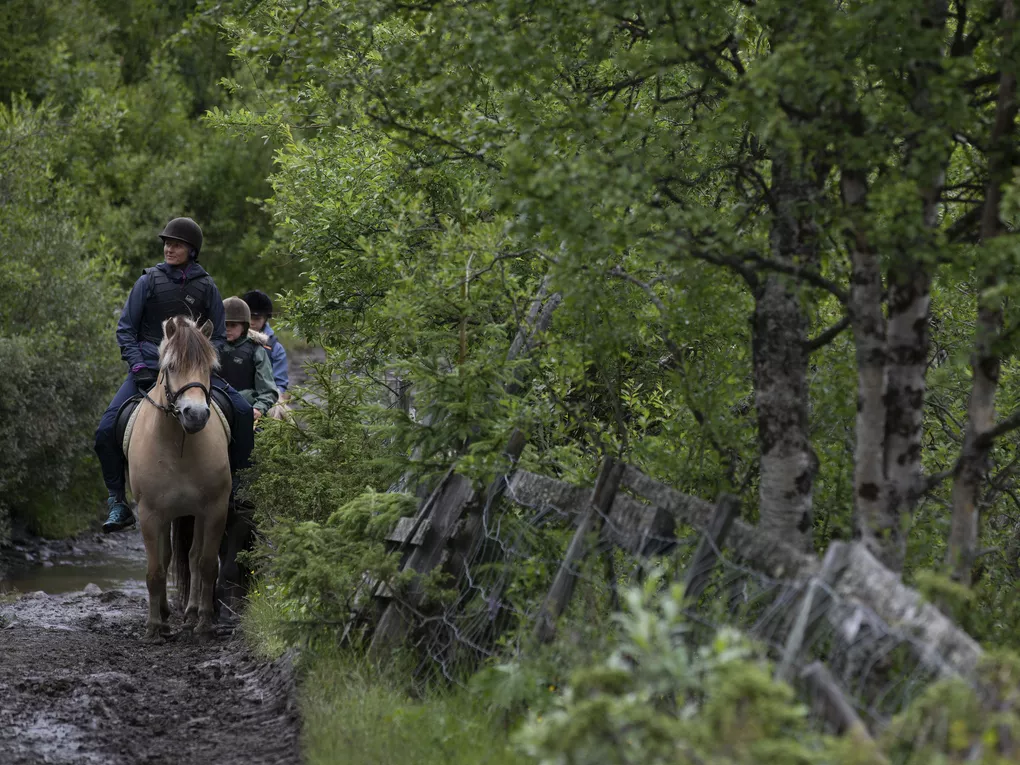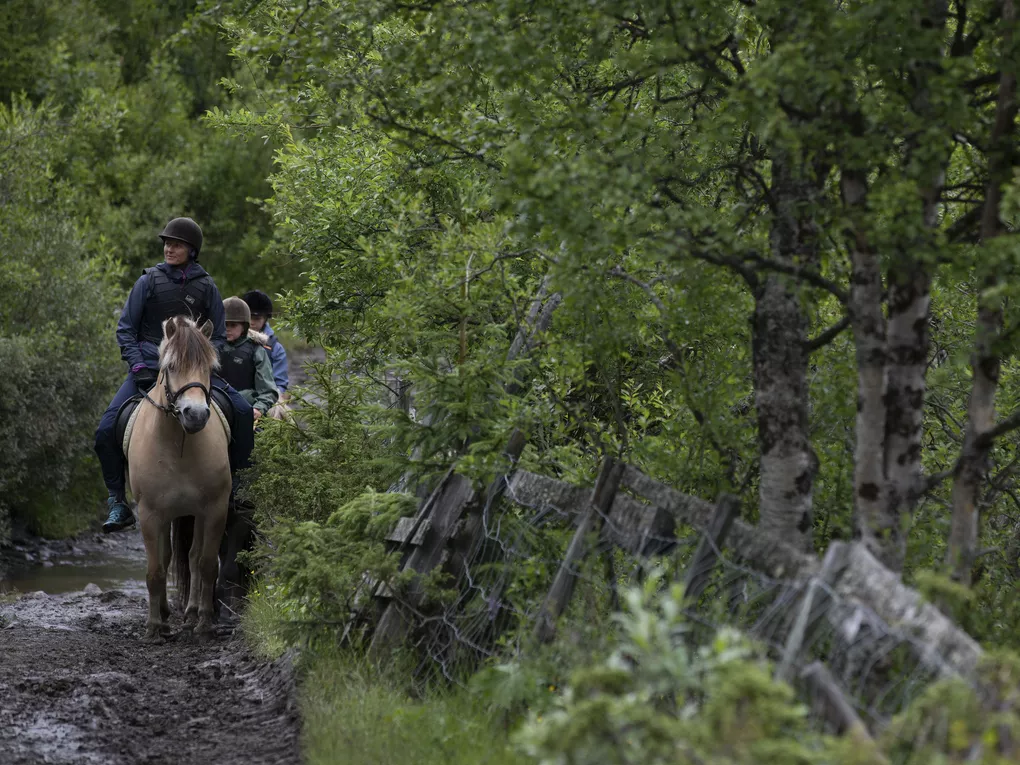 Idyllic life on horseback in Lykkja
Not many call the mountain village in Lykkja, which is just a few kilometres from the local gem Skogshorn, home. But those that do live here, have created a small community up in the mountains. The village is just a short half an hour drive from the middle of Hemsedal town centre.
"It is absolutely fantastic to live in Lykka. I am so happy in Hemsedal and love being surrounded by nature. It was mainly a farming community when I got here, but I like that I can combine farming with other activities because I am very fond of people."
Many guests make their way to the farm via the Parnoramaveien, which goes right past Haugen Farm. Beautiful scenery isn't something the mountain village lacks, and in the summer, Marianne and others from the farm can be found on horseback out in the woods on the way to Kjølen or towards the Valdres-mountains.
Several of the half-day trips on offer go via Landbruksveien towards Valdres, up on Kjølen through the forest and onto Trommehaugen. From there, guests can take in the views of the Jotunheimen National Park.
Other trips lead to Eikrestølane, where guests experience riding through the water when they cross the river Nøra. It is not uncommon for trips to be long on quaint summer days. The horses are allowed to walk loose and graze while the riders stop to enjoy lunch and a chat in the sun. The emphasis is putting a pleasant, idyllic experience first and foremost at Lykkja.
"You feel the experience gives you energy. You get a lot of pleasure from when people appreciate what you are doing and when everything has gone well, and people are happy. And up here, it is not very difficult to satisfy people in relation to those who want to see beautiful scenery regardless of the weather and conditions," she says.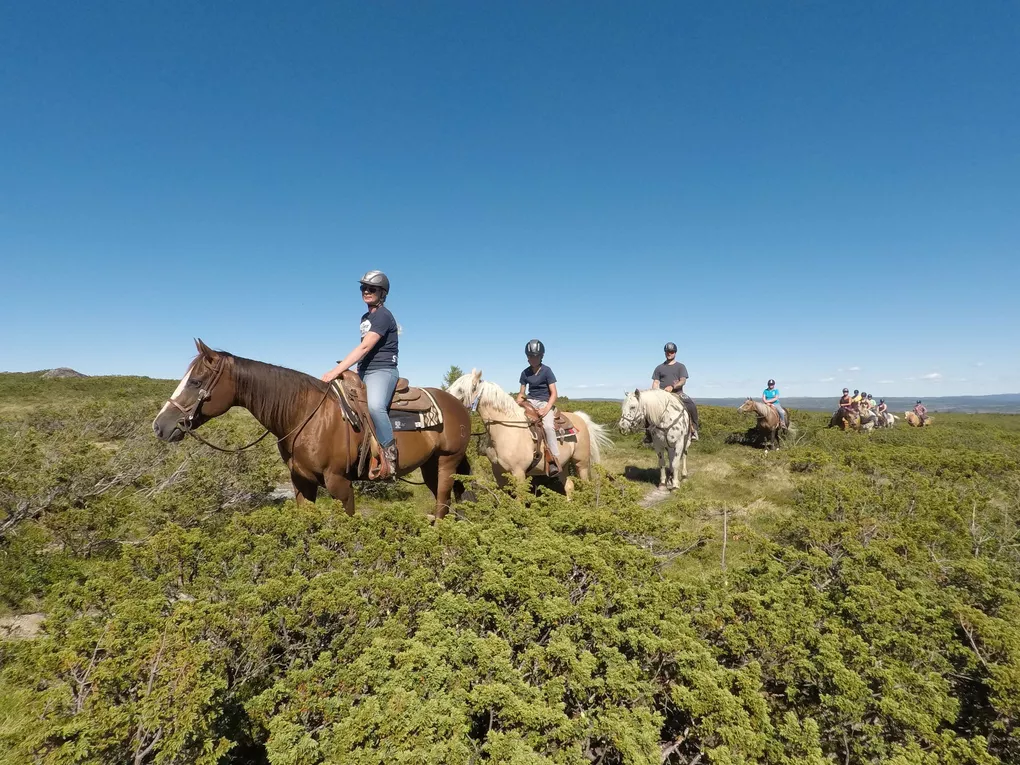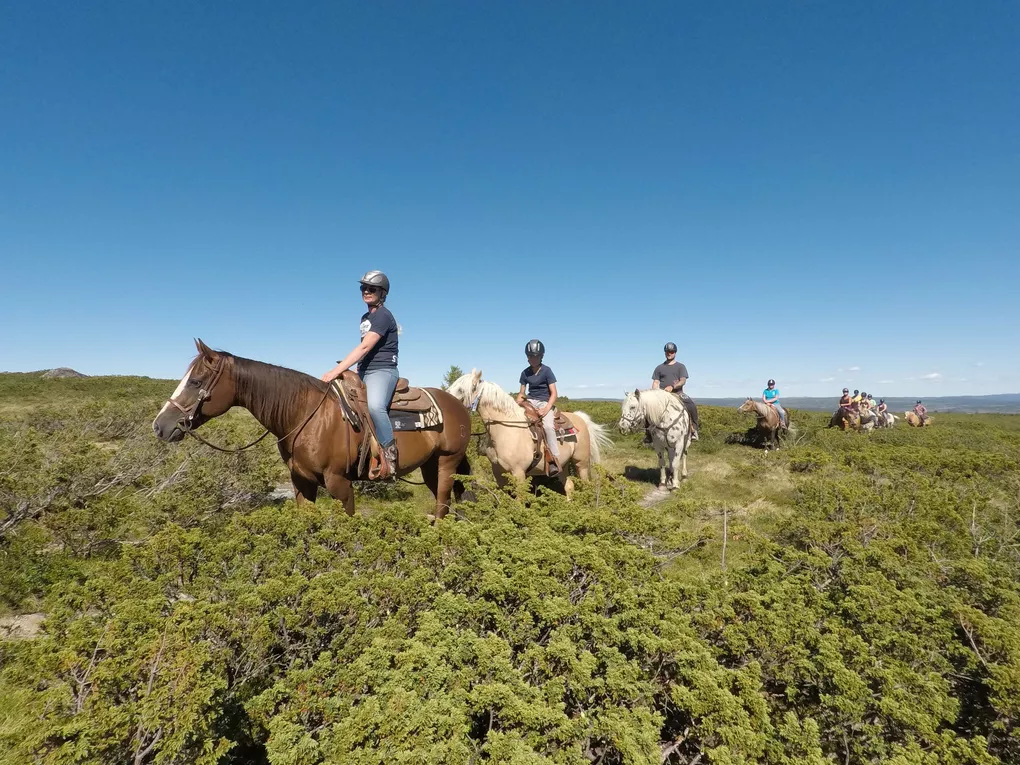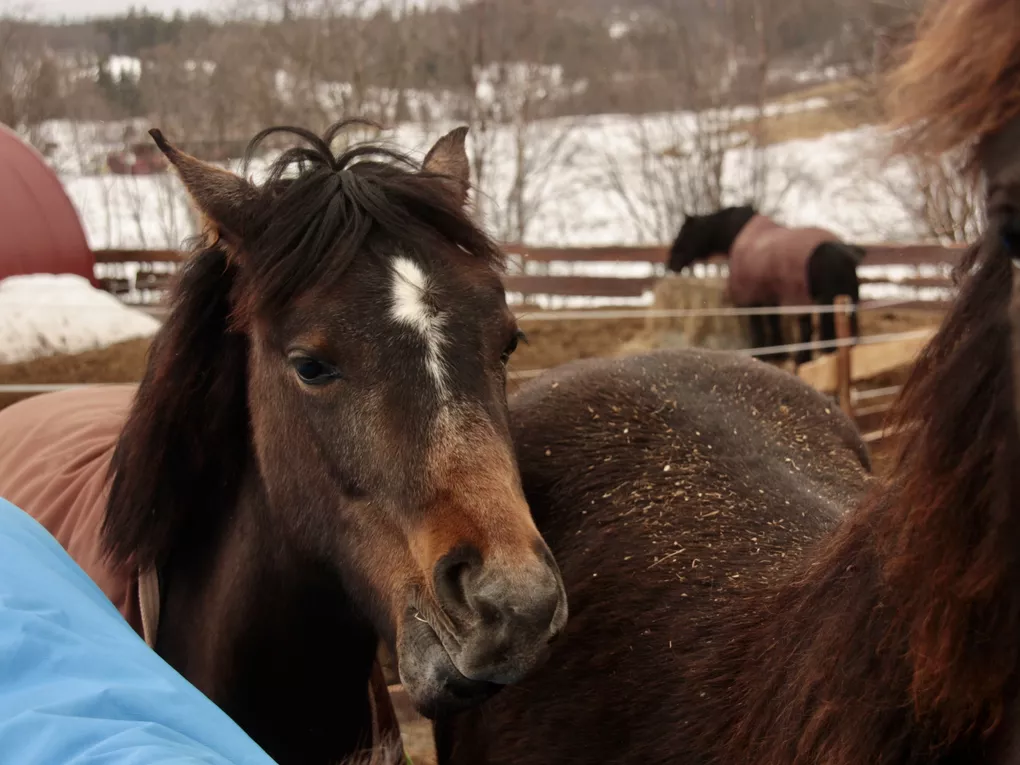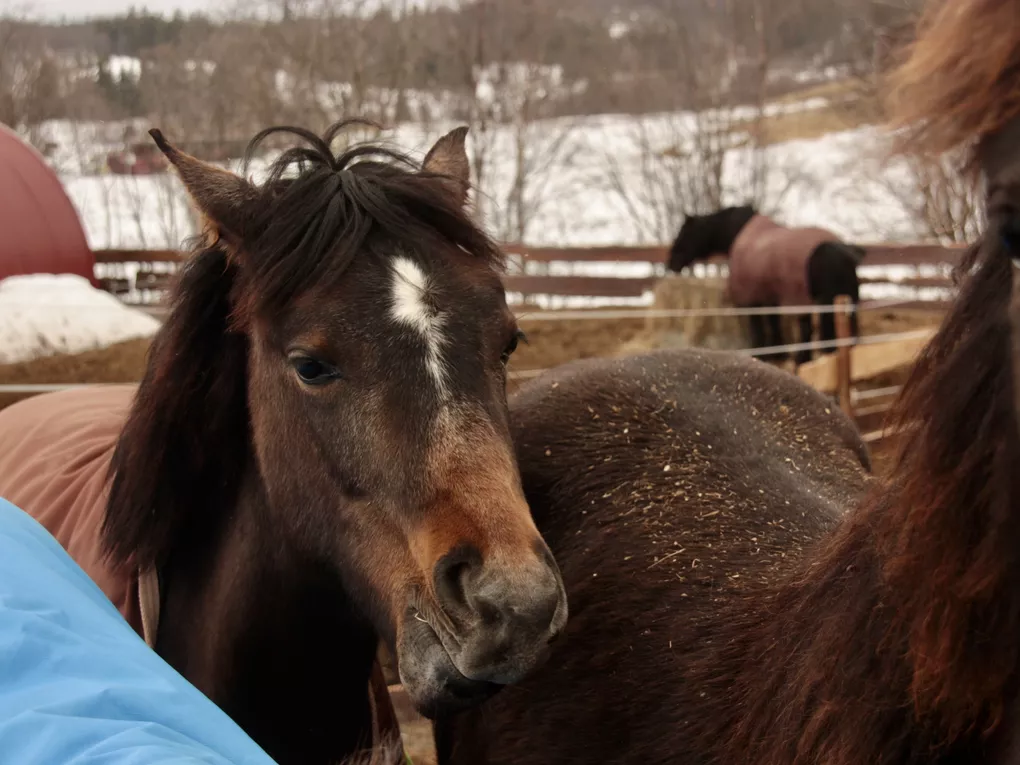 Year-round destination
Imagine this: It's twenty minus outside and you ride easily through champagne powder overlooking high mountains and peaks. Everywhere you look, it sparkles in white, and with a little impromptu hum and with the narrator's voice of Knut Risan in mind, it's almost like you are Cinderella riding off with the prince in the closing sequence of the Czech adventure film Three Nuts to Cinderella. Haugen Gård is not only a summer destination, but also a place for winter adventures.
- We have trodden paths in the forest, so we ride in the loose snow. It is absolutely fantastic, and I think many people think it is extra cool because it is not something you get so many other places, Marianne said.
There is also an offer for sleigh rides, an activity that is especially popular among Norwegians at Christmas, but autumn is also a great time if you want to experience the beautiful autumn colors in the mountains.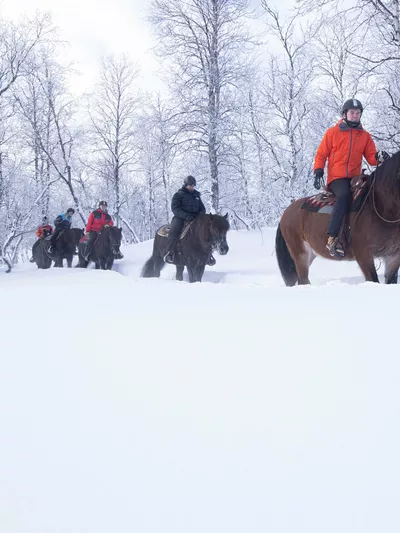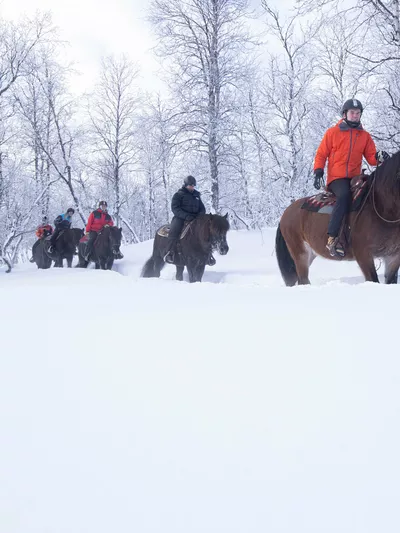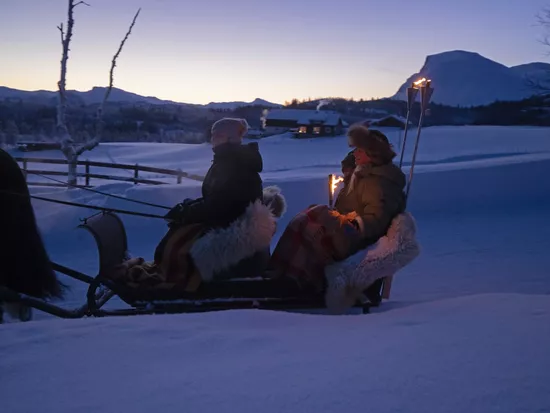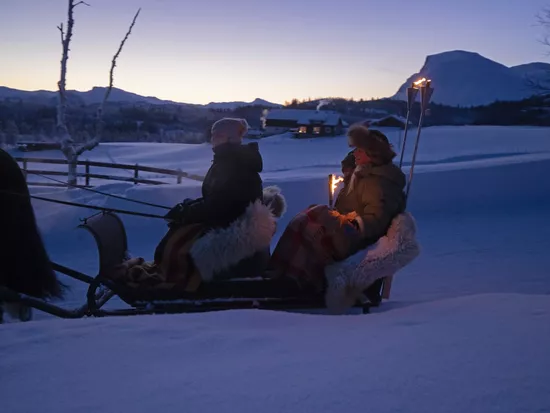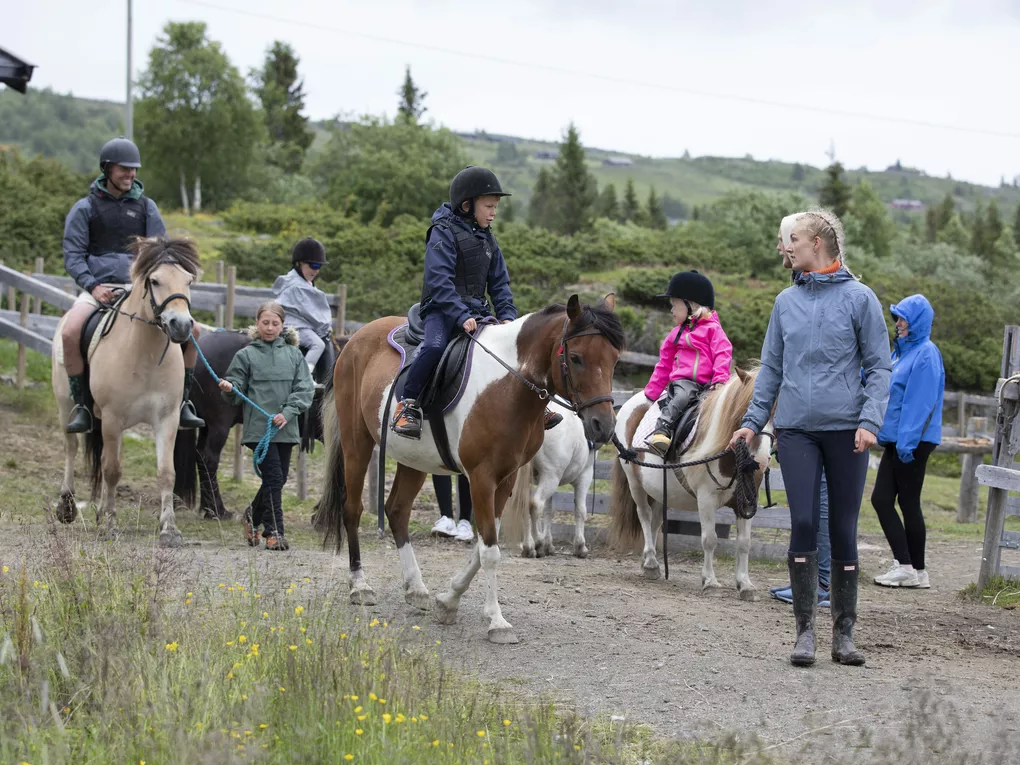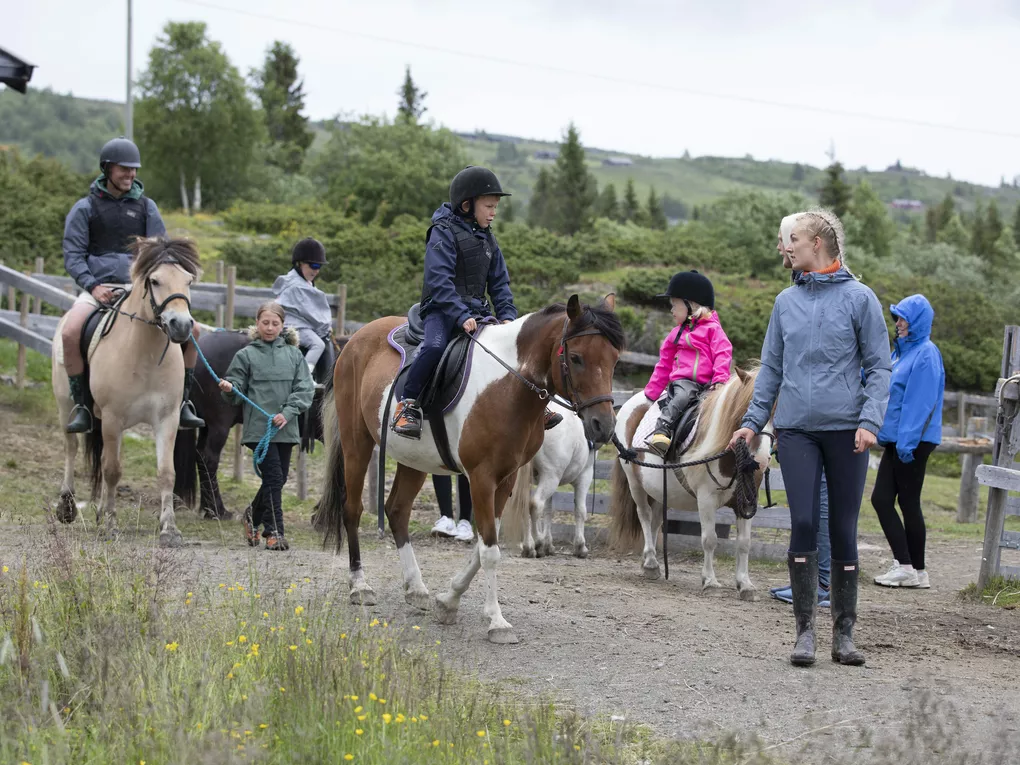 Year-round destination
Picture the scene: it's minus twenty outside, and you're gliding through glittering champagne powder surrounded by mountain peaks and treetops. Haugen Farm is not only a summer destination but also a place for winter adventures.
"We have paths in the forest where we can ride in the loose snow. It is absolutely fantastic, and I think many people think it is extra cool because it is not something you get in many other places," Marianne says.
Sleigh rides are also on offer, an activity that is especially popular at Christmas. Still, autumn is also an excellent time to experience the beautiful fall colours and more mild temperatures.
Nature experiences that leave their mark
At Haugen gård, there are nature experiences catered for everyone and life-long treasured memories just waiting to be made. Guests range from just three months all the way up to 100-year-olds.
This spring, they received special guests from a retirement home in Hemsedal. This made it especially important for Marianne to have a good game plan because, after several months with strict coronavirus restrictions, this was the first time many of the elderly residents had been allowed to meet again outdoors.
"I think I was more nervous than if I had the king visiting," she jokes.
The visitors indeed received the royal treatment, going on horse rides in carts, a relatively new activity on offer at Haugen.
"They were so happy and wanted to grill sausages. I told them, 'oh my god, this is like a school trip' they all agreed," she laughs.
"They thought it was great because it was something they would do when they were younger."
All the rides on offer are adapted to the skill and level of the group. It is not unusual for someone to have their first-ever horse ride at Haugen Farm. Riding camps for children are held for the two weeks of July each year.
"I had a lady of around 75, she had watched us ride past her cabin many times, and then one day she came down and said, "You know what, I have never ridden before, but when I stand and look at you, it looks so perfect," Marianne says.
"She showed up all alone, had no one with her, and joined a half-day trip on Kjølen, and she was on cloud nine afterwards. She thought it was really cool! We do not ride out with very large groups, so then it is safer to join when you are a beginner."
One thing is for sure: Haugen Farm offers both charm and adventure for young and old.
"Up here, it is nature and the experience that is the main focus," Marianne says
Do you want to visit Marianne and her horses at Haugen Farm during the holiday visit and book at www.bookhemsedal.com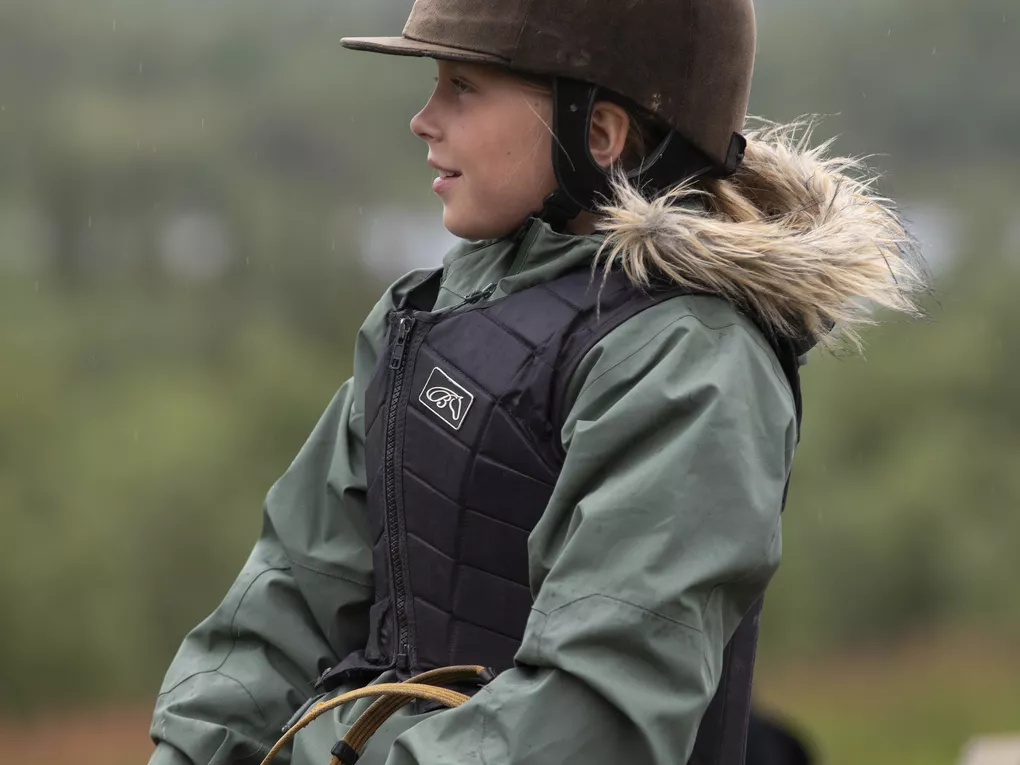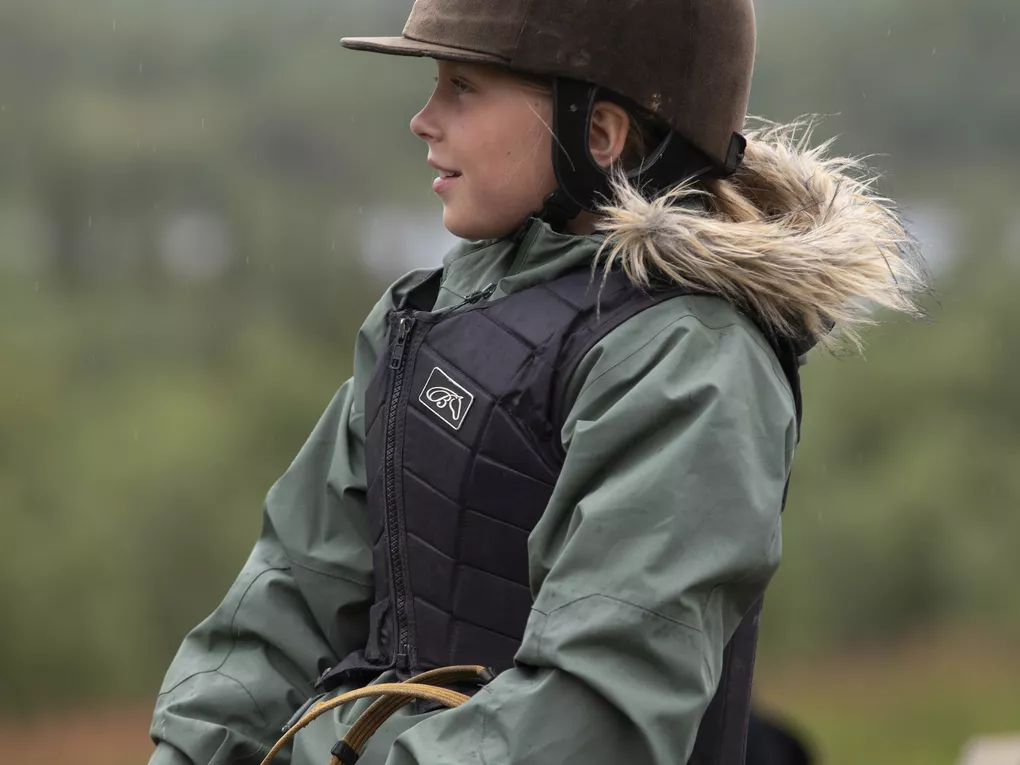 Horseback riding on Lykkja
---