Geiteberget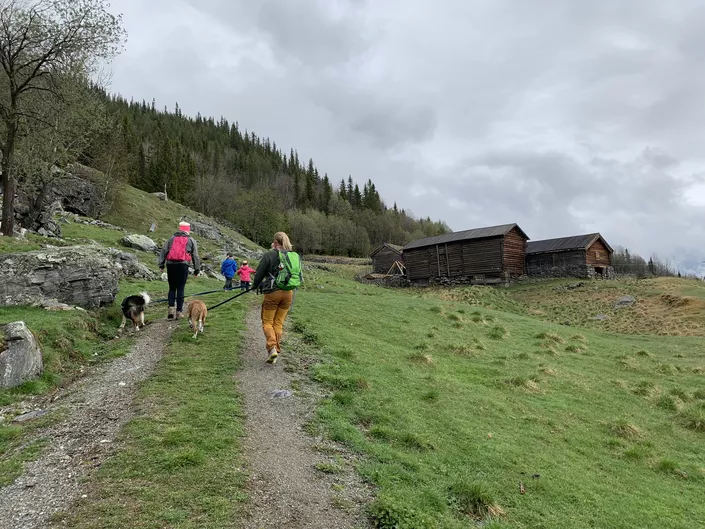 Geiteberget is a nice tour that starts at the local museum Hemsedal Bygdatun and mainly goes through the forest. Very nice view of Hemsedal at the top.
Geiteberget 633 - 834 m
Geiteberget is a nice tour that starts at the museum Hemsedal Bygdatun and goes mainly through the forest. Suitable for the whole family, but also the sporty ones who want a quick trip with nice view.

Difficulty:
Distance: 2.7km
Duration: 2h
Height in meters: 246m
Overview
A hike that will reward you with stunning views of Hemsedal. You pass through an old mountain farm that doubles as a museum during summertime. 
Start coordinates
60.846509, 8.625517
Best season
jan
feb
mar
apr
may
jun
jul
aug
sep
oct
nov
dec
How to get there
Follow Rv52 to Ulsåk and exit towards Lykkja. After 700 meters park by the signpost for the Hallingdal Museum.
Parking
Parking beside the road, shared parking with Hallingdal Museum Bygdatunet.
Safety
Keep track of the map and trail as there are many detours along the way.
Tip
Take some time and explore the old mountain farm from the 18th century at
Bygdatunet
. You can walk the grounds anytime and in summer the museum is open.
Description
A trip that offers culture, nature and great views. The hike starts at an old farm from the 18th century that doubles as a museum in summer, Bygdatunet museum. From Geiteberget, a great lookout point at 834 m above sea level, you get an incredible view. From here you can see Hydnefossen by Veslehødn, Storehødn and Totten. You also see the center of Hemsedal and further west in the valley.
Please note! There are grazing sheep in the area, so remember to close gates and keep your dog on a leash.