Some people like to spend their holidays relaxing and maybe enjoy a little extra luxury than what everyday life offers, while others find it relaxing to live more primitive than usual. But why choose 5-star stay when you can get 5 billion star accommodation? In Hemsedal you can experience both and everything in between, but if you are one of the latter who likes the primitive lifestyle, here are 3 nice trips for you, whether you sleep in a tent, a hammock or in the open air.
by Henriette Emdal
5 min
Updated 30 June 2023
The comfortable tent spots

Do you like to set up tents near the car, or maybe you like staying beside a river and a table with benches to enjoy your morning coffee by? Although there is a lot of untouched nature in Hemsedal, you will also find places that are adapted for primitive - but comfortable - accommodation. We can recommend the tent sites at Fekjanstølatn and in Hydalen (NOTE: both are toll roads).
Directions:
To get to Fekjanstølatn, drive from the the municipal centre towards Ulsåk and turn left at Kiwi up to Lykkja. Follow this road until you see a sign on the left-hand side to Ulsåkstølen. Pay with cash or Vipps at the toll station and continue until the gravel road ends.
To Hydalen tent site, you have to climb a narrower mountain road. From the municipal centre, drive to Tuv and follow the Grøndalsvegen to Grøndalen. Follow the road to Solheisen and follow Hydalsvegen on the right and continue up the gravel road. Pay by card at the toll station and continue the road past the lake Vavatn and down into Hydalen. On the right side you will find a large area with a fire place (be aware that there are cows in the area in the summer).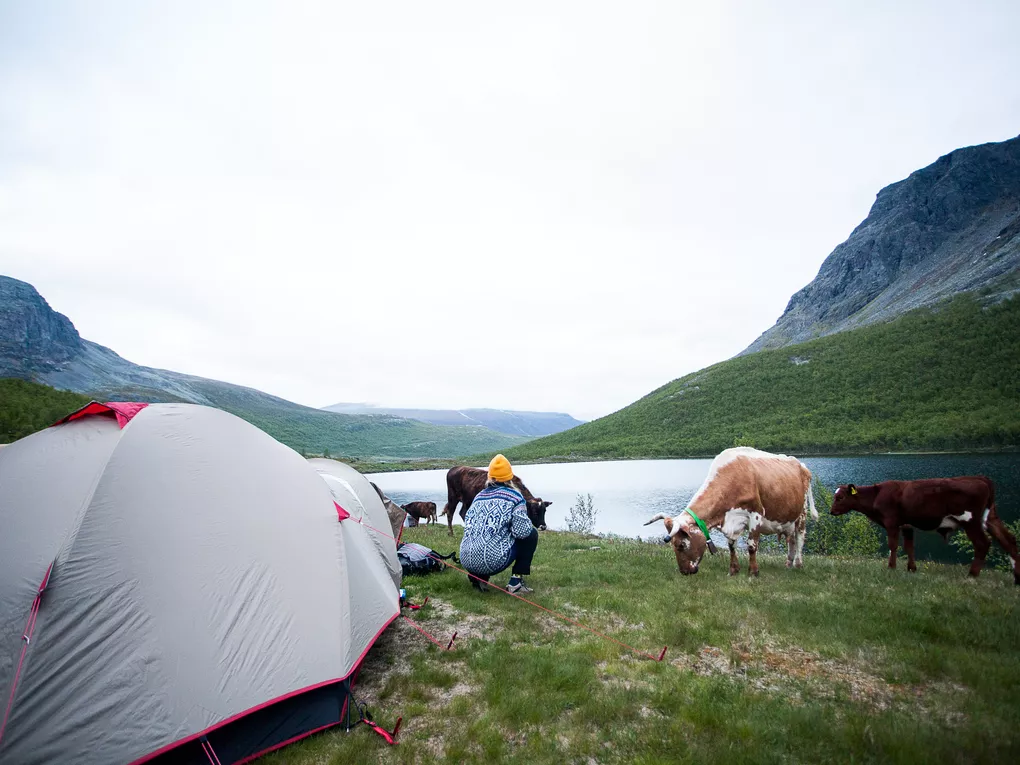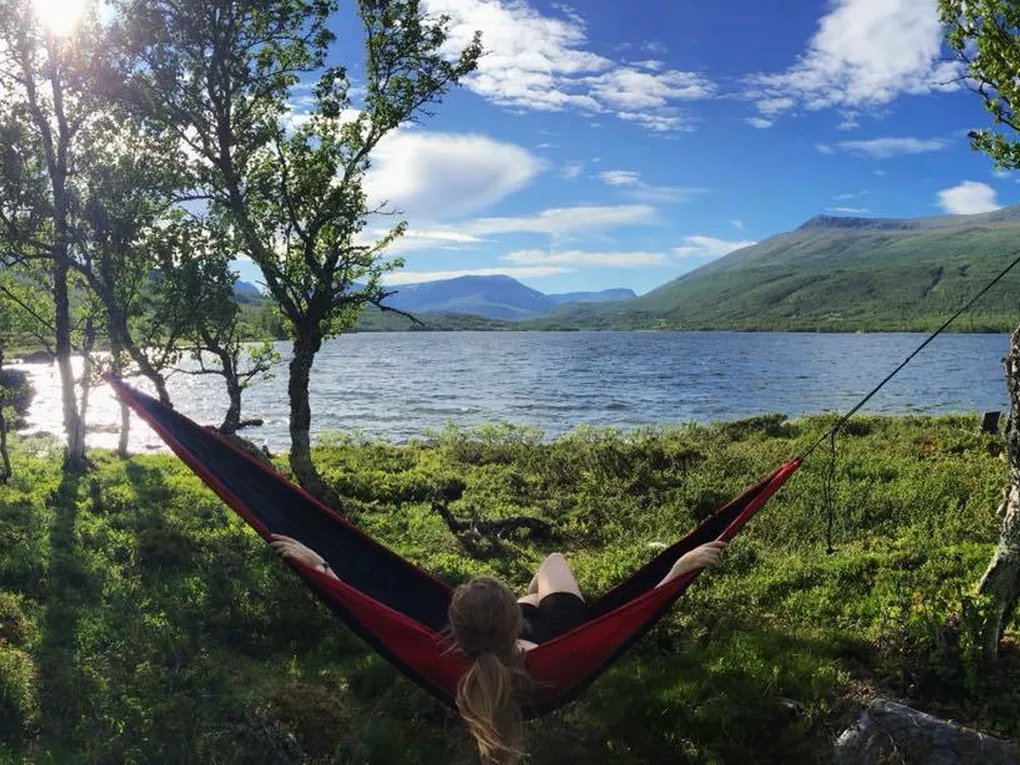 The hammock camper

Do you like to be rocked to sleep, perhaps to the sound of water and a light breeze? Sleeping in a hammock is a wonderful feeling, however, a challenge in the mountains as trees are necessary. But if you stay below the tree line, there are great opportunities to camp among the treetops. If you like views and a little wind to keep mosquitoes away, the top of Storhøvda offers a great panoramic view of both Skogshorn and Hydnefossen. If you like to stay close to water, you can either rent a canoe on the lake Vannen and paddle out to some of the small islands, or find a place a little away from the cabins by either Helsingvatn or Storevatn.
Directions:
Storhøvda car park can be found on the other side of Gravset Ski Stadium. From the city centre, drive towards Ulsåk and turn left at the grocery store Kiwi and follow Lykkjavegen to Lykkja. Continue until you see the sign to Gravset and park on the left side. Follow the marked path to the top.
You can rent a canoe online here and the equipment can be picked up at Hemsedal Climbing Center in Alpin Suites. The canoes are located by Vannin along Lykkjavegen. If you continue along Lykkjavegen, you will find Helsingvatn on the left side after Vanneviken and Storevatn on the right side after the Hestanåne car park.
If you like views and a little wind to keep mosquitoes away, the top of Storhøvda offers a great panoramic view of both Skogshorn and Hydnefossen
Under the stars

Is it full "survival mode" that makes your time in the mountains complete then it is only the imagination sets the limit. Maybe you prefer a relatively dry and soft area over rock-hard mountain peaks if you have only packed your sleeping bag? If you walk a little up the path to Ranastøngji, there are several places where there can be soft moss to lie on.
Are you afraid of heights? Then, our next suggestion is not for you. About an hour's walk from the car park to Veslehødn you will find Hødnetjedne which offers great opportunities to sleep in the open air, or in a tent. Hødnetjedne is also a fishing water that is included in the joint fishing card for Hemsedal, so maybe you are lucky enough to catch the evening meal? If you follow the river to the edge, you will find Hydnefossen and if you continue a little upwards, you can stand on the edge of Kjerringskjeften / Hydnekjaften and see 140 m straight down. If you choose to sleep here, we recommend calm conditions and a lifeline.
Directions:
You can find the car park to Ranastøngji by driving to Tuv and follow Grøndalsvegen to Grøndalen. At Solheisen, follow Hydalsvegen up and where the road turns sharply to the left, before the descent to Hydalen, there are good parking opportunities. Follow the marked path towards Ranastøngji.
To get to Hødnetjedne, drive from the municipal centre towards Ulsåk and follow the main road Rv52 until you see signs for the waste reception / Torsetstølane. Drive past the waste reception and pay by card at the toll station. Follow the gravel road up until the road ends to a large parking lot almost 1100 MASL. Follow the marked path.
If you choose to sleep at Kjerringskjeften / Hydnekjaften we recommend to camp when windless conditions and to bring a lifeline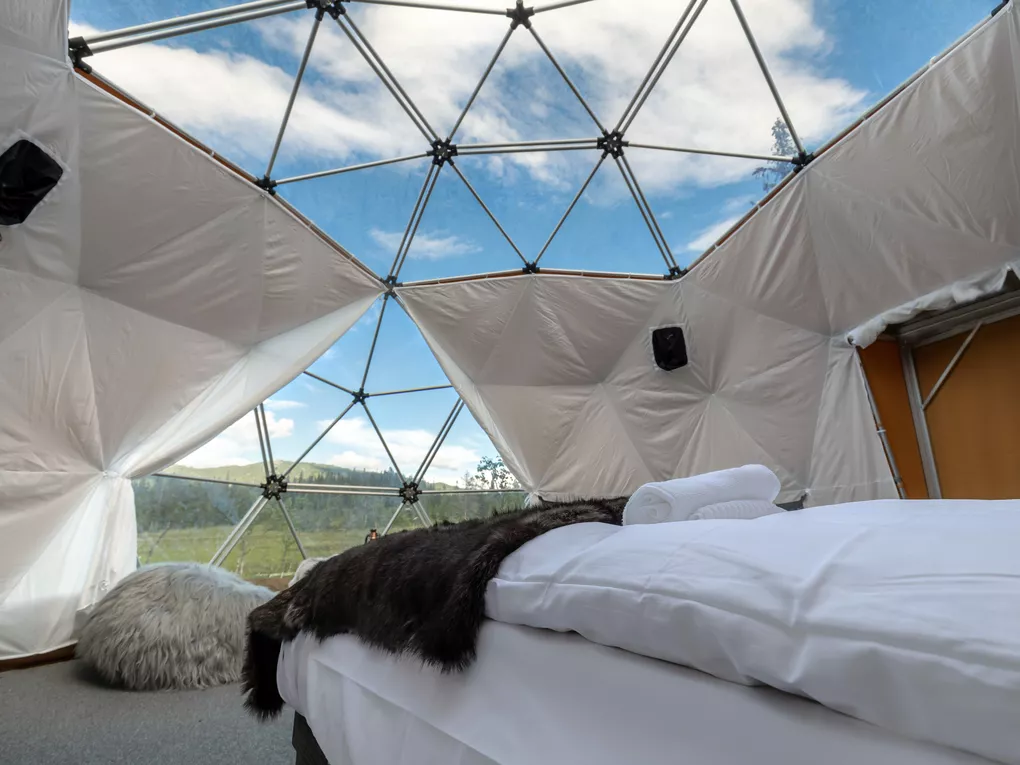 Den mer organiserte camperen
Hos Dyrja Domes camper du i litt mer organisert form. Her sover du i en Artic Dome som er vakkert plassert på Torsetsiden i Hemsedal. Nyt utsikten mot Skogshorn og se på stjernene gjennom det gjennomsiktige taket. Her får du fullt oppredde senger og alt du trenger at kjøkkenutstyr, en perfekt glamping opplevelse midt i skogen i Hemsedal.
Er du litt mer eventyrlig, da passer antageligvis Skysleeping deg som hånden i hansken. Dette er en spektakulær opplevelse – helt utenom det vanlige. Her overnatter du i et telt i sørveggen av Røggjin (1370 moh) og opplever Skandinavias Alper på en måte du aldri før har gjort. Du blir guidet til klatreteltet av erfarne Via Ferrata guider som lærer deg alt du trenger å vite for å få en magisk og eventyrlig opplevelse i Hemsedal.
Klikk deg inn på linkene og bestill en fantastisk og annerledes natt på fjellet i Hemsedal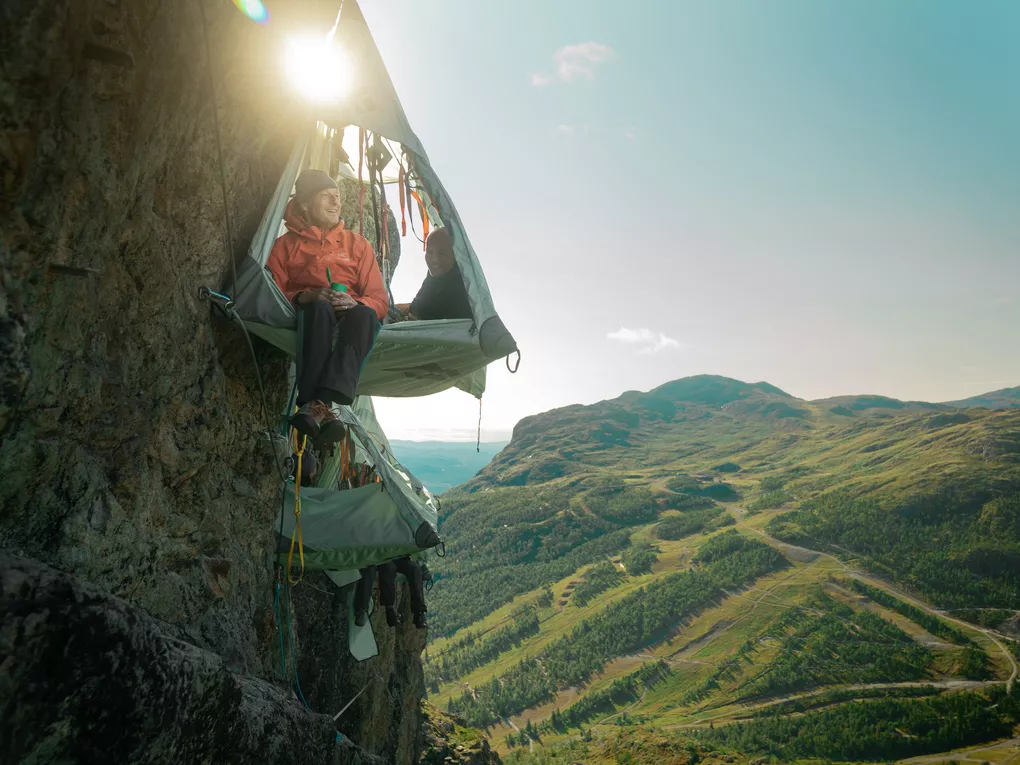 Regardless of type of camper you are we hope you will find something that suits you. Remember to bring back your garbage and leave the place a little nicer than when you arrived. Note that there is a ban of fires from 15th of April to 15 of September.

Get more inspiration here
---