Steget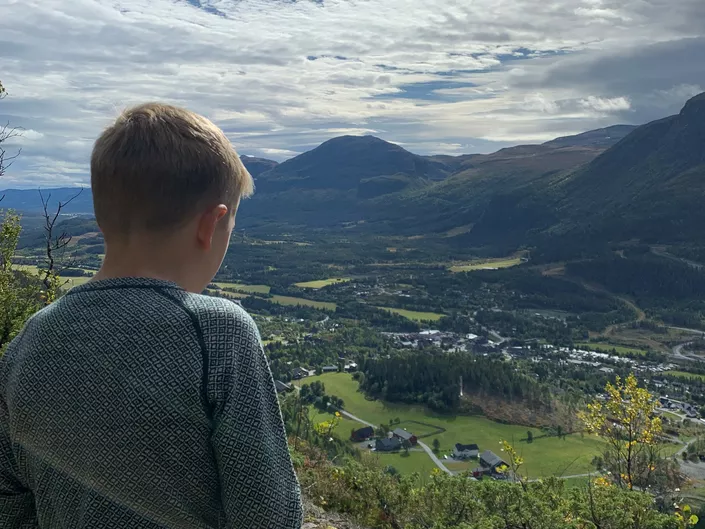 Nice walk through the woods to suit everyone. Great views at the top
Steget 728 - 920 m
This is a nice walk through the woods and is a perfect hike for families with kids. Great views at the top.

Difficulty:
Distance: 6.8km
Duration: 2h
Height in meters: 346m
Overview
Lovely hike from the town centre of Hemsedal with a breathtaking view over Hemsedal. You'll walk along the old trails for the cattle, and you usually meet cattle during your walk. 
Start coordinates
60.862881, 8.554437
Best season
jan
feb
mar
apr
may
jun
jul
aug
sep
oct
nov
dec
How to get there
Walking from the town centre: Follow Trøimsvegen behind the Tourist Office and take a left turn over the bridge (after the farm). Take right to Kirkebønsveien and continue up the street and pass the old stave church ground. Take a right by the signpost Steget to get to the gravel pit. 
Driving to the gravel pit: Drive up Kirkebønsveien to the left of Skogstad Hotell, after approx. 1.4 km there is a signpost with Steget on the right-hand side. Follow the road behind the barn and up to the gravel pit.  
From the gravel pit, there is a marked path/tractor road all the way up to Steget.
Parking
You can either park at the gravel pit or in the town centre. 
Safety
Bring drink and snacks for the hike. 
Tip
By the gravel pit there is a waterfall. It might be a bit difficult to see, it is unmarked trails and steep and sometimes slippery so be careful. 
Description
This return trip is suitable for kids and families - and HIGHLY recommended -  with the start point in Hemsedal Centrum or parking at the top of Kirkebønsveien. If you start in Hemsedal Centrum you will pass the old Stavchurch plot. After the old Stavchurch take right after the second farm on your right-hand side up the gravel road. When you reach the gravel pit - this is where the hike starts. 
The trail follows up old cattle trails - please remember to close gates behind you and keep your dog on a leach during the summer months as the cattle will be grazing! There is a waterfall on your right-hand side in the river Trøimsåne that is worth a short detour. If you do, please don't get too close as it is quite steep near to the waterfall.
Steget is located on top of another waterfall called Haugsbekken. From the top, you will be able to enjoy the view of the ski resort, all of Hemsedal town and the farms of Kyrkjebøen and Haug.