Karisetberget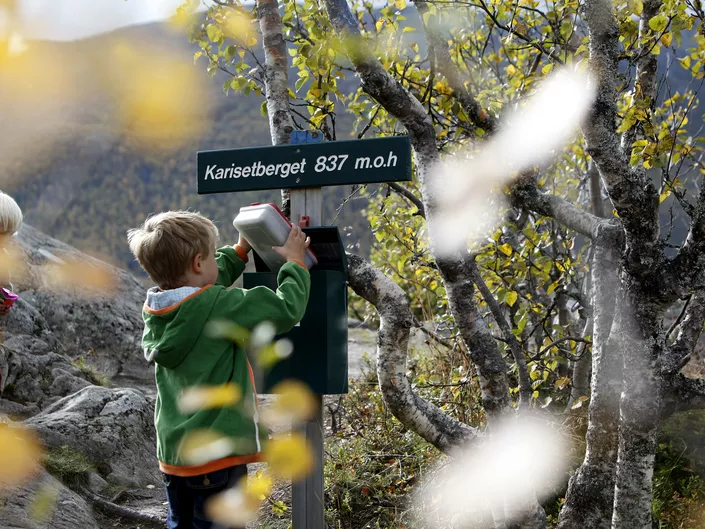 A nice walk on the trail with great views at the top. Fits everyone.
Karisetberget 649 - 837 m
A nice walk on the trail with great views at the top. Suitable for everyone.
Very easy walk, about 190 m vertical and it is 1.5 km one way. Estimated walking time is 1.5 hours.
Difficulty:
Distance: 3.1km
Duration: 2h
Height in meters: 188m
Overview
A lovely trail that starts by the river Grøndøla and continues up through the forest and ends up on the mountain overlooking three valleys and a waterfall. 
Start coordinates
60.887415, 8.460323
Best season
jan
feb
mar
apr
may
jun
jul
aug
sep
oct
nov
dec
How to get there
Directions: Drive to Tuv and take off towards Grøndalen. Drive approx. 1 km until you arrive at the signpost Karisetberget/Kroken on the left side. Park by the green concrete building (power station).
Follow the path across the bridge by foot. 
Parking
Park by the power station, keep the road clear for tractors. 
Tip
Enjoy blueberries, wild strawberries and lingonberries on your way up or down. 
Description
The path is easy and suitable for children. You start the hike by going over the river Grøndøla, on the other side of the river you can see grazing cows. At the end of the gravel road, you reach the trail. Follow the trail through the dense Norwegian forest and upon the mountain top, 837 masl. During the months of August- September, you may find plenty of berries and mushrooms. You could also meet some deer and grazing sheep. 
The trail is well marked, but look out for the alternative route to take up or down which follows a tractor road and will take you to the other side of the river.
At the top of the hike, you will be rewarded with views of the valleys Grøndalen, Mørkedalen and Tuv. If you look down you will spot Rjukandefossen, a great waterfall with lots of power. 
If you're interested in ecology, keep your eyes peeled for the scientific experimental area with 4 different types of conifers.
This is also a common trail for biking.