From A to Z
in Hemsedal this summer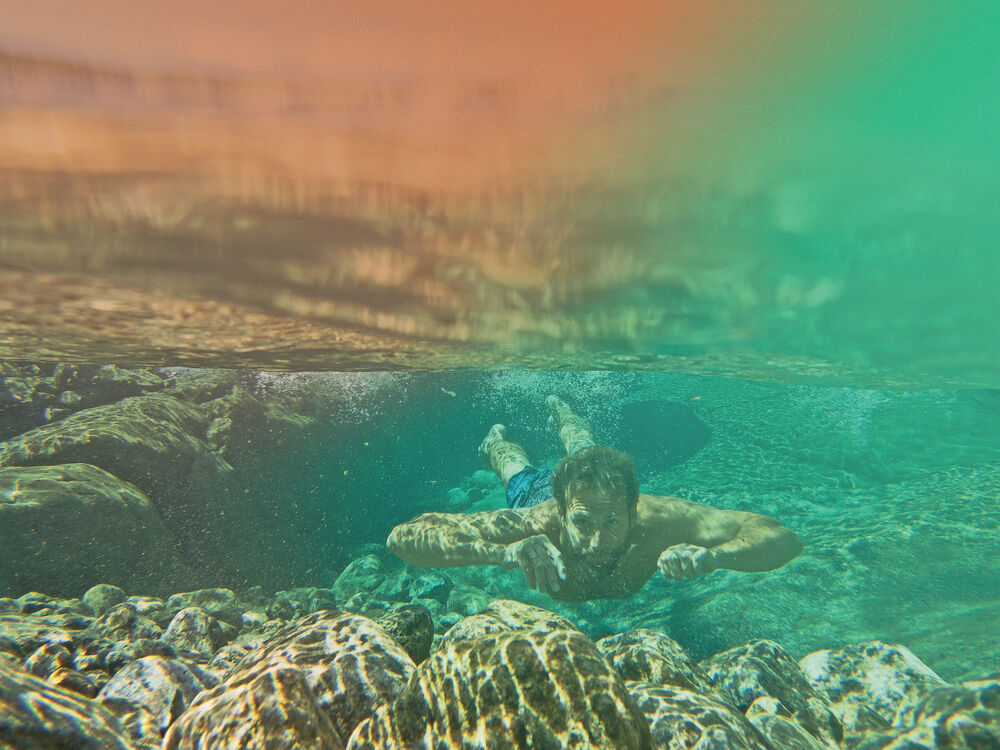 Do you want tips on things to do during the summer holidays in Hemsedal? Here comes Hemsedal A to Å with many tips on cool things to do during summertime.
By: Katarina
5 min
Updated 18 May 2022
This summer's A - Z in Hemsedal
A as in «Active holidays» - Join Hemsedal Huskies for summer dog sledding. A fast-paced experience where you sit on a wagon behind the team of dogs. This tour offers magical scenery and cuddle with huskie dogs. You can also check out our summer activity pages.
B as in «Bouldering in- and outdoor» - Bouldring & climbing in the mountains is loads of fun and in Hemsedal you can try it both indoor and outdoor. Haven't you got the hang of it yet? Then Hemsedal Fjellsport has both family climbing and other courses that you can join. In Høyt & Lavt Climbing park everyone above 80 cm of hight can join in and try climbing and zipline over the river. Are you looking for guided climbing? Check out Via Ferrata.
C as in «Croissant for breakfast at Elgen Bar» – Enjoy a lovely breakfast and watch Hemsedal come to life. The Elgen bar is located in the same building as Skogstad Hotel and for breakfast, they serve everything from "overnight oats" and freshly baked sourdough bread to croissants.
D as in «Dog hotel » - At Hemsedal Animal hotel can your pet enjoy mountain life instead of staying in the cabin. The daycare take the dogs out for walks several times a day and inbetween they get their own suite to stay in. The hotel fills up quickly so make sure to book a spot when you make your own reservations.
E as in «E-mtb» - Discover our beautiful mountains on an electric bike this summer. In Hemsedal you will find electric mountain bikes for rent in several places, but remember to keep an eye on the range of the battery! Ps. If you take the trip to Vavatn or Hydalen, you can bike past Harahorn Fjellgård and charge your bike while enjoying a lovely lunch with fantastic views.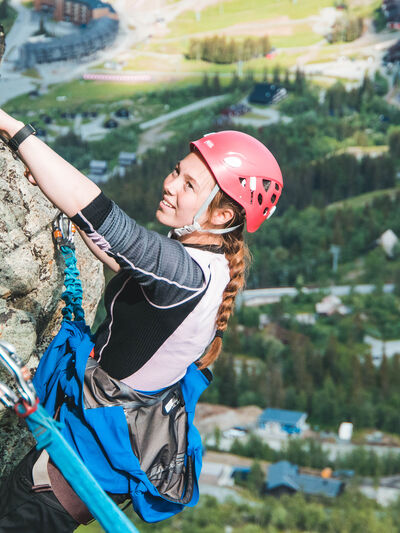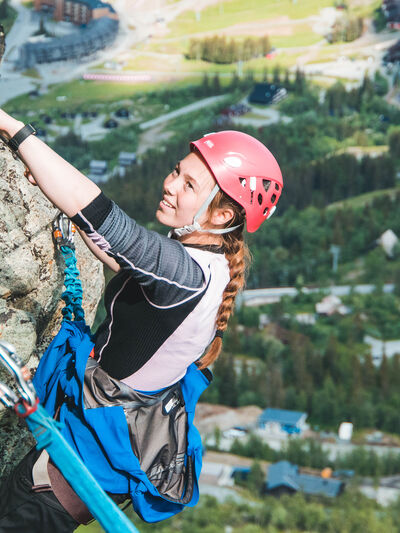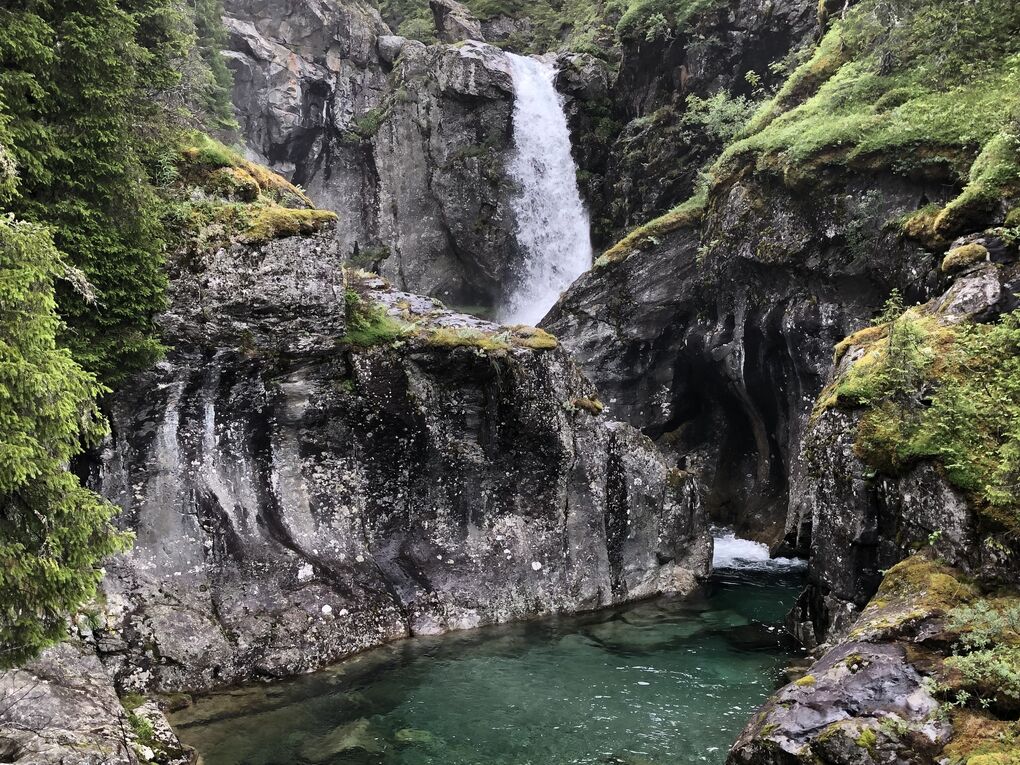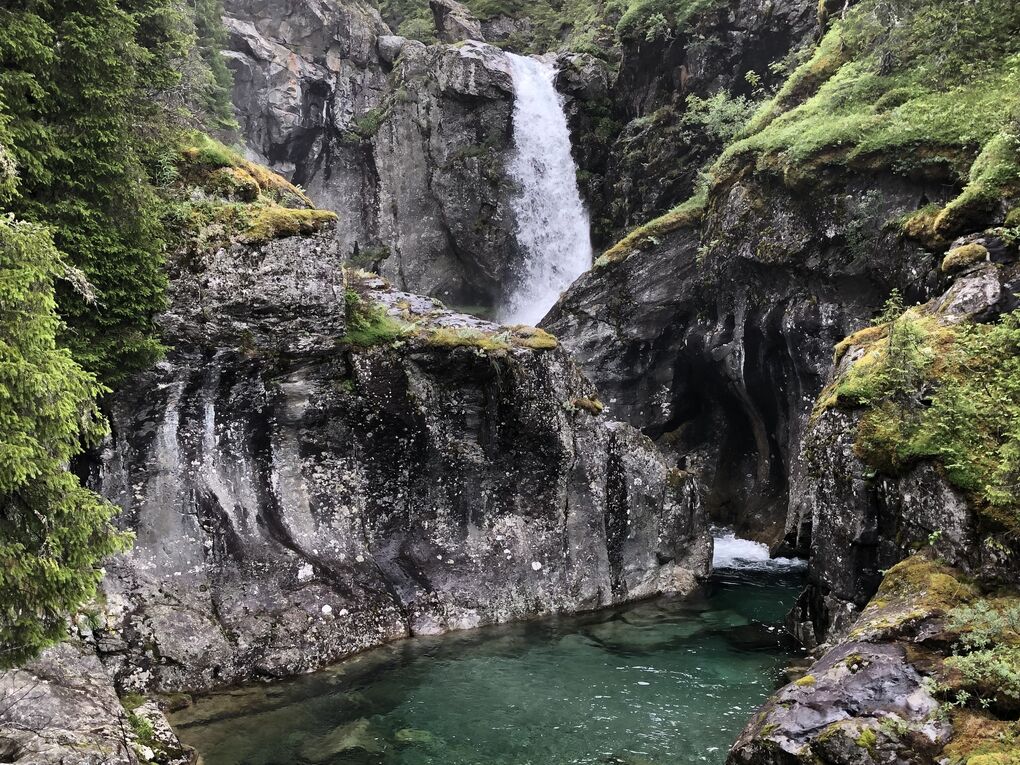 F as in «Flow trail biking» - Check out our brand new 10,5 km flow trail, Silverstone at Hemsedal ski resort. Here you'll get 8 km continuous flow trail from top til bottom and the you take the ski lift up again. Before you hop on the sadle and go to the flow trail, you can warm up at Tottelia bike park so you are ready for berm paradise in the blue flow trail afterwards.
G as in «Goodies from Hemsedal» Have you ever tried our local goodies like Gofalefse, Lefsekling or Flatbrød? At the bakary and café in Tuv "Ein Smak Tå Hemsedal/A taste of Hemsedal" you'll have the chance to try some local goods from Hemsedal Flatbread bakery. They also have a small shop here where you can buy local food and knitted clothes. Other local goodies are for exampel Tamt & Vilt, who sells local fish and meat at the supermarkets and Brandvoll Farm, where you can get potatoes, eggs, meat etc. from their farm shop. Did you know that one of Norways best soft cheeses are made in Hemsedal, look for Himmelspannet when you are at the local supermarkets.
H as in «Hidden gems» Discover some of our hidden treasures in the mountains. There are many places here in Hemsedal where you can be all alone in nature for a day. Go on a waterfall "hunt" and discover the more hidden waterfalls, for exampel Trøims river in the city center has many waterfalls you can enjoy on the way intowards Trøimsbotten. More hidden gems are Klokkarsteinen, Rjukandefossen and the old farm Hemsedal Bygdatun where you can see how it used to be in the old days.
I as in «Ice cold ice cream» Everyone loves to have an ice cream in summer. At Arti kafe you'll find an ice cream dish, get your favourite flavour and enjoy it on the beach next door. Hemsedal has several bathing spots and the beach in the city center is a sandy beach with a small playground next to it, perfect for families. Next door you'll find the climbing park Høyt & Lavt and restaurant Hemsedal Cafe.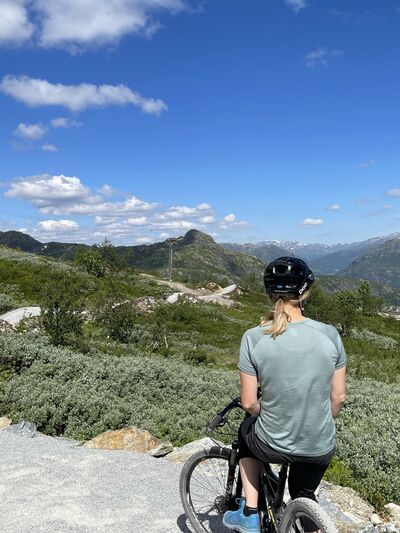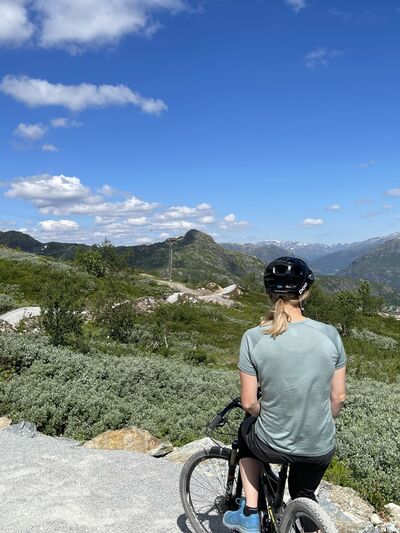 J as in «Jupmers and Jeans» Go on a crazy shopping spree when on holiday. Buy clothes from Norwegian designers or locally made crafts. Here you will find everything from sports equipment and fashion clothes to interiors and crafts. Discover all our shops in the valley.
K as in «Kingdom of pools and hikes» When in Hemsedal, you just have to find a natural pool and take a dip in. I'll promise, a refreshing bath in the mountains lowers your heart rate and makes you feel good. Check out our article about Chasing Waterfalls. Maybe you will find your pool along one of the Top20 hikes or when you discover new exciting places in the mountains. Hiking is one of the main activities in Hemsedal during the summer months and in the Top 20 guide you will find everything from Høgeloft which is Hemsedal's highest mountain at 1920 masl to Storhøvda at 1075 masl and views of the water in Lykja, Skogshorn and Hydnefossen.
L as in «Lazy days in the pool club» When you have done the natural pools, are done hiking and just wanna relax, the check in at Fyri Resort. Leave the stress outside and just relax by pool and get delicious snacks and drinks served to your sunbed . If you want to be a a bit more pampered, I recommend taking a facial or body treatment in the Pool Club.
M as in «Mountain cart cruising» Are you looking for a fun activity suitable for families with slightly older children or adults? Mountain cart is a type of tricycle with a brake that you ride down from the top of the chairlift together with a guide along a gravel road. This is an adrenaline-filled activity where you decide the speed on the way down. At the top of the chairlift at SkiStar Hemsedal, the adventure starts with Mountain Cart, afterwards you can enjoy something good at Fjellkafeen which is located right next to the lift and has a great outdoor terrace with beautiful sun conditions. The trip to the Top20 top Totten also starts here.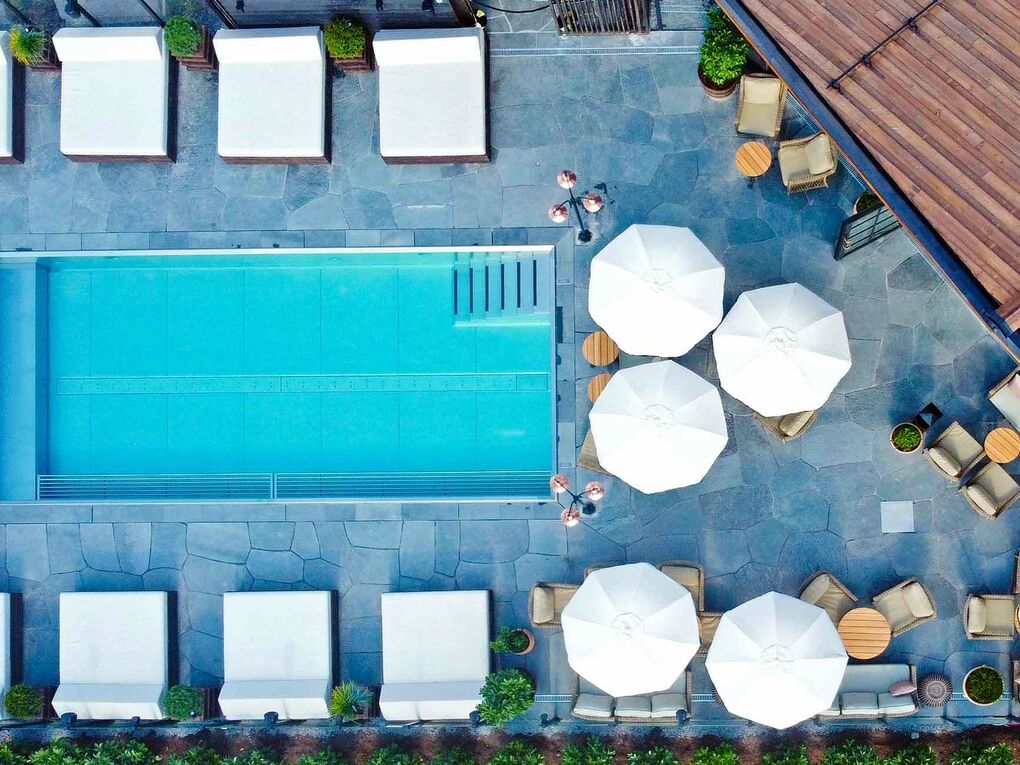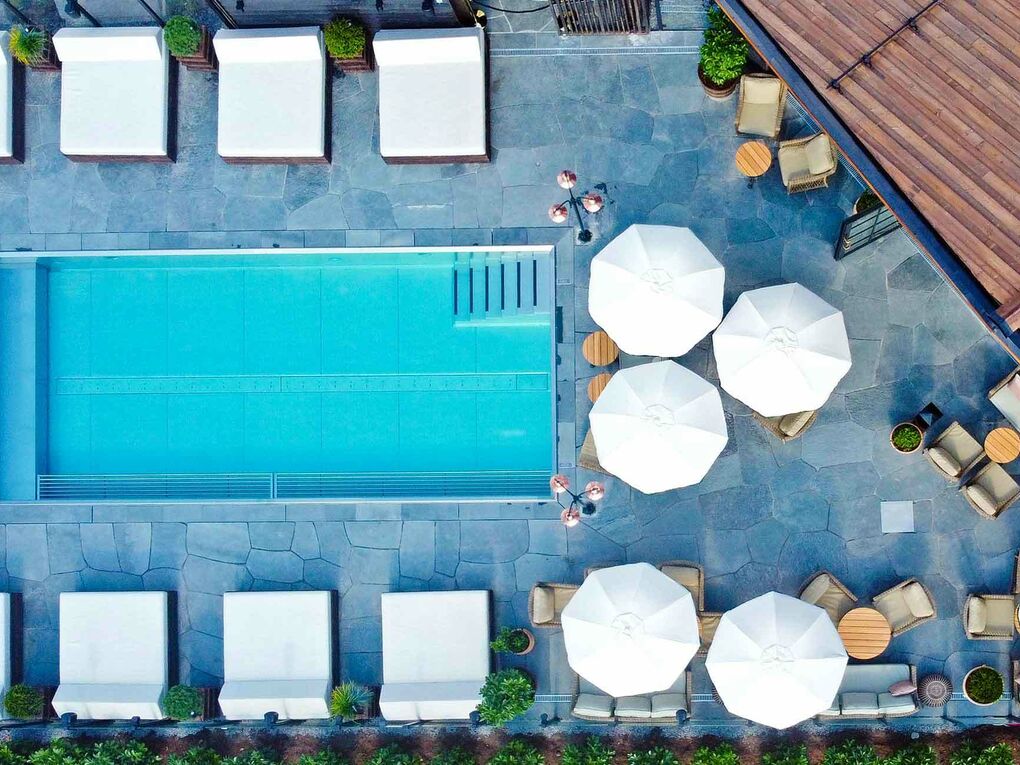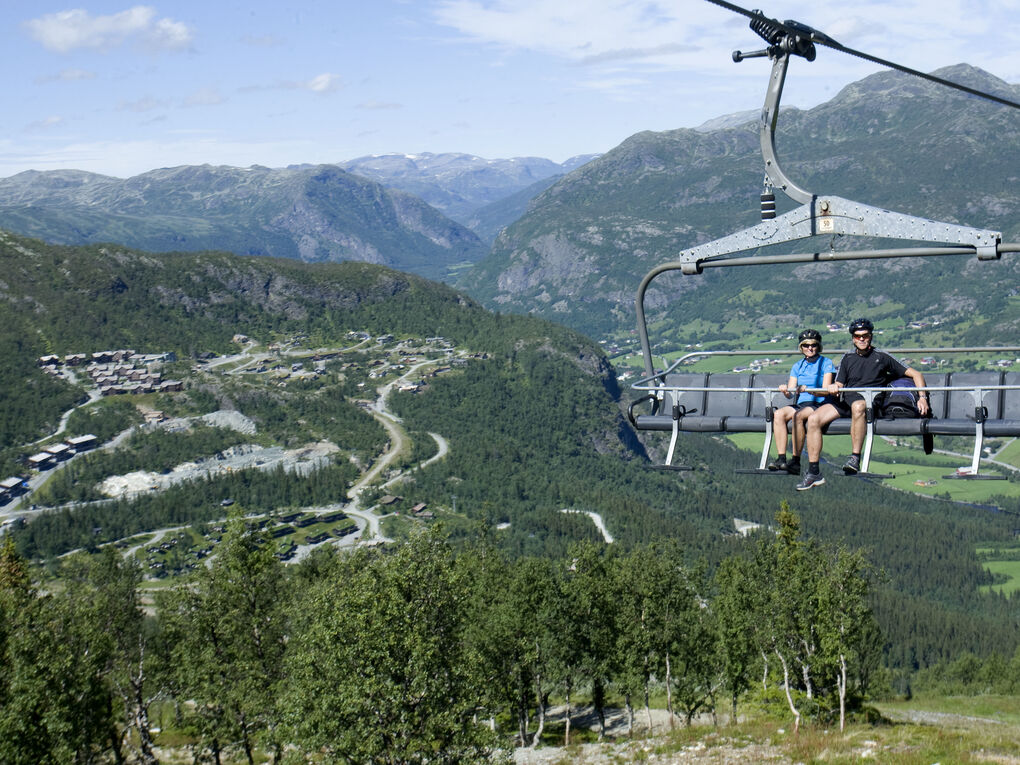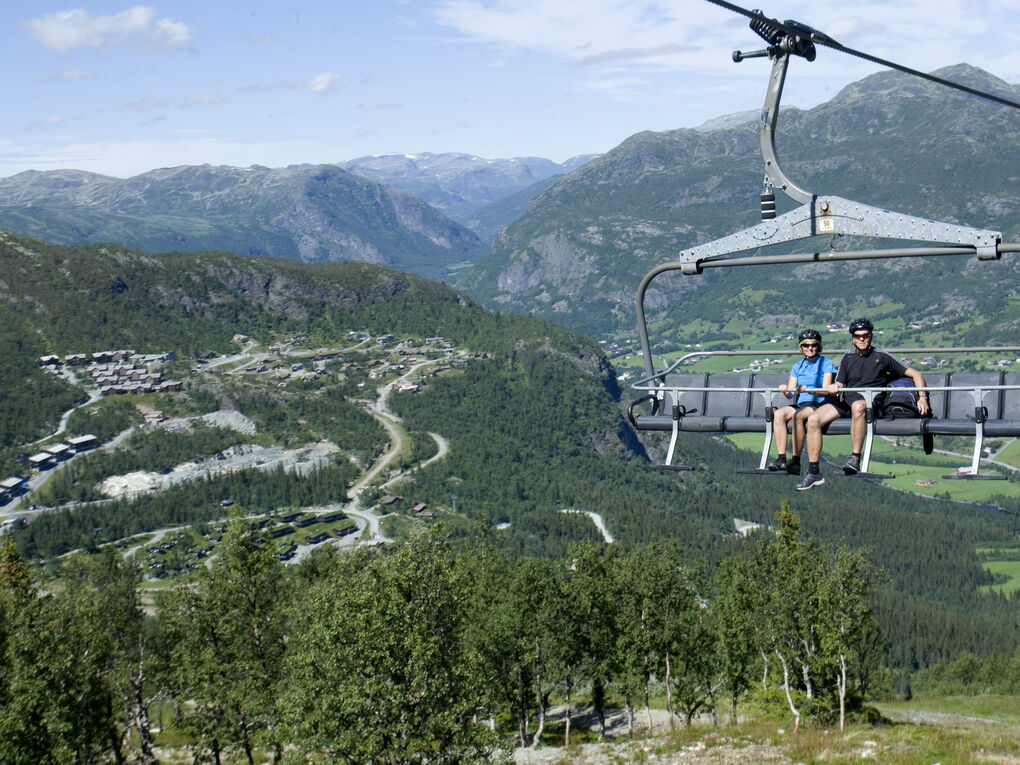 N as in «Nature» See the majestical landscape slide by in slow motion on one of our mountain lakes. Take in the feeling of beeing one with the nature. You can rent canoes or SUP in Hemsedal per day. Are you rather up for som sea kayaking then you must make a reservation with a guide a join a tour down to Flåm and Sognefjorden where they will teach you the technique and you can experience an magical fjord landscape as you get our own "wet card" and are allowed to paddel kajakk in Norway.
O as in «Other places» When visiting Hemsedal you simply must visit the fjords, like a daytrip to Sognefjorden. Go visit the old Stavchurch in Borgund, go on to Flåm and take the train Flåmsbanen or a coffee in the old parts of Lærdal.
P as in «Parks» Play around in several parks this summer. Climbing park High & Low, skate park by Hugnadheim, family biking park in Tottelia, playground at SkiStar Hemsedal and by the beach in town center. And the biggest play ground or park of them all is The Mountains of Hemsedal, our natural playground who invites all of you to a new adventure this summer.
Q as in «Quiz at Bruøyne island» On the opposite side of High & Low climbing park in town center you'll fin the small island of Bruøyne. Here are almost all elements of the climbing park located but also a short quiz that you can participated in. Take the zipline over the river or go around and take the path on the other side of the river to find the island.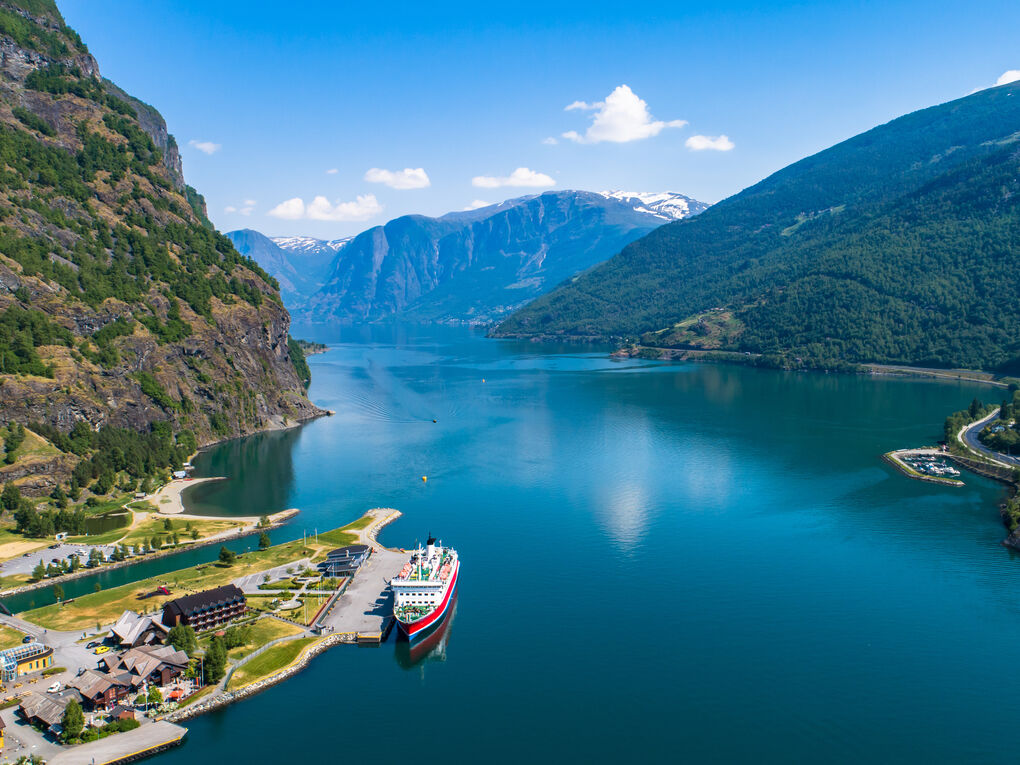 R as in «Riversnorkling» A spectaculare experience in the river Hemsedal is River Snorkling. You hop into your wet suit and jump into the river and snorkel your way down to the town center. Here you get to experience the life below the surface.
S as in «Saddle» Bike or Horse saddle, which one do you prefer? In the mountains of Lykkja you can go horseback riding in the summer. Join a camp or book a half day trip with an experienced instructor. If you are more up to going on the bike saddel, check out Hallingdal rides, which is one of Europes hottest trail biking destinations. Hemsedal is part of Hallingdal as well as Ål, Gol, Nesbyen og på Geilo. Hallingdal rides is suitable for everyone from kids to pro bikers.

T as in «Tourist office» We help you with tour suggestions and information. You can also buy hiking maps and souvenirs from us. Welcome to Hemsedal Tourist Office, you find us in the town center next to Sparebank 1 and the bus stop.
U som i «Unique experience» This summers coolest overnight stay must be the Skysleeping. This is not for everyone, are you afraid of hights you are better of somewhere else. This is a truly unique exprerience that you can only try in Hemsedal. Skysleeping is only avaliable durin three weeks this summer, so be sure to make your reservation as soon as possible.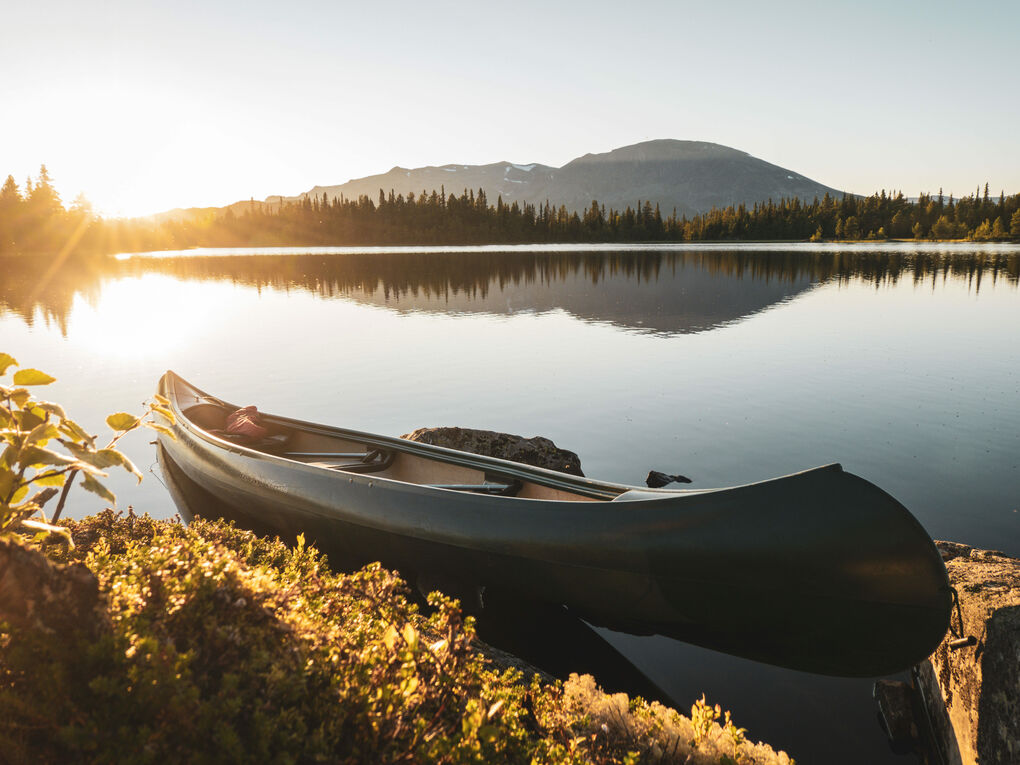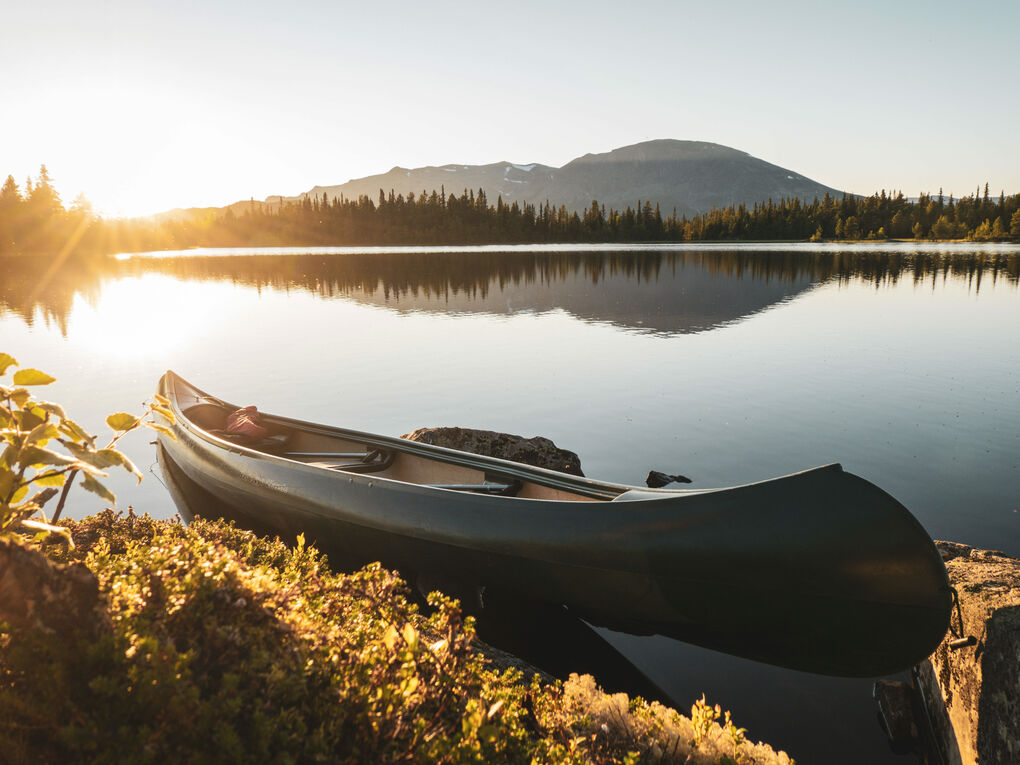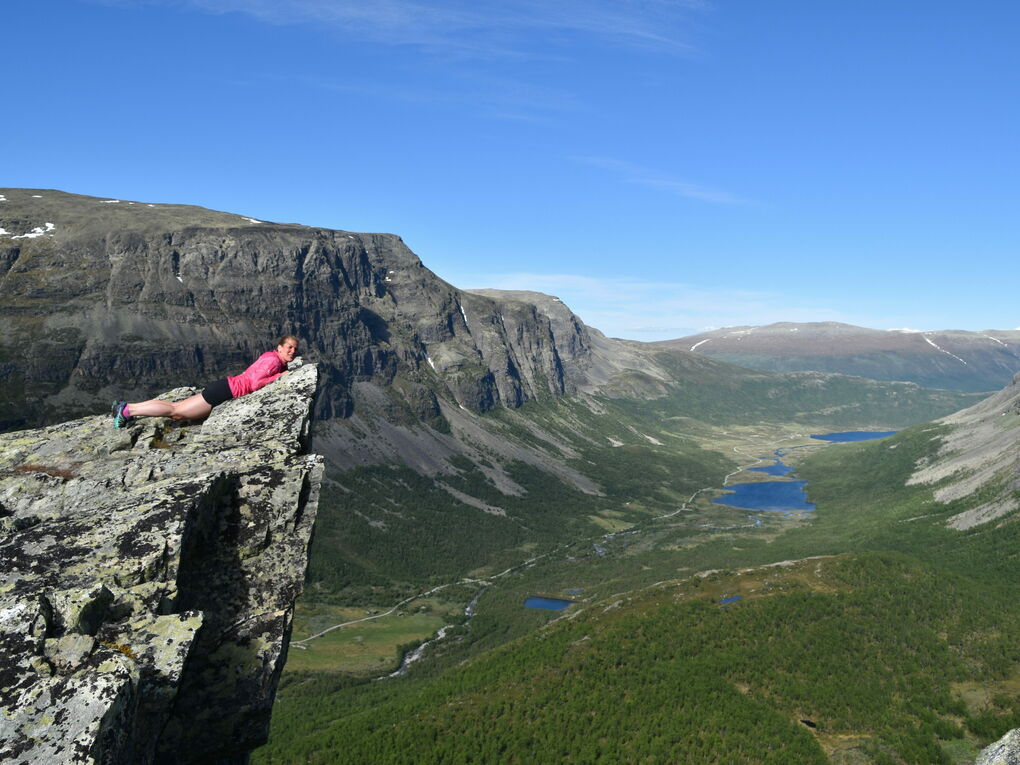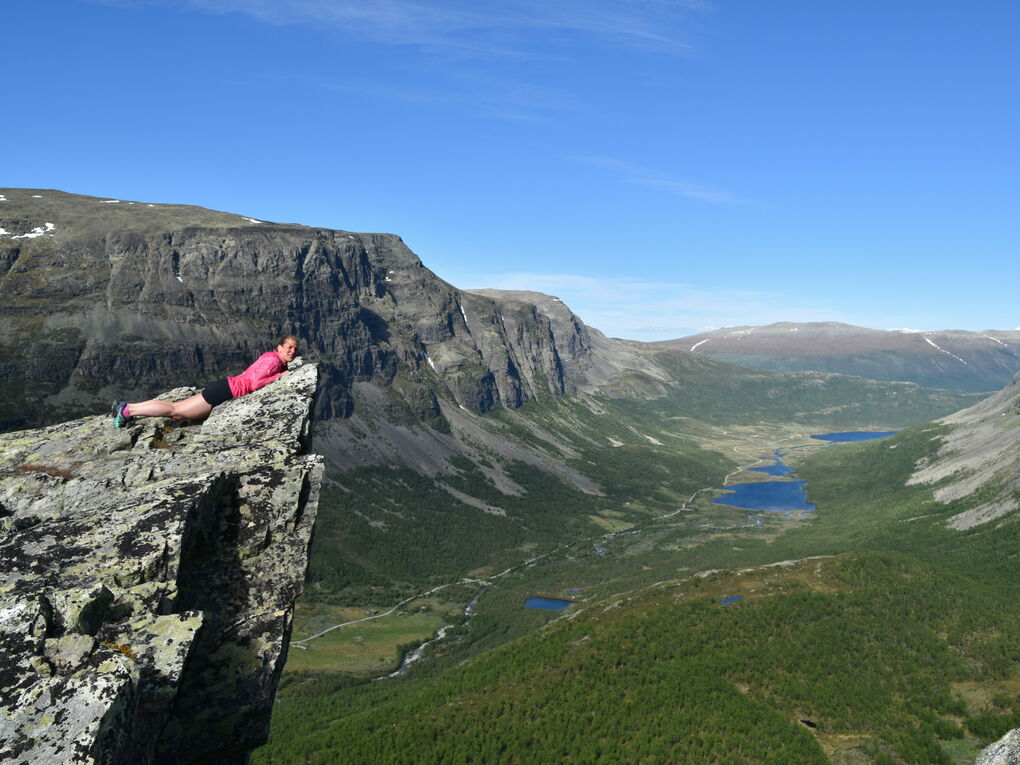 V som i «Visit Hallingdal» Hallingdal is our region in Norway and here you'll find several kids paradises as the Bear park in Flå, the animalpark in Langedrag or go for some shopping in Gol. Along road nr. 7 you'll find the village of Ål where you can visit many cultural buildings and exhibitions. When continuing on road nr. 7 you reach Geilo and further on the Hardanger fjord. Read our article about Hallingdal and go explore the region.
W as in «Weekend trips» Hemsedal is the perfect place for a get away from the buzzing city life. Here you can enjoy hiking in the mountains, biking and fantastic food at our restaurants. Check out our package deals or create your own trip by checking out our travel tips.
X as in «X-factor in Hemsedal»Hydalshjallen is one of Hemsedals many x-factors. This hike is extremely accessible for for most people who can walk. Here you can enjoy the high mountains in an easy way and you get a fantastic view as well as an adrenaline rush due to the steep cliff overlooking the beautiful Hydalen area.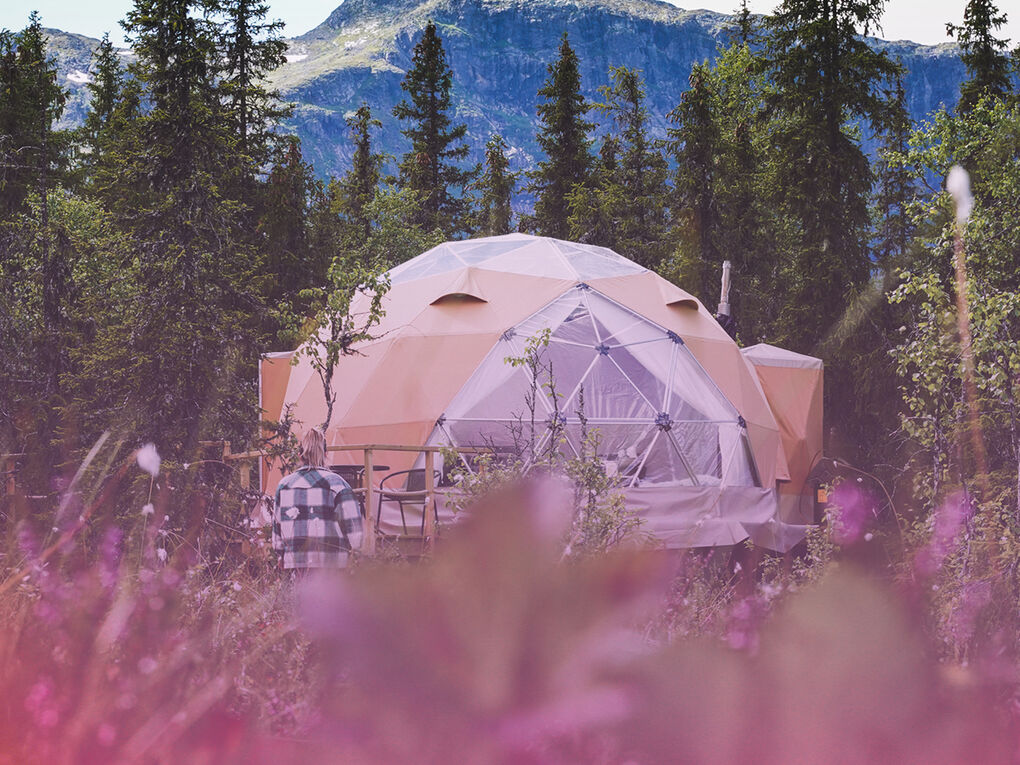 Y som i «Yummy fishes» Are you up for a yummy dinner? The get your rod and head to one of our lakes or rivers and go fishing. You can buy a fishing licence for 18 lakes and 4 rivers and go out trying to catch your own dinner. Trout is the main fish is Hemsedal and probably the one that you'll get on your hook. Just be sure to read the fishing rules and buy the licence before you head out. Are you looking for a fishing guide, we have some of the best. Contact Tor or Jørgen and they will teach you on how to fly fish. Bring your Primus kitchen and prepare your dinner direcly by the lake, it doesn't get fresher then that.
Z as in «Zzzzzz » Fall asleep to the sound of nature. Sleep outside in just a sleeping bag or in a tent, chek out our tips in the article about 5 billion stars accomodation. Do you like it a bit more comfortable? Go ahead and make a reservation on Dyrja Domes, which is glamping Hemsedal style. That means that you have your glamping tent with a toilet, but you are not surrounded by others, no you are all by your self. Your neighbours are the animals of the wild, like moose and one or to rabbits jumping around.