Via Ferrata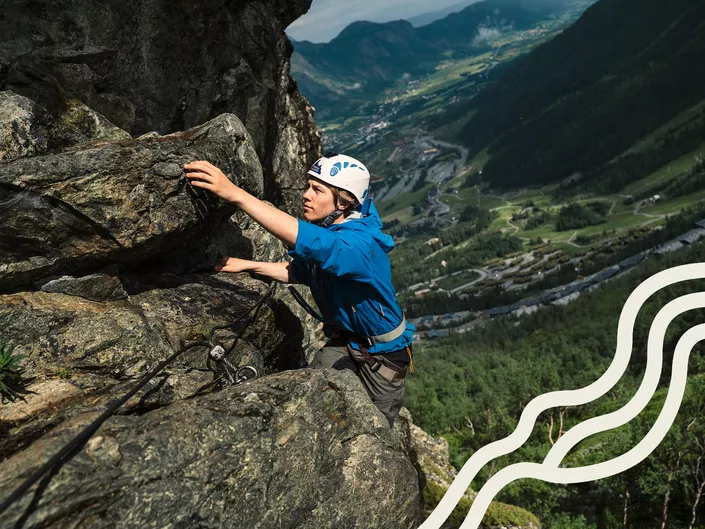 Climb to the top of the mountain using permanently installed rope ladders and wires, secured all the way to the top.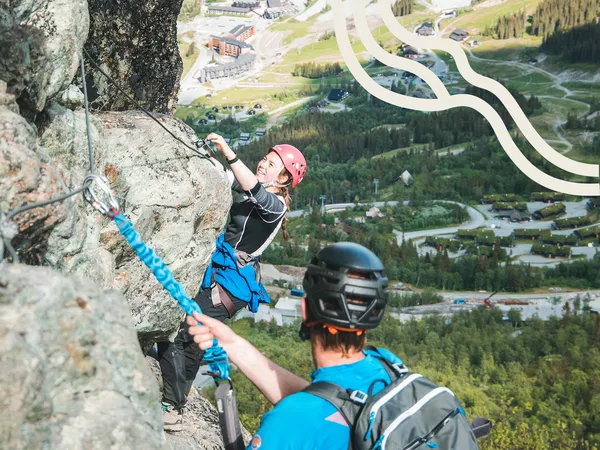 The word "Via ferrata" means railway. An iron wire is attached to the mountain, and it is in this that you secure yourself while climbing. Via ferrata is for everyone, and experienced guides will take you up safely and securely.
In Hemsedal we have two different via ferrata trips. Both start at Skarsnuten Hotel and end at Vesle Røgjin, but the routes split along the way.
Original route
Suitable for everyone from 12 years and up who wants a steep mountain hike with a little extra. No prior knowledge is required here. The route is grade B, with a couple of points grade C. Duration: 3-4 hours.
The south wall
New route that opened in the summer of 2021. This is a slightly longer and more demanding trip than the Original route. The route has a common start with the original route and eventually enters Sørveggen. Suitable for you who have climbed via ferrata before or have other climbing experience, 12 years and up. The route is graded degree D / C. Duration: 3.5-4.5 hours.
Age / weight restrictions
Suitable for everyone between 40 kg and 120 kg, and over 145 cm. Recommended age limit 12 years, but one must weigh a minimum of 40 kg due to the approval of the equipment we use.
Sold out?
If it is not possible to book the day you want, it may be because the activity is fully booked. In that case, get in touch at info@hemsedalaktiv.no or +47 483 86 018 and we can see if it is possible to set up an extra trip.
Via ferrata without a guide
If you have experience from via ferrata and want to climb without a guide, see more information here.