Skarsnuten Hotel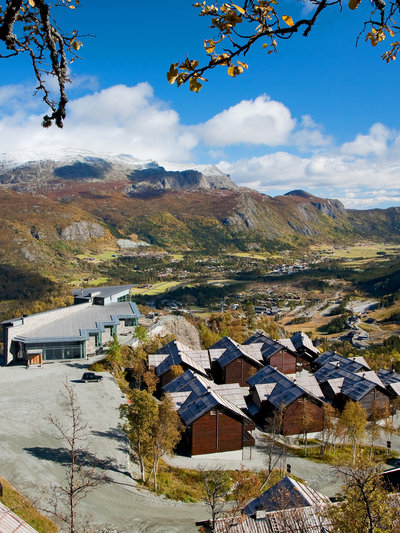 Welcome to Skarsnuten Hotel! With fantastic views of Hemsedal and the mountains, you will find Skarsnuten Hotel. Here you can enjoy good food and drink in wonderful surroundings.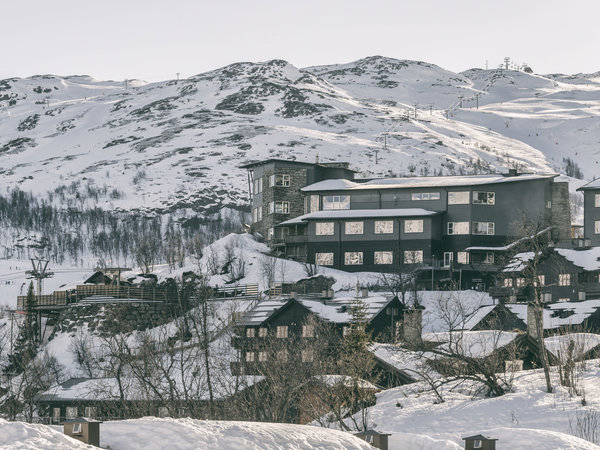 Welcome to unique views and modern architecture. Majestically located above Hemsedal, on the edge of a mountain ledge, you will find Skarsnuten Hotel.

A unique hotel in modern Scandinavian design with 37 rooms, bar and restaurant. In addition, we have 20 apartments right next to the hotel, Skarsnuten Apartments, for those who want more space or self-catering. Our restaurant has spectacular views and an exciting, varied menu.
Ski in - Ski out & Local transportation.
With its own ski-lift (lift J on the trail map) up to the hotel, and slopes right outside the door, Skarsnuten Hotel is connected to Hemsedal ski center. The lifts opening hours can be checked here.
There is also a free of charge ski bus to Skarsnuten Hotel several times a day. See time table here.
Another option is the BMW in - Ski out. We will pick you up with our BMW shuttle. Call the hotel to book the shuttle for lunch or dinner.
Flexible solutions
For your event, we deliver flexible solutions for everything from small, intimate companies to large conferences and seminars. We help you plan your conference, and our own hosts make sure everything goes according to plan. Our restaurant provides refreshing food along the way. Conference with experiences Your conference can be combined with all the unique experiences Hemsedal has to offer! We offer varied activities that provide experience and a feeling of mastery, and everything can be tailored to your event. Is it tempting with a fjord safari, or how about a summit trip with local delicacies and a view of the mountains? Skarsnuten is a place for refills in everyday life!
In the heart of the Norwegian mountains
Hemsedal is located in the heart of the Norwegian mountains, midway between Oslo and Bergen. Hemsedal is well known as a winter destination, but is at least as nice in the summer. Hemsedal is definitely worth a visit all year round and can offer many memorable experiences. Enjoy the best the mountain has to offer.
The hotel can assist with the following transportation: Minibus - bus - private driver / BMW shuttle.
Distances From Oslo 210 km.
From Bergen 290 km.
From Fagernes Airport 84 km.
From Larvik 290 km.
From Oslo Airport 230 km
Read more about transport options to Hemsedal here
It is also possible to land by helicopter at Skarsnuten Hotel. Contact us for more information.
Contact
Opening hours
HOTEL
IS OPEN EVERY DAY
RESTAURANT
Monday - Thursday
Dinner: 16 - 22 (alcohol stops at 22.00)
Friday - Sunday
Lunch: 12.00 - 16.00
Pizza: 12.00 - 18.00
Dinner: 18.00 - 22.00 (alcohol stops at 22.00)
Breakfast every day 07.30 - 10.30 for hotel guests. Book you time at arrival.