What to do in Hemsedal
on a rainy day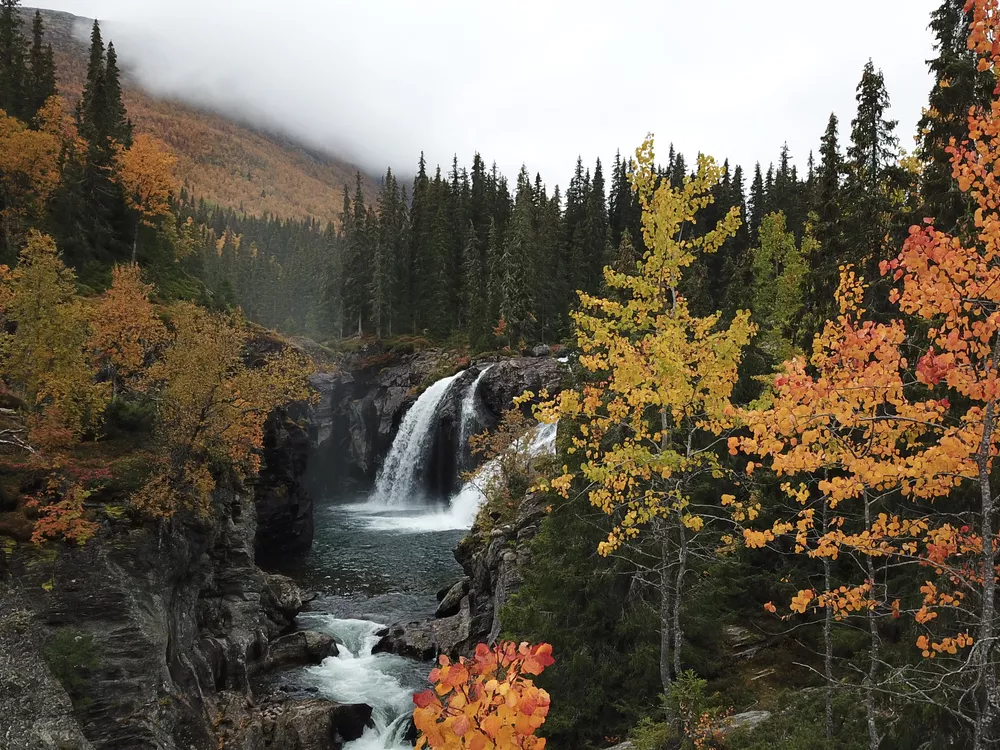 A beautiful day is fantastic, but we also need rain and the next few days offer gray weather and rain. Fortunately, there is still plenty of fun to be had in Hemsedal!
By: Kristina
4 min
Updated 20 September 2023
It might be better to save the longest hikes and highest peaks until the weather forecast is better, but Hemsedal has many hiking opportunities to choose from and on the hikes in lower terrain you are well protected in the forest. What about Steget, Geiteberget or Storhøvda? Check our hiking brochure for descriptions. Remember clothing for wind and rain and don't forget that the conditions in the mountains can change quickly.

Practice using a map and compass
In good weather conditions and on marked trails, it is easy to see where to go, so maps and compasses may not be used as often. Now that the view may not be the best, it is an excellent opportunity to practice using a map and compass in easy and safe terrain.
Outdoor library for children
This summer, Trøll i ord and Hemsedal library are arranging Trøll-tue: outdoor library for children in Hemsedal. Everyone who comes to a Trøll-tue can find a book in the mailbox, sit down and read in beautiful surroundings and then put the book back before you go. The Trøll-tue can be found on Høllekølten, Geiteberget and along Hemsilstigen (by the campfire site near Krikken treatment plant). You can also visit the "normal" library in Hemsedal center.

River snorkeling is a great activity in bad weather. You get wet anyway. With a wetsuit, life jacket, diving mask and snorkel, you glide down the rapids in Hemsila together with the trout. Book here.
Take the chair lift to the top
The chair lift goes on weekends during August and September. In October during the Autumn holiday it goes every day.
If you take the chairlift to the top, there are many different things to do for the whole family and almost regardless of the weather. If the weather allows it, you can go for a walk to Totten or Vesletotten and afterwards you can enjoy a delicious waffle at Fjellkafeen. You can bike down the new flow trail Silverstone, hiking, go by Mountain Cart or hop on the chair lift down again. If you are wondering if the chairlift is running due to the weather, you can check the live status here.

You will find a large selection of shops in Hemsedal. Many of them are located in the center of Hemsedal, such as MOH+ and Totten Sport. Enjoy Elmas Handel, where you can enjoy a coffee or a simple lunch. In the Rampa shopping center you will find both clothes at Finbeck & Fia and lunch and bakery Arti cafe. Just across the street next to the Tourist Office is the interior shop Hemsedal Møbler. In Hemsedal ski center you have two sports shops and at Tuv is Hemsedal Flatbread bakery. In both Ulsåk you will find Fjøset which is a hidden gem of a shop and in Torset you can pop into Dyrja and find great gifts or perhaps something for yourself.
Sometimes it's nice to stay inside with a big cup of cocoa and some delicious baked goods when the rain is pouring down outside. In Hemsedal you will find many different cafes and restaurants for all tastes. At Arti Kafé you get really delicious buns and did you know that Elgen at Skogstad sells fresh bread every day? Or how about a romantic date at Skigaarden or at Liv Restaurant at Fyri Resort?
In the village center you will find amazing food at Hemsedal Cafe. Do you fancy more Mediterranean food? Then you swing by the Tapas Club, where you will be served delicious tapas and other snacks. Peppes Pizza is open every day and is the children's favourite. Are you craving Chinese food? At Ulsåk you can visit the China Garden.
For local food you can take home, stop by the cozy cafe Ein smak tå Hemsedal at Tuv.
At Fyri Resort you can visit the Pool Club if you are above 16 yrs old. The Pool Club is open every day and there is both an indoor and an outdoor pool, sauna and big beds that you can relax in while enjoying something deliscious from the bar. They also offer spa treatments and have shuffle board and a pool table at the bar.

In the climbing park, it doesn't matter if the sun is shining or if it's raining, you'll have just as much fun regardless. Ride the zipline, try the climbing tower and challenge yourself on the various trails. Book your experience at Høyt & Lavt Hemsedal.
Read more about everything Hemsedal has to offer here at hemsedal.com and check out Hemsedal Aktiv for many different activities for all ages!