King's Cottage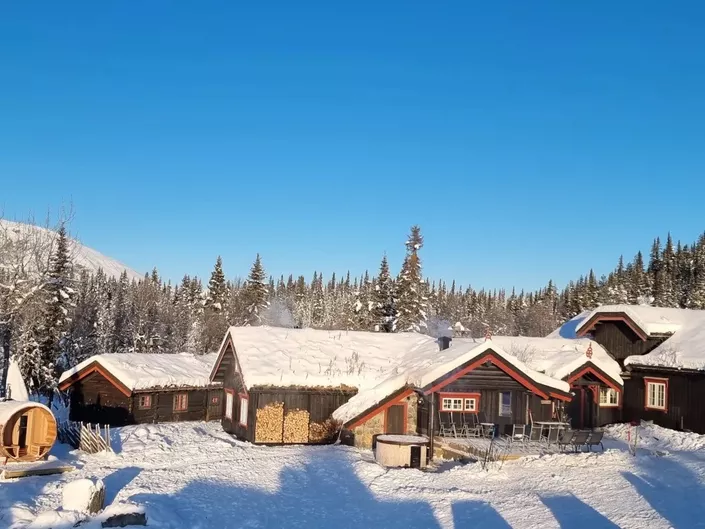 King's Cottage is a large yet cosy, traditional log cabin at Huso Lodge. The cottage has been expanded and converted into a significant, sustainable, and energy-efficient abode, making the cabin a unique and memorable space for up to 20 people. The cosy cabin ambiance is elevated with an outdoor spa, complete with a wood-fired hot tub and barrel sauna. Perfect for a relaxing and rejuvenating escape.
On the sunny side of the valley, just 15 km from Hemsedal's famous Skistar Ski Resort, Huso Lodge provides a tranquil haven amidst picturesque surroundings, away from the hustle and bustle of the crowded ski resort. The large cottage is next to Hemsedal's most beautiful cross-country skiing area, which takes you out for over 200 km of well-groomed cross-country skiing trails in valley and forest terrain on the Hemsedal and Gol mountains.
The large cottage offers a spacious and newly renovated kitchen – great for cooking meals with and for large groups. Equipped with two ovens, two dishwashers, a walk-in fridge and side-by-side fridge for easy access to frequently used items, the kitchen invites a fun, community-oriented and social cooking experience, with its large central island and ambient wood-stove. The built-in music system with in-kitchen speakers also makes it easy to dial-up your favorite playlists and create the perfect atmosphere for your group.
The historic dining room has a traditional long table for up to 20 people. The warm glow and flickering of the fireplace create a calm and cosy ambience for the meal. A few steps down from the dining room is the lounge area with comfortable couches, a TV, and a second wood-fired stove – all of which invite you to relax after an active day. If needed, the cottage is also equipped with high-speed internet, though the cottage and its surrounding nature have been known to encourage unplugging, which we highly recommend.
The cottage has direct access to an outdoor terrace with an exclusive wood-fired hot tub and barrel sauna, the latter of which is equipped with a fish-eye lens to fully immerse your body and senses to the extremes of raw nature. The small lake just steps from the sauna offers a refreshing dip and strong boost of the immune system, should you decide to take a plunge! (In the winter, we carve a hole in the ice for you:). Showers are located next to the deck for quick cool downs (or warm ups) as well.

Other accommodation at Huso Lodge
---