Lodgen Spiseri - conference, meetings, events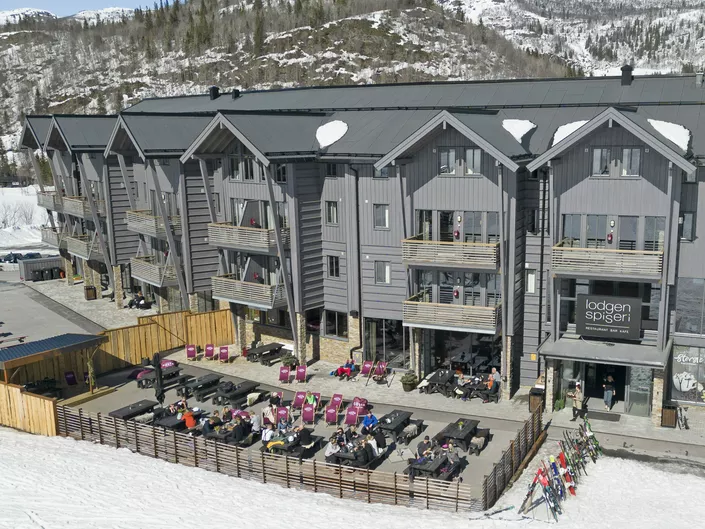 Flexible meeting rooms and creative gatherings, with a large outdoor area - Perfect for your events.
Meeting rooms and conference facilities in Hemsedal: Tailor your events to your needs.
Our facility provides you with the freedom to customize your events exactly to your wishes. Whether you're in need of a formal meeting room, an informal space for creative collaboration, or an outdoor area for special occasions, we have the capability. We also have established collaborations with multiple partners in Hemsedal, giving you the opportunity to diversify your experience. For example, you can choose our venue one day and another location the next, allowing you to adapt the setting and creativity to your preferences.
Meeting Room Capacities: Boardroom Setup: Up to 16 participants. Cinema Setup: Seating for 20 participants. Included Equipment: projector, screen, sound system, whiteboard, WiFi access.
Meeting Packages: We offer full-day and half-day packages with catering.
Flexible Alternatives: Our spacious restaurant facilities can accommodate up to 300 participants, depending on your needs and preferences. Additionally, we provide the option to rent parts or the entirety of our facilities for specific periods.
Outdoor Events: Our outdoor dining area with a stage offers the opportunity to host various outdoor events and gatherings.
Food experiences available all day.
Contact us for more information and tailored events that suit your requirements.
Contact
Opening Hours
November 24 - December 21
Sunday - Thursday 08:00 AM - 08:00 PM
Fridays and Saturdays 08:00 AM - 09:00 PM
December 21 - May 1
Monday - Sunday 08:00 AM - 09:00 PM
We offer catering all year round.