Storhøvda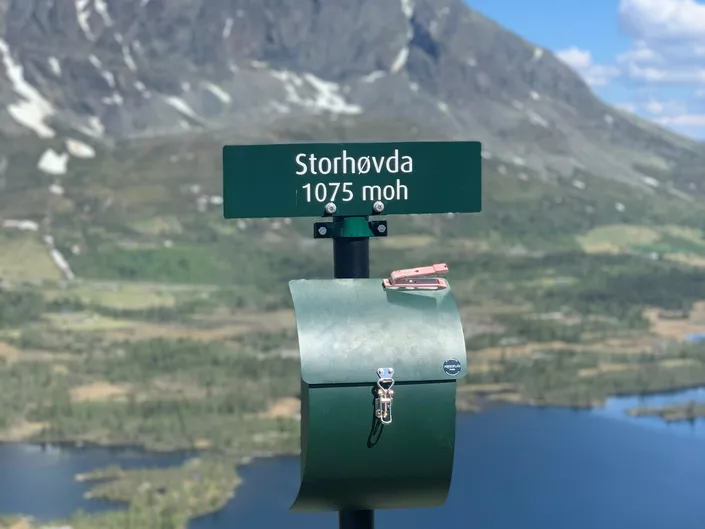 Cozy walk through forest to the top Storhøvda. Stunning views of Lykkja and Skogshorn on top! Fits everyone. The trip can also be combined with Gjeiteberget by the track 'Gravsetåsen around'.
Difficulty:
Distance: 3.6km
Duration: 2h
Height in meters: 273m
Overview
One of our most popular walks for both families and friends. At the top, 1075 masl, you'll get a 360 view over Skogshødn, Lykkja, Hydnefossen waterfall and all lakes in the area. 
Start coordinates
60.838336, 8.700567
Best season
jan
feb
mar
apr
may
jun
jul
aug
sep
oct
nov
dec
How to get there
Drive to Ulsåk from centrum and by the KIWI store take a left up towards Lykkja. After 5km you will find parking by Gravet on the left-hand side of the road with the sign "Storhøvda". Follow the marked path. 
Parking
Plenty of parking on the left-hand side of the road. At times during the year, there is a fee for parking here. 
Safety
Be careful when it is raining, the stones can be slippery on your way down.  Remember to keep your dog on a leash
Tip
Take some time to explore the top area of Storhøvda and look for special herbs and flowers to bring home to your loved ones. 
Description
"An easy hike with a fantastic view". 
You start the hike by a gravel road past a small mountain lake before reaching the trail. The trail will from this point become quite steep, so remember to take breaks along the way. The trail goes through a beautiful birch forest with plenty of wildflowers, birds and deer. Keep your eyes peeled for small treasures to bring home.  Once you reach the top you will get a fantastic view of the mountain Skogshødn, the waterfall Hydnefossen, Lykkjas lake area and the valley westwards. We recommend bringing a well-packed picnic bag and don't rush to return. 
There is a wooden frame on the top toward the waterfall that makes the perfect picture spot! 
If you are feeling more adventurous you can continue walking towards the Topp20 peak Geiteberget, also a stunning viewpoint in Hemsedal, and walk Gravsetåsen back to your parking.