Kyrkjebønnøse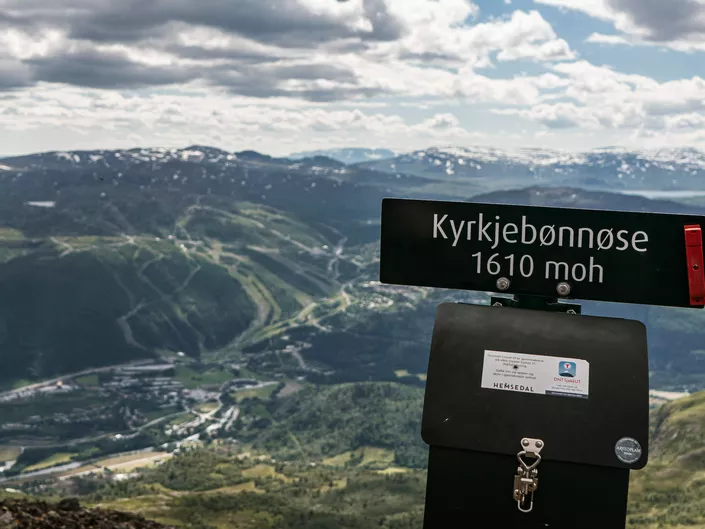 Demanding hike with a climb of almost 1000 m, the trip is approximately 12 km in total up and down.
Kyrkjebønnøse 622 - 16710 moh
The terrain is forest at first, but when approaching the top goes over into stone.

Difficulty:
Distance: 12km
Duration: 5h
Height in meters: 984m
Overview
Strenuous hike with breathtaking views over Hemsedal. 
Start coordinates
60.863051, 8.555134
Best season
jan
feb
mar
apr
may
jun
jul
aug
sep
oct
nov
dec
How to get there
The hike can be started in Hemsedal town center.
Alternatively, drive the first part up tp the gravel pit: Drive up Kyrkjebønsvegen tbetween Skogstad Hotell and Elmas cafe. After approx. 1.4 km, just after a large brown farm building on the right, take the road up past this bilding and continue up to the gravel pit where you may park. Follow the marked trail from here.
Parking
You can either park at the gravel pit or in the town centre. 
Safety
Remember a topographic hiking map and compass.
Always choose hikes based on your ability and current conditions. The weather changes quickly in the mountains. Turn back in time (or choose another hike).
Fill up with water when you come out of the forest, before starting up the mountain.
Tip
By the gravel pit there is a waterfall hidden in the forest. Check the map for exact location and be careful when walking towards it as it may be slippery and is steep.
Description
This tour starts in the center of Hemsedal and ends at 1,610 meters above sea level. At the top there is a great view over Hemsedal and all the mountain areas around.
Please note! There are grazing animals in the area, so remember to close gates and keep your dog on a leash. (Extended leash requirement by law in Hemsedal April 1st - Oct 31st.)