Røggjin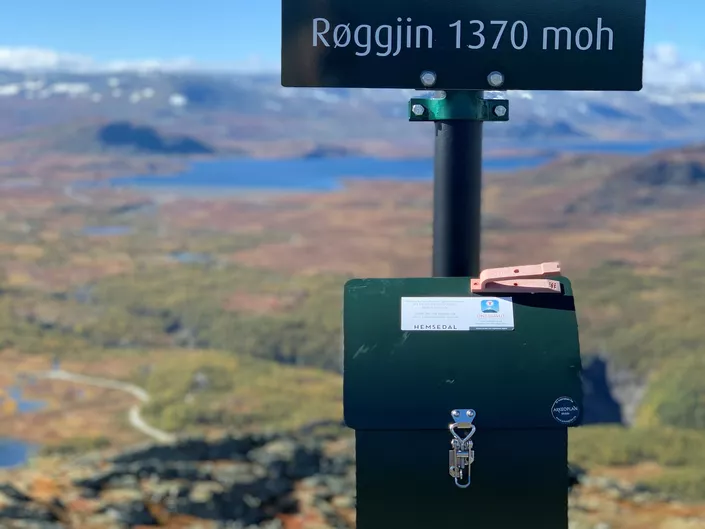 A nice walk in high altitude mountain terrain, with great views at the top in all directions. Follow clearly marked path up to the bare mountain.
Røggjin 1050 - 1370 m
A nice walk with a great view at the top in all directions. Follow clearly marked path from the parking area up towards the bare mountain. Slightly above a small hut the trail splits and a steeper route is straightforward and the easier route to the right. This is recomended and this path is better marked.

Difficulty:
Distance: 5.7km
Duration: 3h
Height in meters: 316m
Overview
This hike is close to the ski resort, it is a short intermediate hike with a fantastic view from the top, 1370 masl. You start off in the high mountain area and walk on a stone trail. 
Start coordinates
60.842845, 8.456218
Best season
jan
feb
mar
apr
may
jun
jul
aug
sep
oct
nov
dec
How to get there
From the town center, follow Rv 52 westwards for approx. 2 km. Turn off towards Hemsedal Ski Resort and take a right just after the bridge. After SkiStar Lodge, you pass a toll station (it takes a photo of the license plate and you pay within 48 hours at youpark.no). Follow Holdeskardvegen up and into the mountain. About 6.5 km from the main road you will find a large parking (Holdeskaret) down to the left, park there.
Note! Toll road. Payment at youpark.no within 48 hours.
Parking
Park at the Holdeskaret parking which is located down the left side of the road just after the small lake Fløgatjerne.
Safety
A topographic hiking map may be handy.
Always choose hikes based on your ability and current conditions. The weather changes quickly in the mountains. 
As much of the hike is on rocky surface, it gets very slippery when wet.
Stay on the trail as it is steep around you.
Tip
During the wintertime, this is a perfect hike for snowshoeing from the Roni ski lift in Hemsedal Ski Resort.  
Description
A family-friendly red hike that takes you up on the mountain of Røggjin. From the peak of the mountain, you'll be able to see the entire ski resort and the surrounding mountain area. Towards the southeast, you will see the big dam of Flævatn and the mountains of Reineskarvet.