Rental of Via Ferrata equipment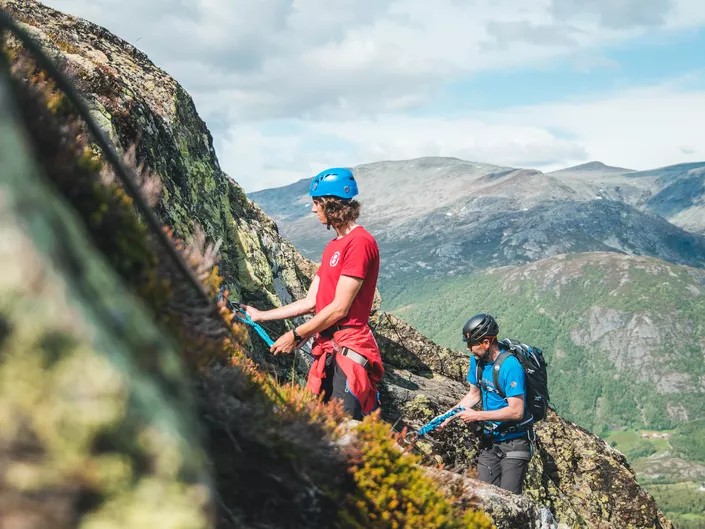 Want to climb Via Ferrata without a guide? Now you can do it in Hemsedal. Rent equipment or use your own.
Now you can climb Via Ferrata without guide

You can rent complete Via Ferrata equipment (harness, Via Ferrata sling and helmet). The equipment is rented out at Hemsedal klatresenter at Skistar Hemsedal. Remember to book online at bookhemsedal.com.
The price of the complete Via Ferrata equipment is NOK 450,- per day. This includes a fee to climb Via Ferrata route to Little Røggjin.
NB! Guided tours have first priority to climb the Via Ferrata. There are permanently guided tours on mondag, wednesday, Friday and Saturday at 10.00. It may also be groups on other days and times.
Climbing Via Ferrata with own equipment.
It costs to set up and maintain the Via Ferrata route. We therefore ask all who climb the route without a guide or without renting equipment at Hemsedal Fjellsport to pay a fee of NOK 100,- per person.
Important: it is only allowed to climb with approved Via Ferrata equipment.
Safety: All climbing at Via Ferrata on Little Røggjin without guide from Hemsedal Fjellsport AS is at your own risk. You must have the knowledge it takes to climb Via Ferrata at a safe way and use approved Via Ferrata equipment. If you discover damage or error at the Via Ferrata route you must report to Hemsedal Fjellsport by phone +47 94 21 41 11 or email post@hemsedalfjellsport.no. You are not cover by any insurance from the owner of the Via Ferrata route.