Train from Oslo or Bergen + shuttle bus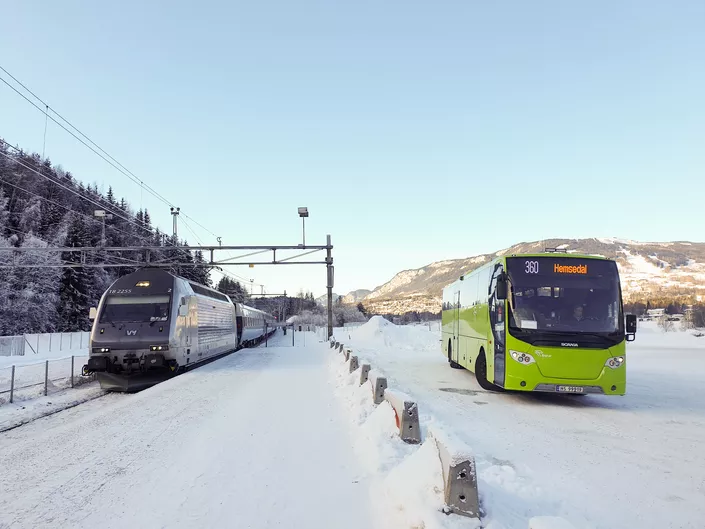 There are daily train departures to Gol from Oslo and Bergen. From Gol, Hemsedal is only 30 minutes away and the stretch is served by several shuttle buses each day.
Train from Oslo or Bergen combined with shuttle bus
Hemsedal can be reached by train, aka Bergensbanen, from both Oslo central station (22 minutes from Oslo Airport Gardermoen) and Bergen. The train stops at Gol and from there it's only 30 minutes left to Hemsedal and there are shuttle buses between Gol and Hemsedal for many trains each day.
Bergensbanen passes magnificent mountains and fjords between Oslo and Bergen, and is itself an experience. If you travel from Bergen, you will see fjords, mountains and Europe's largest mountain plateau, Hardangervidda. The stretch's highest station is at Finse, 1,222 meters above sea level.

We offer the routes Oslo–Hemsedal and Bergen–Hemsedal. The train stops at Gol, and from there either the shuttle bus VY361 or the Brakar route bus 360 will take you to Hemsedal.
Shuttle bus between Gol and Hemsedal
In collaboration with Destination Hemsedal, Vy operate the shuttle bus VY361 between Gol and Hemsedal. The shuttle bus corresponds with the Bergen-Oslo train line at Gol station, making it easy to travel from Oslo–Hemsedal or Bergen–Hemsedal.
Stops:
Gol station
Gol bus station
Robru
Moen bridge
Ulsåk
Hemsedal town center
SkiStar Lodge Hemsedal
Fýri Resort Hemsedal
Tuv
Prices:
120 NOK one way
Children 0–5 years travel free accompanied by an adult
Commuter card: We offer a commuter card with 10 trips for the shuttle bus VY361 between Gol and Hemsedal. If you travel often, it pays to buy a commuter card. It is valid for 10 trips. Must be activated within 30 days of purchase and used within 45 days after activation.
Commuter cards must currently be purchased at vybuss.com.
Departures: The shuttle bus VY361 operates several daily departures in both directions Monday–Sunday. The bus corresponds with the train departures at Gol station, with the current exception of night trains. Use the travel search at vy.no/en or via the Vy-app to view departures.
You can book the entire journey with train and bus at vy.no/en or via the Vy-app.


For private shuttle or if you arrive at Gol and there is not a satisfactory shuttle bus connection, you can contact Hemsedal Taxi or Hemsedal Taxisentral to pre-book a taxi.
Alternative from Oslo - direct bus