Train from Oslo or Bergen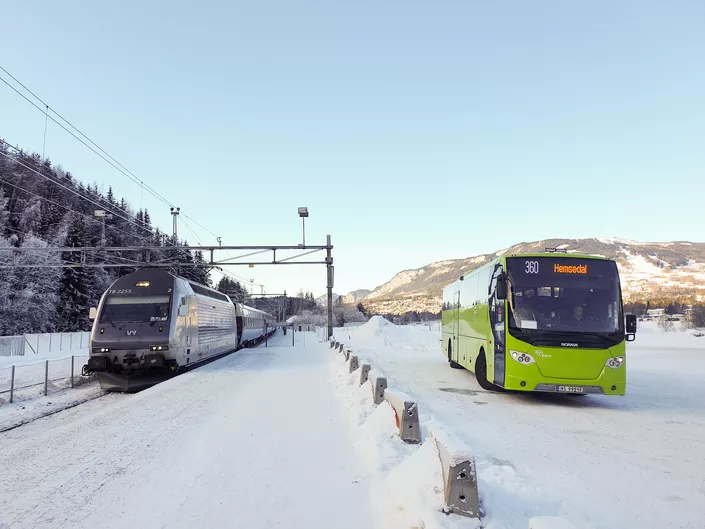 There are daily departures to Gol from Oslo and Bergen. From there, the bus or taxi journey is only 30 minutes.
Hemsedal can be reached by train, aka Bergensbanen, from both Oslo and Bergen. If you travel from Bergen, you will see fjords, mountains and Europe's largest mountain plateau, Hardangervidda. The stretch's highest station is at Finse, 1,222 meters above sea level.
The train stops in Gol, about 30 min from Hemsedal. From here you can take a shuttle bus (winter), the local bus Brakar route 360 (all year) or book a taxi. All can be done at vy.no/en or in the Vy-app.

Bus
Several departures from Oslo and Bergen offer a connecting Vy shuttle bus or scheduled Brakar bus service (route 360) from Gol station, which allows you to connect to Hemsedal. You can book the full journey by train and bus at vy.no/en or via the Vy-app. Schedule and tickest for the local bus is also available at vy.no/en or via the Vy-app.
The shuttle bus makes the following stops
Gol Station
Gol Skysstation
Robru
Moen Bru
Ulsåk, Trøim
Alpin Lodge
Fyri
Tuv
Taxi
Taxi can also be booked at vy.no/en or in the Vy-app. Alternatively contact Hemsedal Taxi or Hemsedal Taxisentral directly. Pre-booking is advised.