Enjoy ski touring
in Hemsedal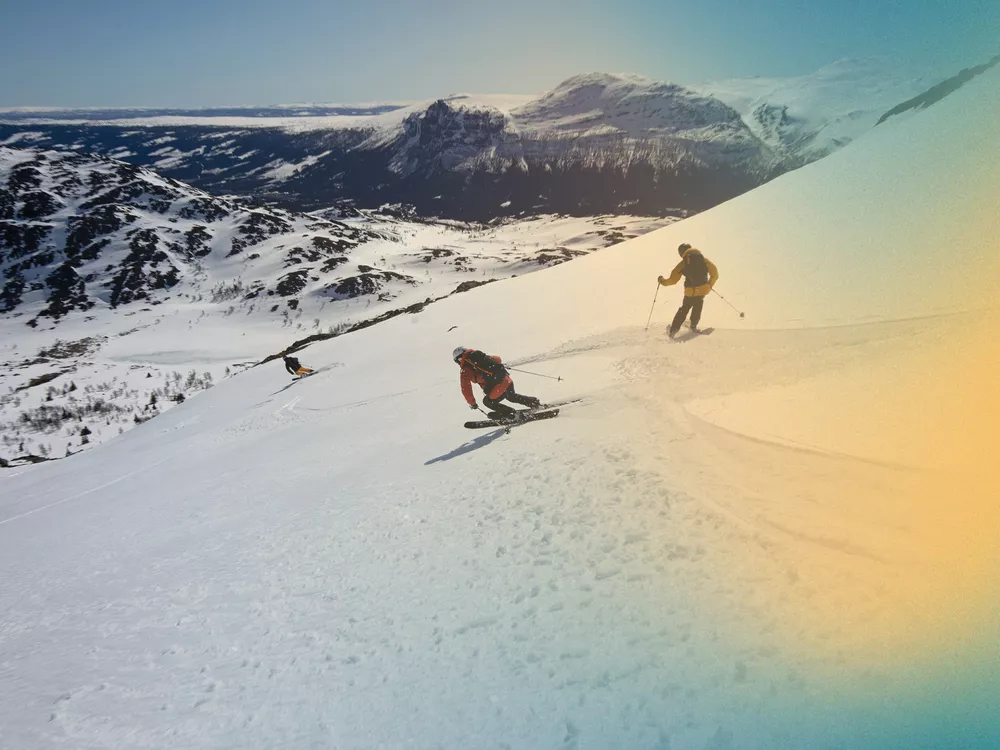 Backcountry skiing or alpine touring as some know it better as, has gotten more and more popular over the last couple of years and many have discovered the magic of #earnyourturns. April and May are the best months for backcountry skiing in Hemsedeal. Here are our top five tips from easy to more advanced.
Henriette
5 min
Updated 26 May 2023
Easy

Slettetind (1592m)
If you are a beginner or want an easier hike of a few hours, then Slettetind at 1592 meters is a great option. It is suitable as an afternoon hike or for beginners as the ascend is not too steep. Park your car right before Eldrevatn and enjoy!
Harahorn (1581m)
Harahorn is a popular hike in the summer, but also a great place for ski touring in the winter. It's a good option if you are searching for good powder but not yet confident enough for the steeper alternatives. Park your car by Vavatn or cheat a little of the way by taking the ski lift in Solheisen.

Medium
Råskardfjellet (1609m)
In the Hemsedal Mountains approximately 15km past Tuv is Råskardfjellet, which by locals is only referred to as 1609. Cross the bridge by the Mørkedøla river on your way to the top and cruise your way through the powder on your way back.
Leinenosi (1675m)
Leinenosi at 1675 meters is south-turned and therefore the snow-guarantee is not as good later in the season. Park your car by Hulbak, but we respectful of neighbours. It is only a short drive from Hemsedal town centre and offers skiing above and beyond the tree limit.

Stardalsfjellet (1589m)
The Hemsedal Mountains towards Lærdal is a great starting point for any backcountry ski trip as the mountains are high altitude and have snow long into May. It is easy to start your ascend, as there are many parking spots along the road. Stardalsfjellet is a unique, lesser known hike, only a short way from Breistølen past the county line. Park your car by Breistølen.
Remember: You are yourself responsible for knowing the area and having the necessary knowledge, equipment and skills regarding the avalanche-danger. Check www.varsom.no before you leave and always bring avalanche equipment.
For more inspiration for backcountry skiing routes in Hemsedal, check out the book 'Topptur- en guide til skjulte skatter i Hemsedal' which you can buy here at the Tourist Office. At the moment we only stock it in Norwegian.
Spring means sun, slush skiing and long beautiful days in the mountains
Safer on backcountry skiing
---