Viking House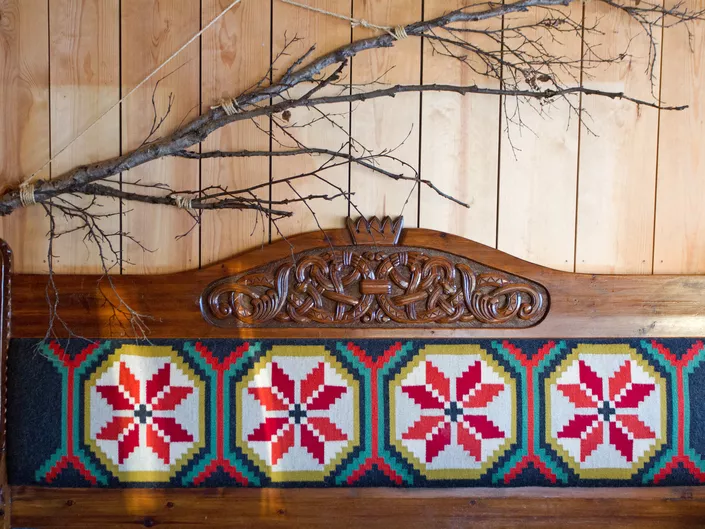 Above the Hemsedal valley, among the mountains, there is a cabin so unique that only a few in Norway are built this way. This cottage, as the name suggests, is built in a style that will make you feel like an adventurous Viking back in the Viking Age. You will live as the Vikings lived, you will be part of nature as they were, and, if you are brave enough, you will also find and open a secret door leading to the Chieftain's Hall, a celebration venue for a proper Viking feast.
For extra-large groups interested in the Viking era and Viking style of celebration, the Viking House is perfect. The cabin has a total of thirteen bedrooms and can accommodate up to thirty persons. Its advantage is also a direct connection to Chieftain's Hall, a special venue that will intensify your imaginary move into the Viking Age. For this reason, the cottage is also suitable for groups looking for adventure outside by day and gathering inside by night.
If you are craving for something special and rustic, and like a little bit of role-playing, Viking house is a place to be. It doesn't matter if you are a family, a group of friends or colleagues who have come to the Scandinavian Alps to strengthen the relations. For all of you, a stay at Viking House will be a unique experience that you will remember for a long time.
Details:
30 people, 1 double bedroom, 4 triple room with large bunk bed and single bed, 8 double room with 2 single or 1 bunk bed, 1 bathroom with 1 shower and toilet, 1 bathroom with 1 toilet and 4 showers, 1 shower, 1 toilet, 1 kitchen, 1 small kitchenette, 1 dining room, 1 lounge living room with fireplace, 1 living room, 2 terraces, 1 sauna, 1 badestamp
Read the whole story of Viking House here.