Lakeview Cottage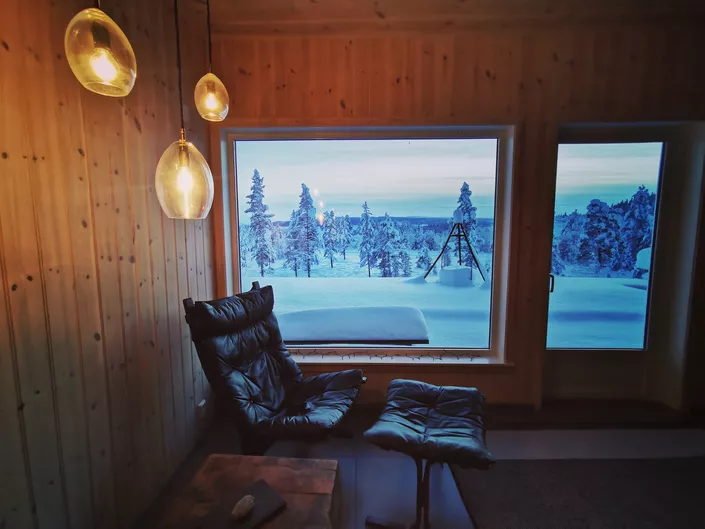 Lakeview Cottage is a spacious and unique log cabin for 15 persons at Huso Lodge, secluded with a scenic view of the valley and a private lake. The cosy cabin ambience is elevated with an outdoor spa, complete with a wood-fired hot tub and barrel sauna. Perfect for a relaxing and rejuvenating escape.
On the sunny side of the valley, just 15 km from Hemsedal's famous Skistar Ski Resort, Huso Lodge provides a tranquil haven amidst picturesque surroundings, away from the hustle and bustle of the crowded ski resort. The large cottage is next to Hemsedal's most beautiful cross-country skiing area, which takes you out for over 200 km of well-groomed cross-country skiing trails in valley and forest terrain on the Hemsedal and Gol mountains.
Lakeview Cottage offers 3 cosy shared living spaces. The dining room comfortably seats 15, with a majestic open fireplace providing ambience and warmth throughout the cottage. Next to the dining room, the lounge's U-shaped sofa and TV invite you to rest and relax after an active day. Next door, the small library's wood stove inspires curling up with a good book, that is if the stunning valley views of the sun rising and setting above the surrounding mountains don't pull you deep into reflection or outside through the library's terrace door to breathe the valley's fresh forest air first.
The panoramic view can be enjoyed on the vast terrace with an exclusive wood-fired hot tub and barrel sauna, the latter of which is equipped with a fish-eye lens to fully immerse your body and senses into the extremes of raw nature. The small lake 100 metres from the terrace offers a refreshing dip and a strong boost to the immune system, should you decide to plunge!
With 6 bedrooms, 2 bathrooms and 2 WCs, the cabin accommodates up to 15 guests. Equipped with high-speed broadband, Lakeview Cottage enables work, recreation, and well-being to be combined easily.


Other accommodation at Huso Lodge
---