Hemsedal Jr. Freeride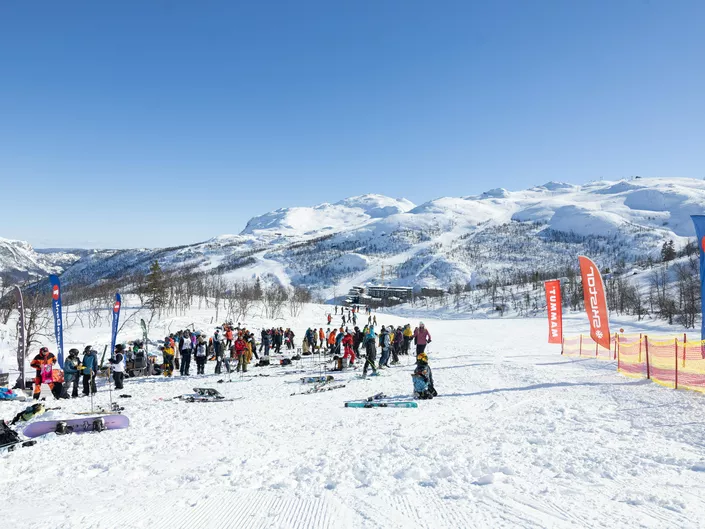 Konkurranse for morgen dagens freeridere!
Hemsedal Junior Freeride er en spennende begivenhet som gir unge skikjørere en mulighet til å utforske de utrolige frikjøringsmulighetene som Hemsedal har å by på. Dette arrangementet er spesielt designet for å fremme frikjøring blant de yngre generasjonene, og det gir deltakerne en sjanse til å utvikle sine ferdigheter, bygge selvtillit og samhandle med andre likesinnede skientusiaster.
Arrangementet legger vekt på sikkerhet, og det er profesjonelle guider og instruktører tilgjengelige for å veilede deltakerne gjennom fjellene. Dette hjelper dem med å forstå risikoen og ta trygge beslutninger mens de utforsker terrenget.
Arena: Radiobollen og Mortenskaret
Hemsedal Junior Freeride blir arrangert av Freex, som er den lokale freeski- og snowboard klubben i Hemsedal.
Mer om eventet finner du her
Contact
Opening hours summer 2023
Summer chair lift
1/7–6/8 Mon–Sun 10:00–16:00
12/8–3/9 Sat–Sun 10:00–16:00
30/9–8/10 Mon–Sun 10:00–16:00
(4/9-29/9 closed for construction of new lift)
See details for reception, bike hire and shop.

Opening hours winter 2023/2024
Season start as soon as great alpine skiing can be offered.
Seson ends May 1st 2024.
Opening - 2. Feb
Mon - Sun 09:00-15:30*
3. Feb - 1. May
Mon - Sun 09:00-16:30*

*Dec 24th 09:00-14:00
*Non-stop skiing 26. Des - 13. Mar
Tues and Wednesdays 09:00-19:00
Extra non-stop skiing 12. - 25. Feb
Mon - Thur 09:00-19:00
*Morning skiing 30. Dec - 16. Mar
Saturdays 07:30-09:00
No morning skiing on Saturday 9 March due to Hemsedal Up´n Down.
*Evening skiing 29. Des - 15. Mar
Fridays 18:00-20:30

See opening hours for reception, ski rental and shop.