Johaug Recharge Summer Edition at Fyri Resort 7-9 June 2024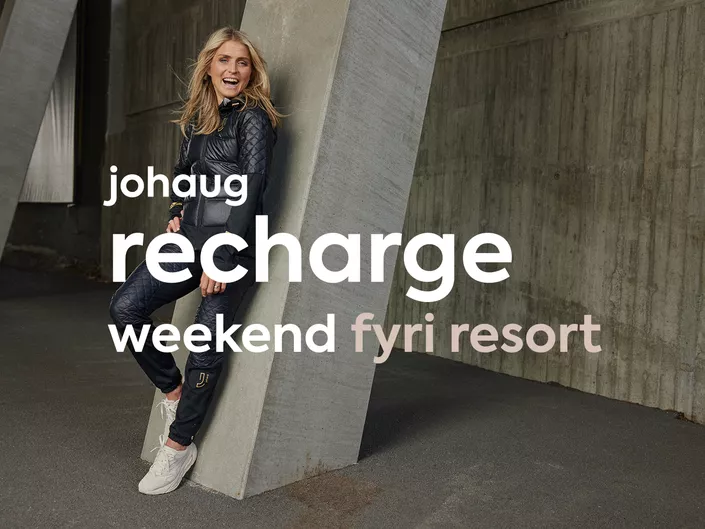 Do you need a time-out from everyday life? Johaug Recharge is a unique concept designed to give girls just that.
Welcome to the next Johaug Recharge Summer Edition - June 7-9, 2024.
You can be one of the lucky ones to join Johaug Recharge with Therese Johaug. A weekend filled with challenging workout sessions, running training, yoga, dance, and a sense of accomplishment, along with insightful lectures on topics like mental health, nutrition, and women's health. Additionally, you will get to know Therese better, all in the backdrop of new friendships in the fantastic winter surroundings of Fyri Resort. You will receive close guidance from Therese and the Johaug team. It's a weekend for unwinding and achieving mental and physical mastery.
Price: from 4790 NOK per person in a double room, 5790 NOK in a single room.
What's included?
Friday:
Check-in from 15:00
Training
Aperitif & Introduction
2-course dinner with a drink voucher included
Saturday:
Breakfast
Full training program and lectures
Lunch
Pool Club
Energy boost snack
Aperitif
3-course dinner with a drink voucher included
Sunday:
Breakfast
Training
Check-out at 11:00
Packed lunch

Therese Johaug and other exciting trainers will offer various sessions in cross-country skiing, strength training, endurance training, dance, and yoga.
We guarantee that you'll find workout sessions that suit you. All sessions will be tailored to different levels so that everyone feels they can master the training. Mastery is the keyword this week. The goal is for you to return home with a suitcase full of motivation, both for training and anything else you want to pursue!
A more detailed training program will be provided later.
Contact
Opening hours
Open every day Instructor Therese Johaug
Former top athlete and Olympic Champion, Therese Johaug. Therese has recently given up as a cross-country skier, but still trains actively every day, and is keen to spread the joy of training and good energy. Today, Therese devotes much of her time to the Johaug brand and various other projects within sports. Therese is known for her unique duality, where raw willpower meets sophisticated femininity, combined with delightful down-to-earth sociality.