Banquet Hall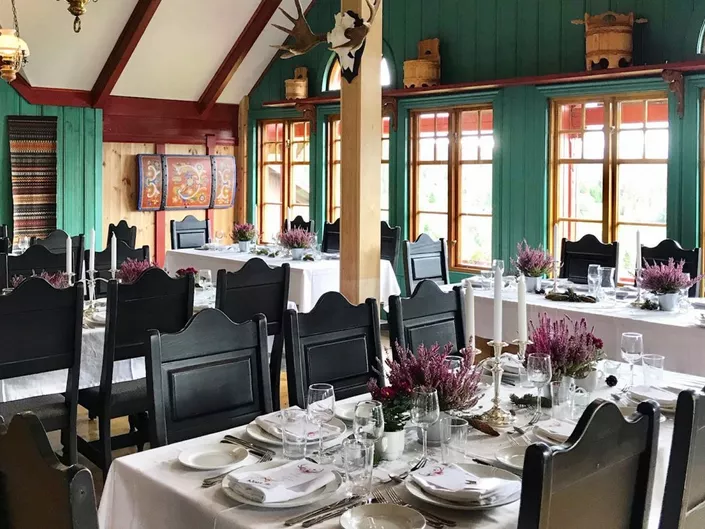 At Huso Lodge, we offer several venues, and although each of them is different, they all have one thing in common – pure surrounding Norwegian countryside, great service, and absolute privacy.
Banquet Hall is a restaurant venue, which is a part of the main Huso Lodge building. With its many windows, the hall offers a spectacular view overlooking the trees, fields, mountains, and hills of the whole Hemsedal valley. Moreover, space is connected to a nice terrace and outside grassy area in our yard. As you walk inside, you first notice the turquoise colour on the walls, with traditional Hallingdal decoration. A big fireplace usually launches every winter event. We help you arrange tables and all 100 chairs the best possible way for your special occasion.
In Banquet Hall we usually host wedding dinners, breakfasts and brunchbuffets.

When in Banquet Hall, you can use The Lounge as well. Just a few steps up from the reception you will enter a room with comfortable couches and armchairs, a fireplace, and a bar. What a great space to rest after delicious food with a cup of coffee or whiskey and chat with your old or new-made friends. Further in you will get into a room with a projector that also serves as a dance floor room. Connect to the speakers and let the music carry you!

Find out more about what all Huso Lodge Venues here.