Banquet Hall: All facilities in one place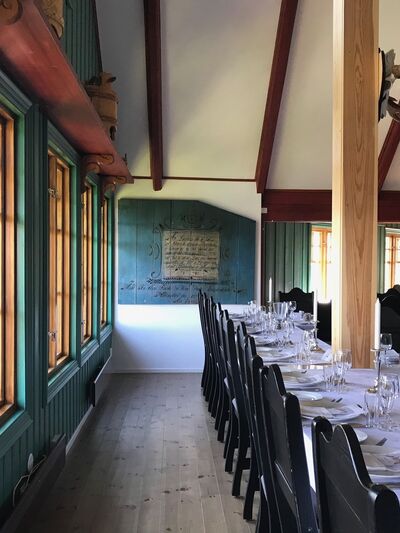 At Huso Lodge, we offer several venues, and although each of them is different, they all have one thing in common – pure surrounding Norwegian countryside, great service, and absolute privacy.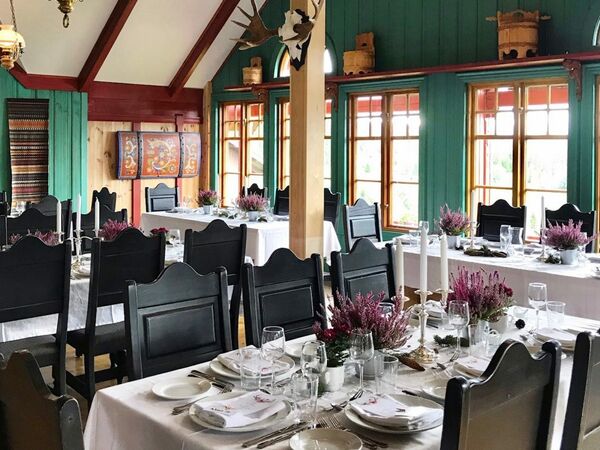 When you walk inside Banquet Hall you first notice the turquoise colour on the walls, with many traditional Norwegians decorations. A big fireplace located here usually launches every winter event. Tables of all kinds of sizes and more than 100 chairs are ready for your needs, you can arrange them as you wish. One of the biggest advantages of the Banquet Hall is its direct connection to the kitchen. That's why we usually host wedding dinners and food experiences here and why we use the space for breakfasts and brunch buffets.
When in Banquet Hall, you can use The Lounge as well. Just a few steps up from the reception you will enter a room with comfortable couches and armchairs, a fireplace, and a bar. What a great space to rest after delicious food with a cup of coffee or whiskey and chat with your old or new-made friends. Further in you will get into a room with a projector that also serves as a dance floor room. Connect to the speakers and let the music carry you!

Find out more about what all Huso Lodge Venues here.