Guardian angels on skis:
Meet Hemsedal Ski Patrol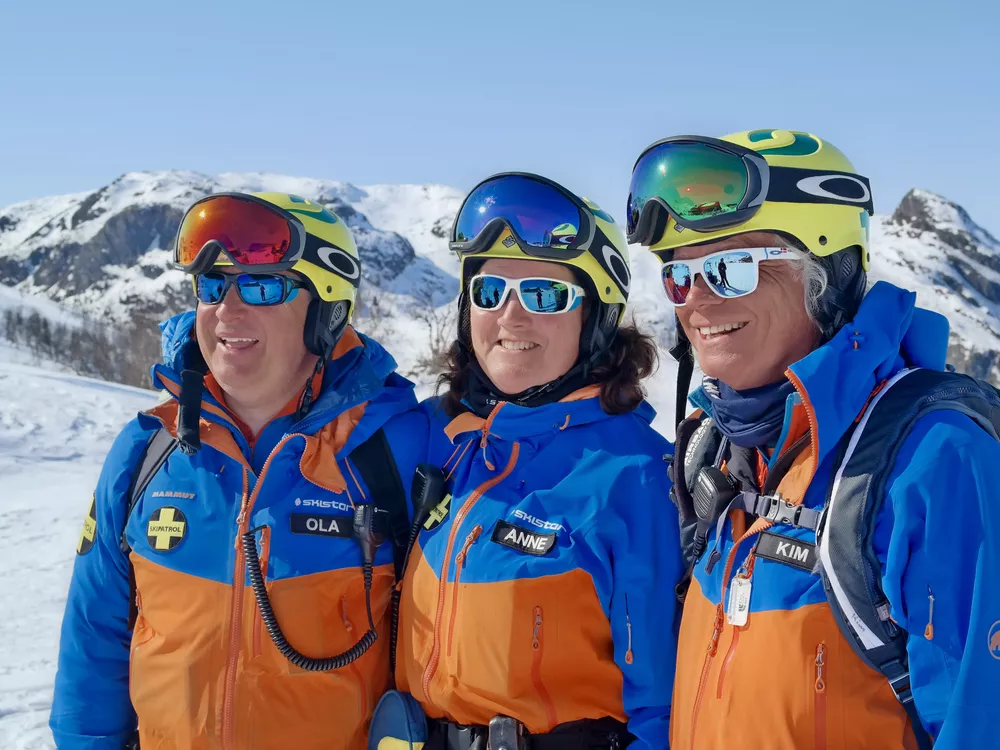 Snowstorms, broken bones, avalanches and falls, there's nothing that the Hemsedal Ski Patrol haven't seen before. If you are unfortunate enough to injure yourself on the slopes, this experienced crack team is always on hand to help you when you need it most. With the Scandinavian alps as their office, more than 100 ski days a year, and lots of laughter and camaraderie, it's no wonder that the waiting list for a job here is so long. One thing is guaranteed: No two days are alike!
By Isabel Müller Eidhamar and Frazer Peter Norwell
4 min
Updated 08 December 2021
Action-packed
If you're familiar with the slopes at Hemsedal Ski Centre, you will have seen them whizz by, identifiable by the first aid cross on the yellow reflector on their backs. Maybe you've already met them after falling while skiing and snowboarding. Either way, whether you've noticed them or not, the ski patrol is the backbone of Hemsedal Ski Centre.
"We started the ski patrol after there were several accidents in the ski centre. Before that, the Red Cross were responsible for rescues and helping people who had injured themselves, but they were only here on weekends. When we started to get more guests, and the number of injuries started to rise, we had to do something and starter our own initiative," Ski Patrol boss Ole Johnny Ødegaard, who has worked at the ski centre since 1977 and in the Ski Patrol for more than 35 years, says.
On average, there are about 900 injuries every single year at Hemsedal Ski Centre. This makes it essential to have an experienced and dedicated team on hand to deal with all manner of emergencies. No two days are the same, and every day offers plenty of variety and lots of dramatic and action-packed moments.
During his more than three decades in the ski patrol, Ole Johnny has been involved in avalanches, search and rescue operations in the mountains, and has seen countless ski injuries, both serious and minor. He has also had to hang from a harness underneath an air ambulance during training sessions with colleagues.
"We have so many stories from work and have seen so much that it is difficult to pick just one. But, the best thing about the job is being able to ski in all kinds of weather and help people in need," Ole Johnny says when asked if he had a standout story from his time on the Ski Patrol.
Today he leads the team of 13 people who are part of the Ski Patrol team, with between 4 and 7 of the ski patrol being on duty during peak times on the slopes.
Among them are Anne Evensen, Kim Müller, Ola Anderdal, Peter Sjøgren, Gunnar Westholm, Per Ivar Jørve, Per Ola Seim, Geir Carlstrøm, Linda Tørn, Christian Kjølholm, Arild Grøndalen, Jon Ola Haugen, Steinar Willandsen and Daniel Lidberg.
Many of them have worked in the ski patrol for more than 20 years already, and none of them have any thoughts of quitting anytime soon.
"It's the atmosphere and work environment that makes us want to stay so long," Ola Anderdal, who has worked in the ski patrol since the late '90s, tells us.
"I love my job, I get to be outside all day, and I'm surrounded by great colleagues," Ola adds.
"No two days are alike. Every day is exciting," Kim Muller, who has been a member of the ski patrol since 2007 and has just returned from helping somebody who hurt themselves after falling, says.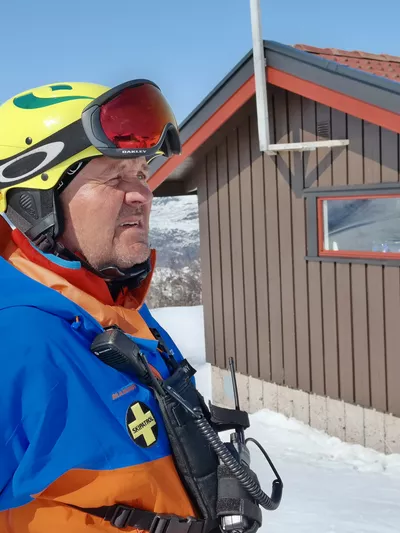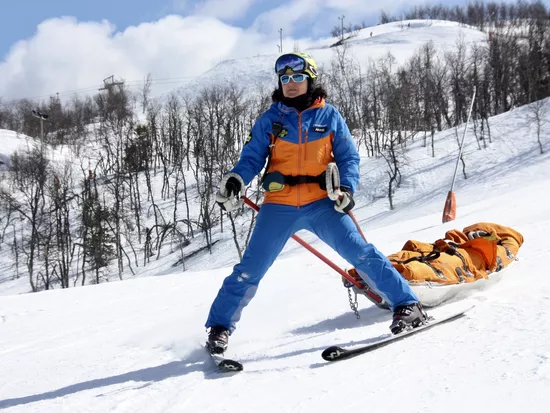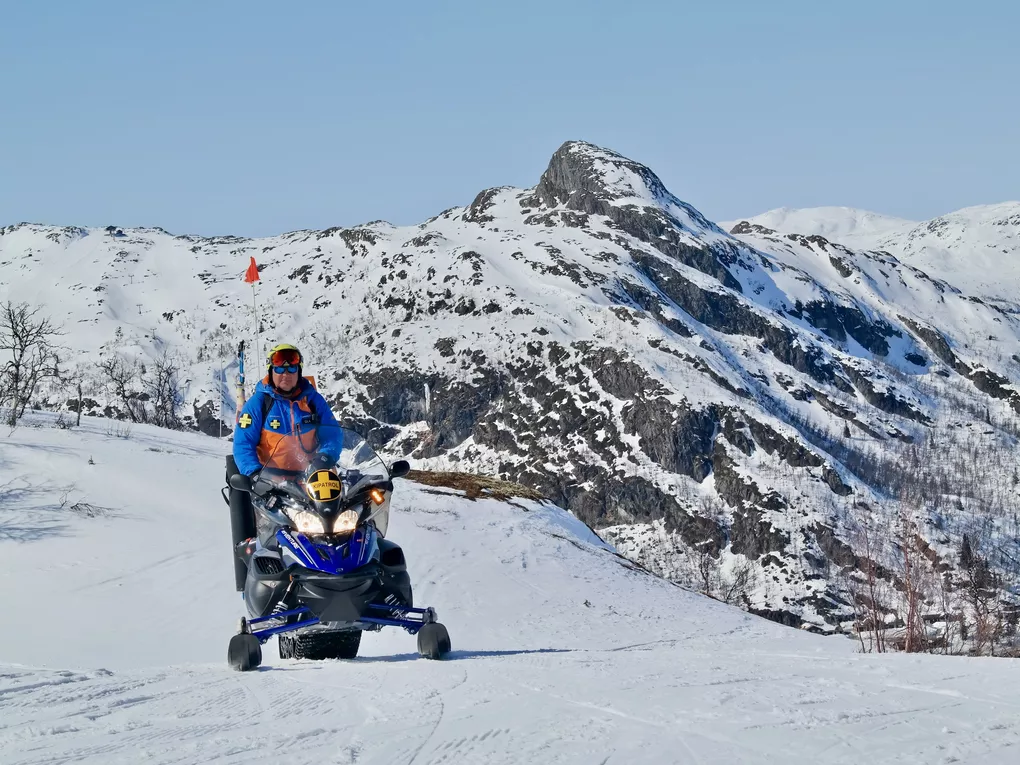 The value of great colleagues
Plenty of people dream of working in the Ski Patrol, and there is a long waiting list for those hoping to join the team at the Hemsedal Ski Centre.
"They will have to wait for us to retire," Kim jokes with his colleagues laughing out loud.
That's because none of the team is planning on hanging up their ski boots in the near future.
"The atmosphere is so good, and it's such a joy to come to work, which is the best. It's fantastic to ski so much and meet so many great people on the slopes," Anne says.
"To get a job in the Ski Patrol, one of us will need to be carried out in a box," Kim jokes. Once again, everyone is in stitches.
"The fact that no one quits says a lot," he adds.
"We have great fun, and there's a lot of humour. But, for better or worse, we are a big family," Anne adds.

"No two days are the same."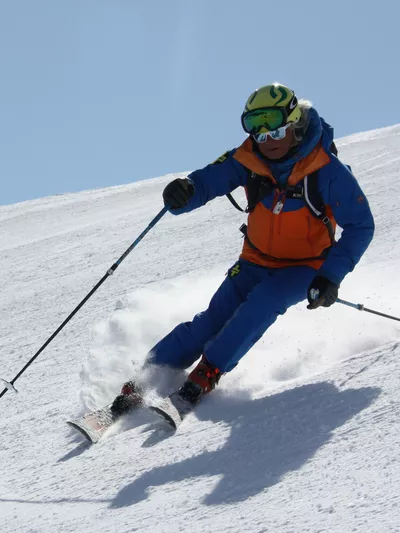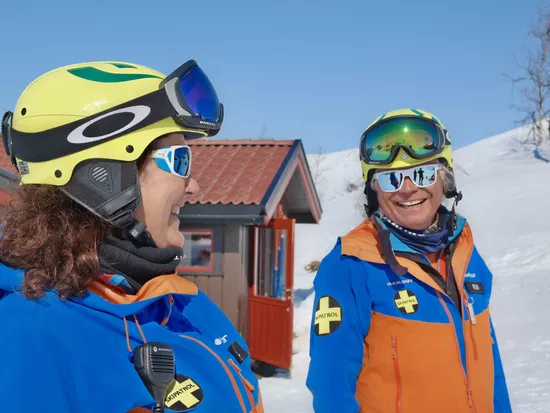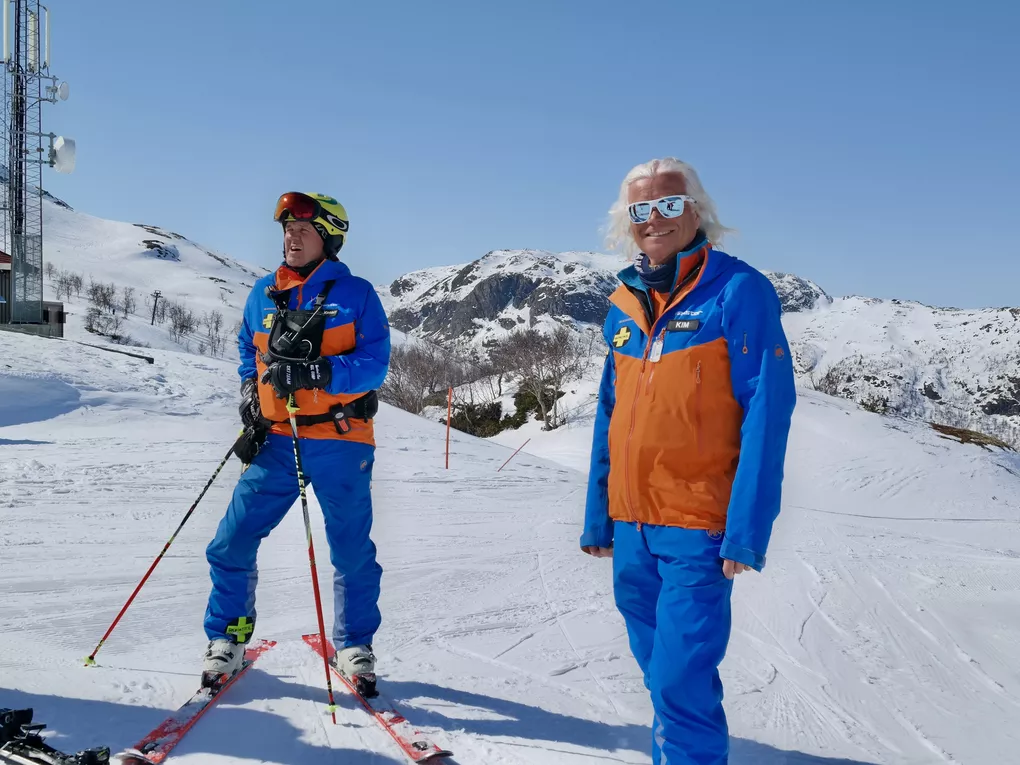 Safety on the slopes
It's a quiet day on the slopes, which isn't the norm for spring in Hemsedal. Sometimes there can be several different injuries and accidents simultaneously, meaning the team has to be well organised, coordinate well and prepare for anything to happen.
"We are a team, and we work very well together," Ola says.
"We put a lot of trust in one another and our colleagues in the local health and ambulance services. I think that it is essential that in the event of a serious accident occurring that everybody stays calm. As a team, we're very good at that," he continues.
"It comes naturally. It's a case of 'ok you do that, and I will do this, we receive lots of training to help us deal with serious incidents," Kim says.
"If there is a serious accident, there is no room to stand around discussing things. So it is vital that we are cohesive, which, knock on wood, has been the case so far," Anne says.
The ski rules are a crucial piece of information that the ski patrol wants more people to be aware of.
"Do not try to ski beyond what you are capable of and be careful when children are around," Kim says.
"It's also important to remember that the skier coming from behind is responsible," Ola says.
"Another thing to remember is that it's really stupid to stop behind hill tops, and everyone with children should make sure that their kids are in front of them so that they don't get lost," Ole Johnny adds in agreement.
"Keeping people safe is our great passion. I would not have it any other way," Kim says.
If you hurt yourself on the slopes you can reach the Ski Patrol at +4790609826.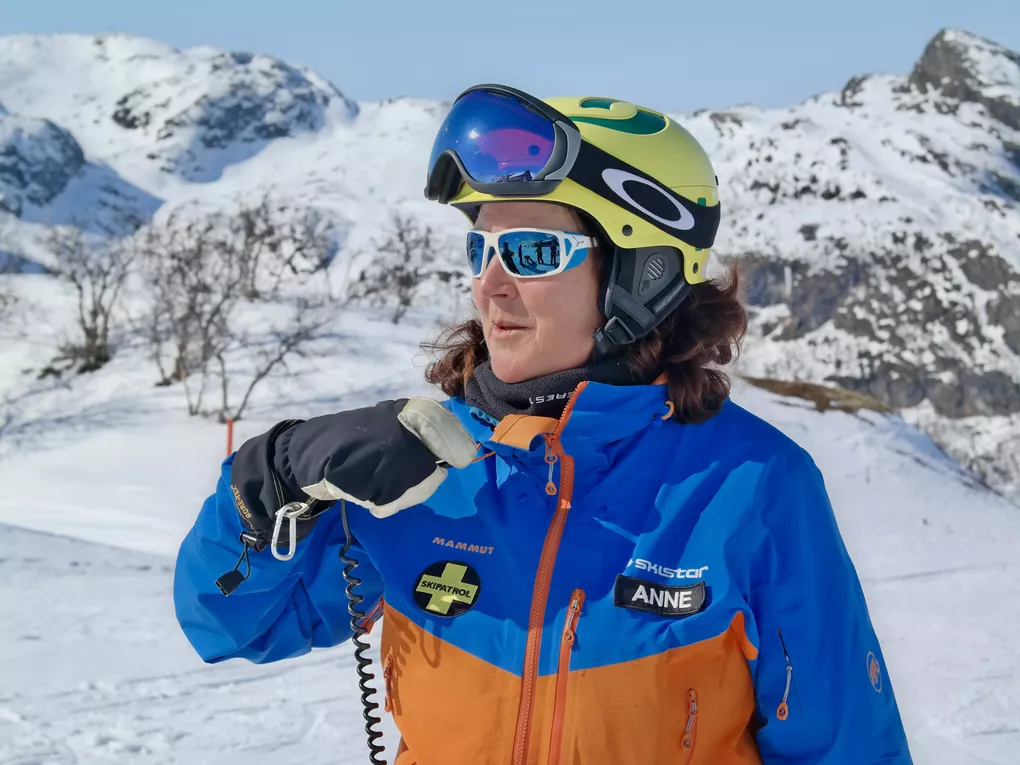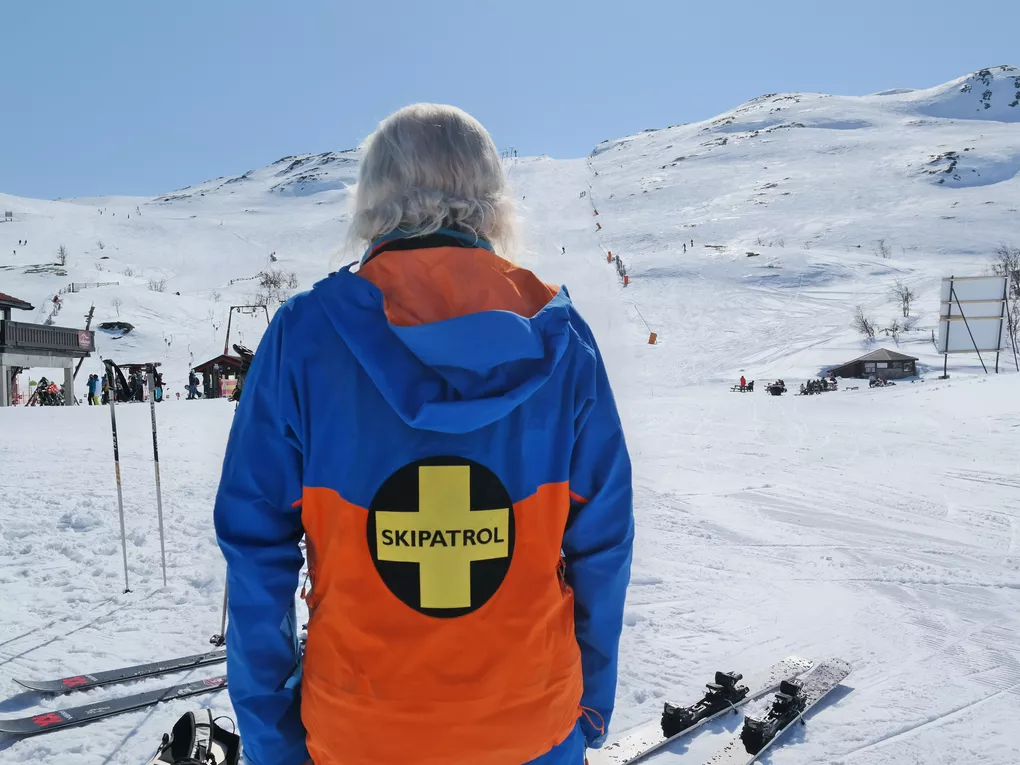 The ski rules

Every skier must act responsibly, so they do not injure themselves or others.

Everyone must make sure they adapt their speed to their skills, terrain, driving conditions and traffic.

It is forbidden to head straight down the slope except during organised training and practice.

The person behind is the one responsible for avoiding collisions.

Anyone crossing a slope or hill must ensure that they do so safely.

Do not stop in tight places.

A skier heading up a slope must stick to the edges of the hill.

Ski stops are mandatory. Check to make sure your bindings are set correctly.

Follow signs, markings and instructions. In the event of an accident, everyone is obliged to help.

Those involved in accidents and witnesses to incidents are obliged to provide personal information