Verdenspremiere
Doctor Strange in the Multiverse of Madness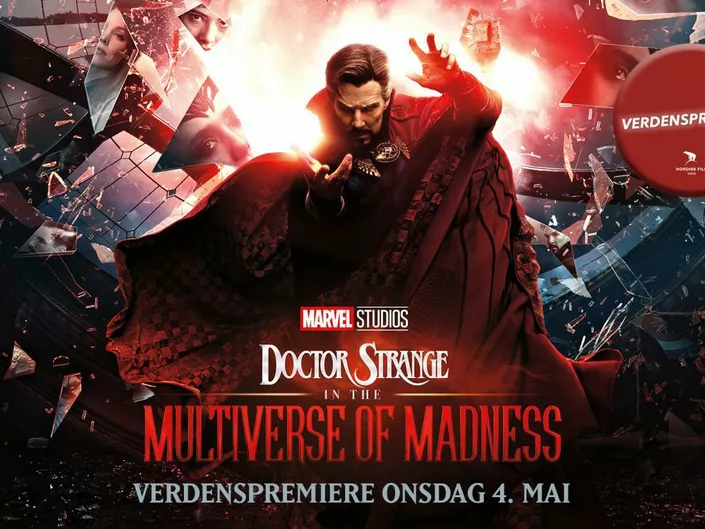 Den 4. mai er det VERDENSPREMIERE på Doctor Strange in the Multiverse of Madness
Doctor Strange in the Multiverse of Madness fra Marvel Studios åpner MCU multiverset og flytter grensene lenger enn noen gang før.
Reis inn i det ukjente med Doctor Strange, som ved hjelp av gamle og nye allierte, krysser underlige og farlige alternative virkeligheter i multiverset for å konfrontere en mystisk ny motstander. Filmen skyver fantasy-sjangeren i en mørkere og mer skumlere retning. I starten av Doctor Stranges reise inn i mystikkens verden, blir han stilt ovenfor en verden mye større enn han klarer å forstå. Den Gamle sier «Hvis jeg forteller deg alt, vil du løpe herfra i frykt.
Regissør Sam Raimi er en mester i skrekk og spenning, og er ikke ny i superheltuniverset. Han har tidligere regissert og produsert «Darkman» i 1990 og den originale Spider-Man trilogien.
Vi gjør oppmerksom på at Doctor Strange in the Multiverse of Madness inneholder flere sekvenser med blinkende lys som kan påvirke de som har lysfølsom epilepsi eller har andre former for lyssensitivitet.
04.05. VERDENSPREMIERE!
kl. 19.00 Doctor Strange in the Multiverse of Madness
Alder: 12 år
Varighet: 2t 6 min
Kontakt
Åpningstider
Mandag-fredag: 09.00-15.00