Shuttlebus - Train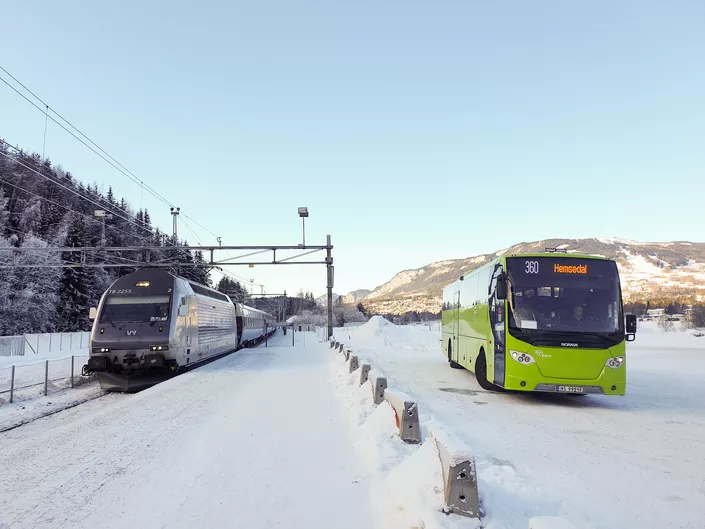 Take the train to Hemsedal from Oslo and Bergen during the winter season and we have the Shuttlebuss waiting for you at the trainstation in Gol.
Take the train to Hemsedal
Take the train to Hemsedal!
If you want to take the train from Bergen or Oslo to Gol, Nettbuss runs corresponding buses from Gol to Hemsedal Thursday, Friday and Sunday (01.12.19-01.05.20). The bus ticket costs NOK 100.
Book your train ticket on vy.no and book the shuttlebus for a quick shuttle to the mountains in Hemsedal.
How to buy the trip with the shuttle bus
Find the desired train departure, Oslo or Bergen
Go to vy.no and search up the desired departure station to HEMSEDAL. Buy train ticket.
When you have bought a train ticket, go to the front page at vy.no and choose "From" Gol (Gol station//Gol Stasjon) and to the desired stop in Hemsedal.
Choose the departure that corresponds to the arrival time of your train journey and make purchases.
NB! It is important that you choose Gol (Gol station) and not Gol (Gol skysstasjon) when you search the bus.
All trains on Thursdays, Fridays and Sundays are connected with a shuttlebus to Hemsedal from Gol. Book the shuttelbus on beforhand via nettbuss.no.
You can also take the local bus no 360 on some departures/arrivals
Hemsedal has initiated a new collaboration with NSB and Nettbuss with a shuttle bus that takes our guests from the train at Gol to Hemsedal. The bus has departure time within half an hour from the time the train has reached the station in Gol, then it takes 30 minutes to Hemsedal and your holiday can start.