Hemsedal Winter Final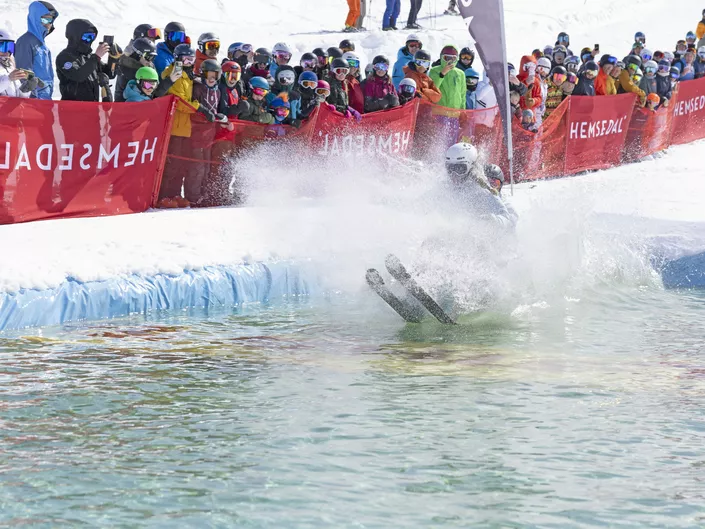 Velkommen til en fantastisk avslutning på årets vintersesong med vårskikjøring, Hemsedal Splash og konserter!
Hemsedal runder av vintersesongen med stor stil og inviterer skientusiaster, musikkfans og venner av Hemsedal til sesongavslutning. Skistua har konserter fredag og lørdag med Staysman, Staut, Max Volym og DJ Gibel.
Det blir god stemning, dans på bordet og herlig vårkjøring. Dette vil dere ikke gå slipp av!
FestivalPass 3 dager inkluderer skikjøring og underholdning for hele helgen.
SPLASH ER TILBAKE
Kommer du deg over vannbassenget på ski/brett? Det klassiske poolracet Hemsedal Splash er tilbake - alle er velkommen!
Contact
Opening hours summer 2023
Summer chair lift
1/7–6/8 Mon–Sun 10:00–16:00
12/8–3/9 Sat–Sun 10:00–16:00
30/9–8/10 Mon–Sun 10:00–16:00
(4/9-29/9 closed for construction of new lift)
See details for reception, bike hire and shop.

Opening hours winter 2023/2024
Season start as soon as great alpine skiing can be offered.
Seson ends May 1st 2024.
Opening - 2. Feb
Mon - Sun 09:00-15:30*
3. Feb - 1. May
Mon - Sun 09:00-16:30*

*Dec 24th 09:00-14:00
*Non-stop skiing 26. Des - 13. Mar
Tues and Wednesdays 09:00-19:00
Extra non-stop skiing 12. - 25. Feb
Mon - Thur 09:00-19:00
*Morning skiing 30. Dec - 16. Mar
Saturdays 07:30-09:00
No morning skiing on Saturday 9 March due to Hemsedal Up´n Down.
*Evening skiing 29. Des - 15. Mar
Fridays 18:00-20:30

See opening hours for reception, ski rental and shop.