Friday Saturday 24/25. June
Waterfest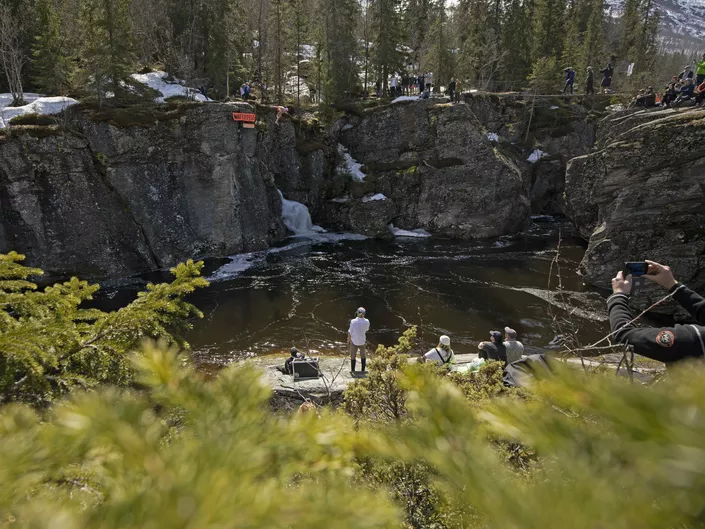 Endelig er det på tide med Waterfest i Hemsedal igjen. Rydding av elven på fredagen og dødsing i Rjukandenfossen på lørdagen er noe av det som står på skjema.
Waterfest

Do you want to join this summer's coolest event in Hemsedal? This Midsummer weekend, Waterfest comes to Hemsedal again and here there will be both clearing in the river and death diving downstream of Rjukandefossen.

Waterfest arranges together with House of Hygge - House of Hygge Open in death diving - Register for the competition at deltaker.no

What is death diving? Is a type of diving with tricks where the participants dive from, among other things, rocks and do cool and fantastic tricks. At the event at the bathing place downstream of Rjukandefossen, some of Norway's toughest people tend to take part, so here it will be a lot of fun on Saturday 25 June.

Friday is the day all participants and everyone else help each other clean up the river. A lot of rubbish is collected during the year in the river and here Waterfest does a fantastic job of clearing Hemsila.
Program:
Thursday 23 June
Arrival to Hemsedal and celebration of Midsummer's Eve
Friday, June 24
Cleaning in the river around Hemsedal - hope to see many locals as well as "dødsere"/participants from all over the country!
Saturday 25 June
Show / competition in the best Waterfest style at Rjukandefossen!
Sunday 26 June
Chill Out on the "beach" in Hemsedal center
Transport to Rjukandefossen
There will be a bus going between Hemsedal center, Fyri Resort, SkiStar Alpin Lodge and Rjukandefossen on Saturday.
For more info, please see our Facebook.
Contact
Opening hours
Monday - Friday: 09.00-16.00
Saturday: 10.00-15.00
Sunday: Closed
Easter 2023:
April 6th-8th 10.00-15.00
April 9th-10th: Closed