Via Ferrata week 40 and 41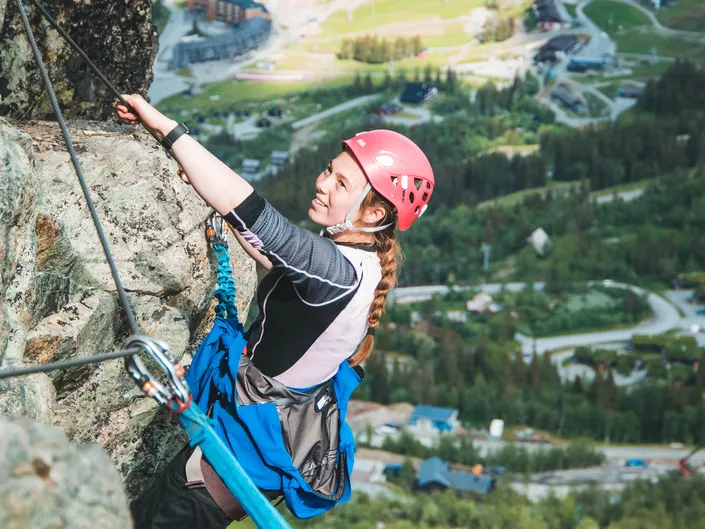 Climb to the top of the mountain using permanently installed rope ladders and wires, secured all the way to the top.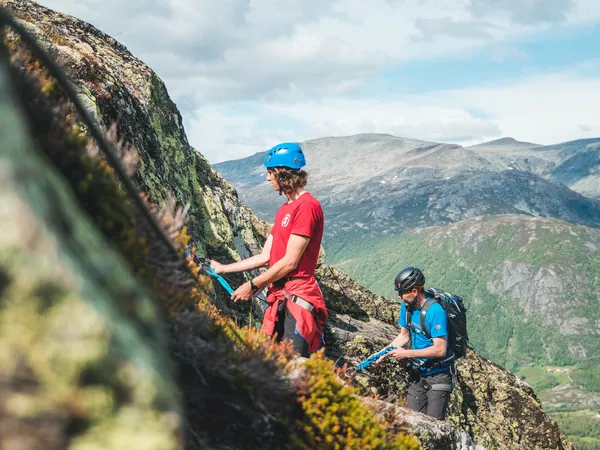 Via ferrata is available every Saturday and Sunday in September, and also almost every day in the period October 1nd to 16th (week 40 and 41). There are several trips each day. Check the booking page for details.
Week 40 - every day

Week 41 - Monday, Thursday, Friday, Saturday

Via Ferrata means iron road in Italian and is simply climbing routes that go on installations in steep and vertical terrain. Experienced guides take you safely up steep mountain slopes and along narrow mountain ledges. The climbing route takes you all the way to the top of the mountain called Little Røggjin. The route has a difficulty level of B, but some points with grade C. It is suitable for anyone who wants a steep and airy trip to the top of the mountain. No prior knowledge of climbing is required to join.
Age / weight restrictions
Suitable for everyone between 40 kg and 120 kg, and over 145 cm. Recommended age limit 12 years, but one must weigh a minimum of 40 kg due to the approval of the equipment we use.
Practical information
Price: 790 NOK, this includes a guide and necessary climbing equipment
Registration: no later than the day before - book online here
Start time: See confirmation
Meeting place: Outside Skarsnuten Hotel
Duration: approx. 3 - 4 hours
Bring: good shoes / mountain shoes, clothes according to weather conditions / windproof / insulating, some snacks along the way (food / drinks are not included) Thin gloves with a good grip can be nice to have, we also sell this at the meeting for NOK 30.
No availabiliy or privat tour?
If it is not possible to book the day you want, it may be because the activity is fully booked. In that case, get in touch at info@hemsedalaktiv.no or +47 483 86 018 and we can see if it is possible to set up an extra trip. We also do private tours at other days and times, contact us for more information.