Local dry age meat
at Hemsedal Cafe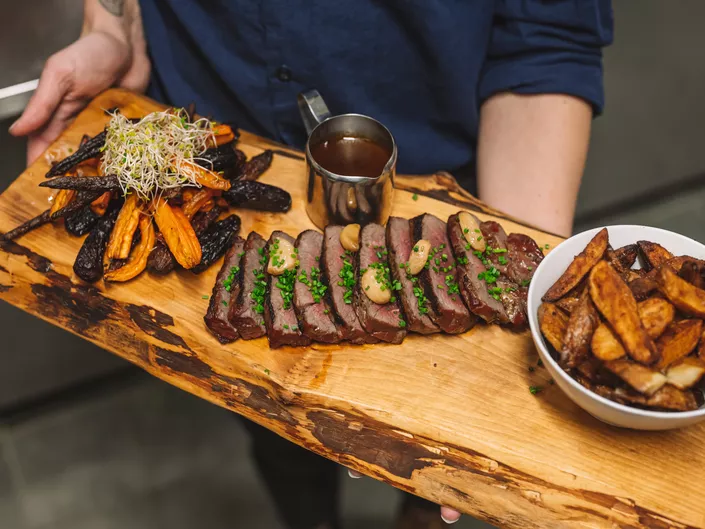 Once a month during the winter season, you can join a tasting experience at Hemsedal Café.
The taste of Hemsedal!
We invite you to a tasty evening with us where you can enjoy meat from Hemsedal's own Brandvoll Fjellgaard!
Brandvoll Mountain Farm, where we breed Telemark cattle and more,
Dølafe and Vestlands-Fjordfe, who graze on the mountain floor.
They keep their horns and roam free in Hydalen,
So they can thrive and live like madmen.
In the winter, they eat grass and Norwegian barley,
So they grow big and tasty like a chewy Charlie.
We slaughter them when they're between twelve and twenty months old,
And the meat is aged for at least 90 days, a taste that'll leave you bold.
During the drying process, the flavor is concentrated in a third of the original meat,
So you'll get a taste that's quite the feat.
We guarantee a taste explosion when you try our food,
So come and visit us at the farm, it won't be subdued!
This is a very popular event; we recommend that you book your seat today on hemsedalcafe.no
Remember to make your reservation at least one day in advance. Tables cannot be booked after 19:00
Contact
Opening hours
Varies with the seasons.
Check our website for updated info.