Johaug Recharge at Fyri Resort 26-28 Jan 2024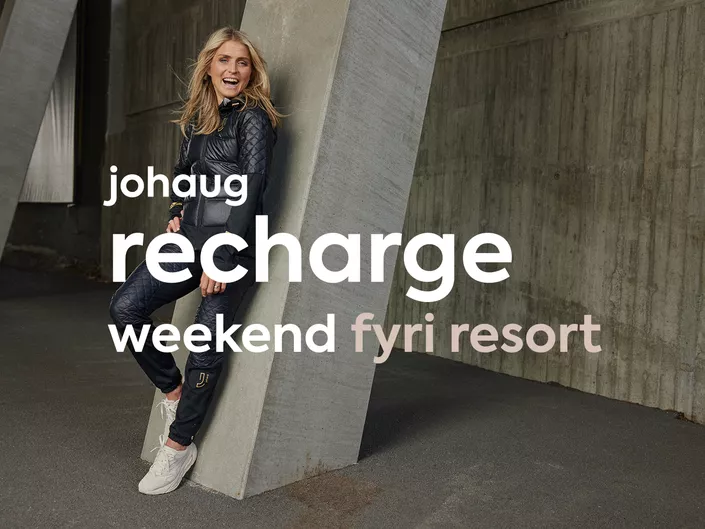 Do you need a time-out from everyday life? Johaug Recharge is a unique concept designed to give girls just that.
Fill your body and mind with energy through varied exercise, good impulses, rest, healthy food and well-being. Treat yourself to a break from everyday stress, and prioritize yourself!
26. - 28. January 2024 you can be one of the lucky ones to get a place at Johaug Recharge with Therese Johaug herself and the rest of her team. This will be a weekend full of both tough, varied and fun training sessions, ski technique courses with Therese Johaug and rewarding lectures on topics such as diet/nutrition and mental health.
What is included in Johaug Recharge
January 26
Friday
CHECK-IN FROM 3:00 PM
INTRO WITH APERITIF
EXERCISE
2-COURSE DINNER INCLUDING 1 GLASS OF DRINK
January 27
Saturday
BREAKFAST
FULL TRAINING PROGRAM AND LECTURE
LUNCH
POOL CLUB
ENERGY BOOST SNACK
APERITIF
3-COURSE DINNER INCLUDING 1 GLASS OF DRINK
January 28
Sunday
BREAKFAST
EXERCISE
PACK & CHECK OUT
PACKED LUNCH
Contact
Opening hours
Open every day Instructor Therese Johaug
Former top athlete and Olympic Champion, Therese Johaug. Therese has recently given up as a cross-country skier, but still trains actively every day, and is keen to spread the joy of training and good energy. Today, Therese devotes much of her time to the Johaug brand and various other projects within sports. Therese is known for her unique duality, where raw willpower meets sophisticated femininity, combined with delightful down-to-earth sociality.
Instructor Julie Sofie Wichmann
Physiotherapist, former top athlete and World Champion in disco dance, Julie Sofie Wichmann. Julie quit as a performer at the end of 2019, and since then has worked as a dance coach in her former club as well as a group instructor. She is an ambassador for Johaug and is very keen to spread the joy of movement and exercise for both young and old. With 30 international medals in her bag, she still trains actively and loves variety in her training routine.
Instructor Hedvig Sophie Glestad
Hedvig is a funny and charming profile that has taken TV viewers by storm through the series "Alle elsker David" on TV2. She is sporty, has a twinkle in her eye and always brings lots of energy and enthusiasm to her training sessions. Hedvig is interested in diet, "food hacks", and uses much of this knowledge in her coaching business for clients who want good advice and tips for exercise, weight loss and lifestyle.
Instructor Herman Valente
Herman works as a professional trainer, and holds HIIT classes on a daily basis. He loves everything to do with training, and not least spreading the joy of training to everyone, regardless of what starting point you have. Herman's energy level is probably higher than normal, BUT something that even boosts his own energy level is seeing the joy in others during a HIIT session. Alongside Herman's daily training routine, he studies artificial intelligence, and is eager to explore how technology can be combined with training.